SUPER Sehwag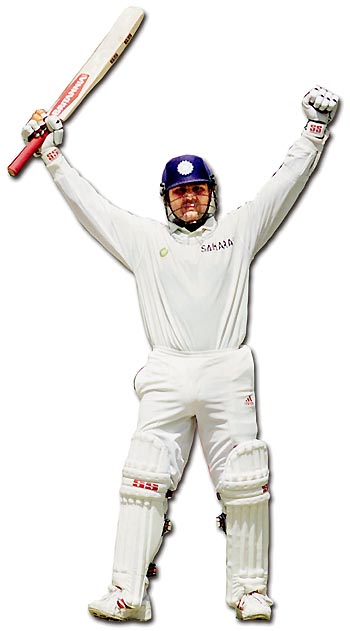 Virender Sehwag has become the only Indian to have made it to the exclusive league of batsmen with a triple century to their credit. M.S. Unnikrishnan takes an off-the-pitch look at the man known for his daredevilry on the field.
ALL roads seem to lead to Virender Sehwag's residence at Najafgarh on the outskirts of Delhi. RZ-14, Laxmi Garden, Naya Bazar, has become a landmark address. The telephone at the Sehwag household has not ceased ringing ever since this batting star added a glorious chapter to India's cricketing folklore with a record-breaking 309 runs in the first Test against Pakistan at Multan.
Sehwag has put Najafgarh on the cricketing map of the world. And the people of this haphazardly growing township have no words to express their love for "Veeru".
"All this adulation, all these accolades have not changed Veeru a wee bit. He's the same boy we have known for long," remarks Dr Shivraj, a family friend and president of the Virender Sehwag Fan Club. The club boasts of 700 members, but Dr Shivraj, who runs a flourishing medical clinic near Sehwag's residence, asserts that the number is likely to swell to 50,000 in the coming weeks.
A natural when it comes to batting, this cricketing icon showed an amazing eye for the game even as a toddler. This born cricketer, as experts call him, would get restless on his mother's lap whenever he saw a toy cricket bat. "He would point at it with his little finger, wanting to possess it. He was barely six or seven months old then," recollects his mother Krishna, with a glint of pride in her eyes. Years later, when Sehwag was 'big' enough to hold a cricket bat, his mother gave him the strength to pursue his passion and reach his goal. Father Krishan, however, did not appreciate Sehwag's obsession with cricket. Krishan felt that it would be futile and dangerous for Sehwag to indulge his weakness for the game.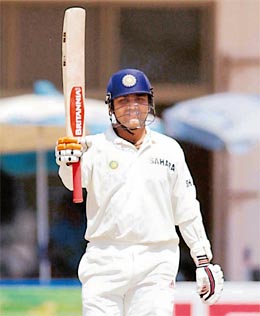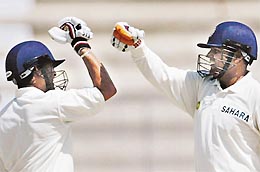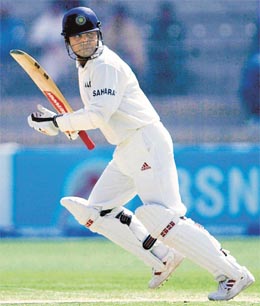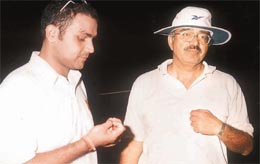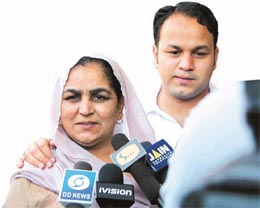 MANY FACES OF TRIUMPH: (From Top) Virender Sehwag lifts his bat after overtaking VVS Laxman's 281, celebrates his triple hundred with his idol Sachin Tendulkar, takes off for a run in Multan, and with his coach A.N. Sharma. His mother and brother talking to the media.
He wanted his son to study and take over the family business of managing a flourmill and grain trading. The old father's disapproval of Sehwag's unbridled passion for cricket grew when the latter came home one day in 1990 minus a front tooth. "I spent Rs 5000 to replace his broken tooth," the father recalls in typical Haryanvi. "I did not want to see him hurt like that." Ever since, Sehwag, who was 12 years old then, had to pursue cricket on the sly, but with the blessings of his mother. He would hide his playing kit on the terrace to escape his father's eyes.
But the father knew what Sehwag was up to. He had, by then, resigned to his son's obsession with cricket. Despite cricket taking up all his time, Sehwag passed his higher secondary exam, and went on to complete his graduation from Jamia Milia Islamia. Though Krishan is proud of his son's rise to cricket stardom, he still attributes it to "kismat".
This batting star may now have the "cricket duniya in his mutti" but his feet remain firmly rooted to the soil of his birth. He is unaffected by name and fame. His compassion for the less privileged is touching. Not too long ago, Sehwag pitched in to give a Maruti car to a friend's sister on her wedding. His friend had not been able to meet this demand.
People who have watched Sehwag grow up say he's a simple, shy young man. It, indeed, came as a surprise to them when he opened the lid on the love of his life — Aarti Singh, daughter of a lawyer — before they got engaged a few weeks ago. It is learnt that Sehwag, who is basically a home-bird and relishes "maa's khana" has been courting Aarti for the past three years.
A complete vegetarian who is fond of kheer, tari ka aloo and aloo ka parantha, Virender Sehwag is the third of the four children of Krishan and Krishna. Sehwag's two elder sisters Manju and Anju live not too far from Najafgarh. Whenever this cricket star and keen devotee of Lord Hanuman returns home to roost after long gaps, he first visits his sisters.
Born on October 20, 1978, in Delhi, Sehwag is a typical Libran who loves the company of children and his friends. He enjoys singing and prefers old film songs. "Sehwag, known among friends as Bholi for his innocence, is basically a reserved person," says Dr Shivraj. He has not been corrupted by success. Sehwag surprises his friends when he comes knocking at their doors on his bike unannounced. He moves around on a scooter or bike when at Najafgarh, though he has a luxury car parked at his residence. Crazy about goggles and watches, Sehwag also enjoys spending time at the swimming pool. Dr Shivraj says Sehwag lavishes his friends with souvenirs whenever he comes back from foreign tours. He likes to bring clothes for his parents, and doesn't forget to bring cigarettes for his father.
During his childhood, Sehwag was dreaded by his neighbours. There are not many glass windows and doors in the neighbourhood which have not been touched by Sehwag's willow play. So much so that a stage came when Sehwag was held guilty for every broken glass pane in the vicinity of his house.
Vinod Sehwag, younger to Virender by one and a half years, says their childhood fights were always over cricket. "My friends and I could never get him out, and he would object if he was not allowed to complete his quota of overs," Vinod remembers. Vinod, who has completed his graduation, and is planning to set up his own business, asserts that his brother achieved success through hard work. Even as he said that it was Sehwag's dream to emulate his idol Sachin Tendulkar, one saw a framed photo of Sehwag and Sachin in boxing gear occupying the pride of place in their sparsely furnished house. A large case, too, displayed the innumerable trophies won by the cricket star.
But Sehwag the cricket star would not have been born, but for the unflinching support extended by the late Satish Sharma, who died young. Satish, popularly known as Neelu, was an official of the Delhi and District Cricket Association. He also ran the high-profile Madras Club. When Sehwag's coach A N Sharma approached Neelu for help after he could not find a place even among the 40 probables shortlisted by the local body for the Under-19 World Cup, Neelu made Sehwag play two matches for the Madras Club and the dashing batsman came up with big scores. Sehwag then made it to the Delhi team for a Ranji Trophy match against Haryana. He started off by scoring a century.
A big hitter, who does not curb his strokes, it was easy for him to tire the bowlers out, and have the cricket world eating out of his hands. It was Sehwag's greatness that he did not forget his mentors —Sharma and Neelu — after he hoisted that record-breaking 309 against Pakistan.
Sharma fondly remembers that when Sehwag first came to his cricket 'net' at the Government Boys School ground at Vikas Puri in West Delhi in 1993, he was around 14 years old. The boy was a quick learner, and with his natural talent, it was easy for him to master the game quickly.
"I did not curb his stroke play. I allowed him to develop his natural game," the coach recalls. Sharma talks about the "hard-working" nature of Sehwag, who would leave home in the morning, to travel 8 km to reach Vikas Puri, and would return home only late in the evening, after his studies and playing cricket.
Sharma notes that when he told Sehwag's parents to give their son a special diet to strengthen his body, they promptly did so. The criket 'net' where Sehwag honed his skills was run by the Delhi Administration for children from the lower strata of society.
And Sehwag quickly emerged as a role model among his peers. Sharma says Sehwag was not only a hard-hitting right-hand batsman, but also a natural off-spinner.
"But I never encouraged his bowling, as I told him to first master his batting".
There were some flaws in his batting in the initial stages as he often dragged his back foot. "We would tie a rope on his back foot and then fasten it to the net pole.
This helped rectify his flaw," the coach explained. Sehwag developed his 'power shots' by constantly practising with a heavy bat, by tying the bat cover filled with mud to the back of the bat.
This technique helped him pull punches with effortless ease. He was also often made to drive with the left hand, with his right hand resting on his back, to strengthen his muscles.
He also had problem with his back lift, which needed correction. When he charged out, his backlift went to the first slip and second slip. " Sehwag focused totally on cricket. His discussions mostly centred on cricket. He never bad-mouthed others, and indulged in loose talk. He mostly kept to himself."
Sharma says after Sehwag became a star, he would often come to the government school nets and offload his used kits to be distributed among the deserving.
He also bought new kit bags for those who could not afford them. Once Sehwag presented 14 cricket bats to Sharma to be distributed among his trainees. Shewag carries eight to 10 bats when he goes for cricket tours abroad so that he doesn't fall short of willows.
Sharma's request to his pupil before he left for Pakistan was to "stay at the wicket and play long innings," The coach is happy that Sehwag stayed put to cobble together a triple century at Multan.
The coach also doesn't agree with Sehwag's desire to bat down the order. "He is an attacking batsman, and he should open the innings," asserts Sharma.
"We need batsmen like Sehwag who can put pressure on the bowlers," reasons the coach. Sharma lets out that coach John Wright is fond of Sehwag, and captain Sourav Ganguly also likes his kind of batting. "So long as Sehwag is at the crease, we cannot lose matches," declares Sharma.
Sehwag made his Test debut against South Africa at Bloemfontein in the first Test of the 2001-2002 series while he made his one-day international debut against Pakistan at Mohali in the Pepsi Cup of 1998-99.
Shivraj lets out a little-known secret about Sehwag's belligerent batting in Pakistan: he had taken a vow to beat the hell out of the Pakistani bowling after he was dismissed off the second ball by Shoaib Akhtar.
When Sehwag is scorned, the consequences can be disastrous. Pakistan learnt this bitter truth at Multan when they found it difficult to rein in Veeru.