Survival strategies
Loneliness can be creative
Kanwalpreet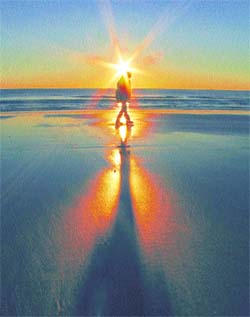 HAVE you felt lonely at times? Have you ever felt deprived and isolated? If yes, nothing to worry for it is a disease, which afflicts everybody at some stage or another. But if this phase occupies the major part of your life then there is a need to tackle the problem head-on. Why? Because if loneliness grips you, it can hurt you and your heart which will only make you more miserable. The result, you will disturb the people around you, interfere with their lives and make them miserable too.
What does loneliness mean? It means when we are feeling shunned, when our need for love and identity is not being adequately met. Parents can feel lonely, when their children leave home for their careers, a successful man can feel lonely at the top for he has lots of followers but few friends to confide in, a young man can feel lonely because though he is working hard, the results are not showing, a housewife can be lonely because her family members are engrossed in their routine and she doesn't get the required attention. Each person is on a different plateau of loneliness.
Why are we scared of being left alone? Because it gives rise to negative feelings, those feelings which sap up our inner reserve of energy unlike positive feelings which add to our enthusiasm of hoping and working for a better tomorrow. So, how do we escape this phase of loneliness? First, let us be clear that everyone passes through this phase at some time or the other. No one can be an exception to this. The trick is to change this phase into one of enjoyment. Look at a small child. For him every moment is new, every moment brings with it a new adventure. We have to generate enthusiasm like the little child. There are many times when I have felt lonely but after moping around the house and making my family miserable, I decided to change the environment. I would force myself to talk loudly, summon them all and ask them what they would like to do to change the mood. Once I would set the ball rolling, I would be flooded with ideas and the whole family, including myself, would enjoy and live the moment together.
We have to believe in zest to have the faith to break the monotony of our day to day lives. Only when there are certain goals to be achieved wisely and prudently that we can feel stability in our lives. When we plan our day, our activities, we feel victorious at the end of the day for we have achieved what we set out to do. And for this it is essential that we should learn to be ourselves. Set only those standards which you can meet for only when you act what you are can you really be happy and thus, not lonely. While being accommodating, live, life as you want to for if you don't you will keep fuming for not doing so and ultimately feel a lack of self fulfillment. You will feel sorry for yourself, forget to smile and learn to frown more. Won't this eat away at your determination and courage. It will make life a bondage. You will not be able to focus and never be in harmony with yourself. This is one of the first steps towards loneliness and we have to avoid it.
If you are lonely, go for a walk and ponder over your dreams, your aspirations or make plans for yourself or your family. Think about the pending letters you have to pen or just observe the grass, the flowers around you. If you are alone at home, don't indulge in self pity. Pick up a book or a magazine and read it in solitude. Enjoy the quietness. Treat yourself to a nice bath, pamper yourself. We have to try to make that phase creative. Haven't the world's greatest works been the result of solitude? Be it Anne Frank, Mahatma Gandhi or Pt. Nehru. Learn to discover the innumerable secrets which God wants you to discover. Give way to reflection. We read in the Bhagavadgita that the well-resolved mind is single and one-pointed (II, 41). Meditate, look into your inner-self and you will find the answer.
Many a parent feels lonely when the children leave home. Such parents will be valued by their children who let them leave the nest and encourage them to touch unlimited horizons. Such parents need to go into the past and recollect all what they could not do when they were busy bringing up kids. Remember the many times when you wanted to join a hiking group or indulge in photography. Do it now. You have the time and the resources to fulfill your wishes. The following inscription hung over General Mac. Aurthur's desk is valuable, "Nobody grows old merely living a certain number of years; people grow old by deserting their ideas. Years wrinkle the skin, but to give up enthusiasm wrinkles the soul."
One has to be involved in one's life, in one's work, in one's existence. As Dorothy Donelly says, "Loneliness, a sense of pointlessness, often comes from not having anything to do, or not knowing what to do or feeling that nothing is worth doing."
When we are aware of our goals of our needs we tend to feel less alone. One should learn not to expect much for when we do not achieve, we tend to feel lonely. Work towards the goal, use your capabilities to the maximum but at the same time beware of fatigue for that will create an inner void which none can fill except you and because you have frittered away your energy you are not apt enough to work towards banishing those feelings away.
W. E. Channing offers these lines to throw loneliness from your life :
"To live content with small means; to seek elegance rather than luxury, and refinement rather than fashion;
to be worthy, not respectable ;
to think quietly, talk gently, act frankly ;
to listen to stars and birds, to babes and sages, with open heart ;
to bear all cheerfully, do all bravely, await occasions, hurry never."
Let loneliness be a path to a new search, a search for inspiration, reflection, self-introspection self-improvement.