M A I N N E W S
Sea of devotees ferries 'birs' to airport
Tribune Reporters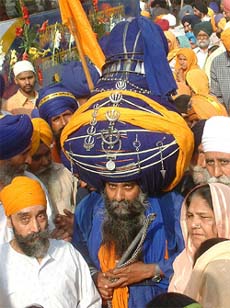 Is it a Guinness Book of World Records? Nihang Major Singh with a 350-metre turban, adorned with traditional symbols, participates in a procession to carry 150 "birs" of the Guru Granth Sahib to Canada in a chartered flight on April 3. — Photo by Rajiv Sharma

Rajasansi (Amritsar), April 3
An upsurge of devotion swept Hindus and Sikhs as lakhs participated in a nagar kirtan to carry 150 "birs" of the holy Guru Granth Sahib to Canada for the first time in a chartered flight today. The only gurdwara near the runaway of the airport served langar and Chief Minister Capt Amarinder Singh, Senior Superintendent of Police Deputy Commissioner and senior officials went barefoot to the aircraft to show their respect to the holy book.

The rush of the devotees was uncontrollable as they surged forward, climbing prohibited areas, including visitors, lounge and fire station workshop on the runaway premises, breaking human chain security by the Punjab Police after the arrival of "birs" in a specially designed flower-bedecked bus from the Ramsar gurdwara.

An ardas was held at Ramsar before each "bir" was taken on the head and placed in the bus as per maryada by Mr Parkash Singh Badal, SAD President, Mr Manjit Singh Calcutta, honorary secretary, SGPC.

The nagar kirtan from Ramsar gurdwara started at 9 a.m. in a 4 km-long procession through various important crossings and areas of the city to

reach the international airport at 2.30 p.m.

Langar and "chhabils" along with a sea of saffron flags, patkas, duppatas, turbans, banners and even ballons was seen along the route. Significantly, 10 persons from the Akal Purukh ki Fauj, a Sikh organisation, were allowed by the airport staff to deck up the inside of the plane according to the maryada for placing the "birs," said Mr Kuljit Singh, coordinator of the fauj.

Ardas was held near the aircraft as the bus was allowed to park alongside the aircraft. Amidst showering of petals and sprinkling of rose water and chants of "Sat Sri Akal", the holy "birs", covered with velvet blues under seven "chattars", were carried on the head by the CM, Mayor, Mr Sunil Datti, chairperson of the Improvement Trust, Ms Ratna, and the SGPC representatives in the aircraft.

The private flight took off at about 4.20 p.m.