Funtastic nonsense
Prerana Trehan
Abol Tabol: The Nonsense World of Sukumar Ray
translated from the Bengali by Sampurna Chattarji. Puffin Books. Pages 172. Rs 199.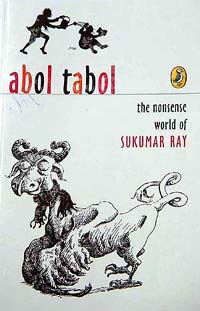 IF a book could smile, Abol Tabol would crinkle its eyes, lift the corners of its mouth and give you a naughty grin. The slim volume is everything in the world that is happy and mischievous. The Nonsense World of Sukumar Ray lives up to its name in such an endearing manner that you enjoy every minute of your stay there.
If translating verse is a tough translation assignment, translating nonsense verse must be tougher still. Sampurna Chattarji has, indeed, done a commendable job of translating Abol Tabol. Even so, non-Bengali readers cannot help wondering how much better the book must be in the original.
Part prose, part verse, the common thread running through the book is its unbridled sense of fun. It has none of the staple ingredients of children's books. There are no morals here, no preaching either. What you have, instead, is a roller-coaster ride with characters who are as fun as they are weird, as interesting as they are outlandish. With their simple charm and wacky wickedness, they can bring a smile to adults as easily as they can to children. You meet the Wise Old Woody who sits in the sun "eating boiled wooden bits." Or take a peek inside The Ol' Crone's Home where "In a rickety-rackety house, a clickety crone is stomping." You can crack a joke but must not expect any response from "The Billy Hawk Calf (who) is forbidden to laugh." You might want to run from Tickling Tom, though, because "If he catches you alone he feeds you tales till you're a goner." You will probably laugh yourself silly at the antics of two hunters named, hilariously enough, Hurly Singh and Burly Singh in The Diary of Cautious Chuckleonymous.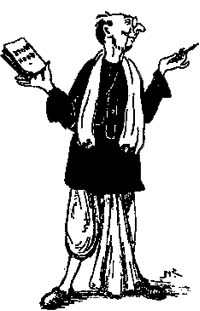 Fortunately, Sukumar Ray has done strikingly accurate drawings of his out-of-the-world characters to go with each piece. These evocative renderings bring alive a never-never land that might otherwise have been lost on those unable to imagine bizarre characters in outrageous situations like the ones in Mish-Mash.
Mish-Mash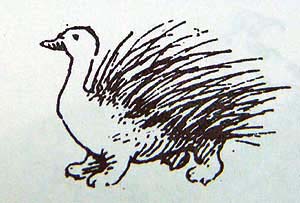 A duck and a porcupine, no one knows how, (Contrary to grammar) are a duckupine now.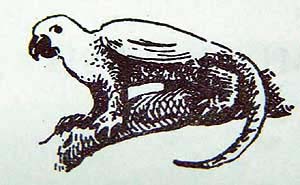 The parrot-faced lizard felt rather silly — Must he give up insects and start eating chilli?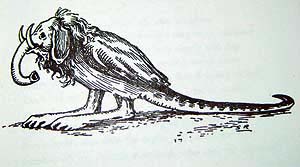 A strange-looking beast is the wild-eyed wonster, Nag-nag all day you'll hear from the monster.
The most wonderful thing about Ray's verse is its sound. Sample this from a poem aptly titled Wordygurdyboom!, or better still say it out loud:
Whack-thwack boom-bam, oh what a rackers
Flowers blooming? I see! I thought they were crackers!
Whoosh-swoosh ping-pong my ears clench with fear
You mean that's a pretty smell getting out of here?
Hurry-scurry clunk-thunk — what's that dreadful sound?
Can't you see the dew falling, mustn't move around!
Critics call this use of sound onomatopoeia — but never mind unpronounceable literary terms, Ray would have probably wanted it known as jolly good fun. If each of his verses have a couple of fun-filled fantastic characters, the stories, especially Haw-Jaw-Baw-Raw-Law and The Diary of Cautious Chuckleonymous, have a whole assembly of them. Though shorn of the acoustic gymnastics that make the poems so remarkable, the stories are nonetheless unforgettable for their bewildering array of madcap characters in the unlikeliest of situations.
Born in 1887, Sukumar Ray inherited the children's magazine Sandesh, where his nonsense writings first appeared, from his father Upendrakishore Roychoudhury. He died in 1923, just nine days before Abol Tabol was published. Sampurna Chattarji's impeccable translation of his works appears to be effortless and shows none of the jarring incongruities that so often mar translations. Her translation will, if anything, bring greater appreciation of Ray's writings.
If you thought that nonsense writing was the exclusive preserve of Lewis Carroll, Edward Lear or Ogden Nash, Abol Tabol would make you revise your opinion. Not only does Ray live up to his reputation as "a master of nonsense", but with the sheer inventiveness of his words and drawings, he beats the best of the English masters by a mile and more.