53 hurt in Pulwama blast
Tribune News Service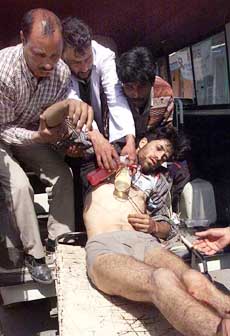 A Kashmiri grenade explosion victim is helped in a hospital in Srinagar on Monday. At least 53 persons were injured in the explosion.
— Reuters photo
Srinagar, April 5
Fiftythree persons, including three Border Security Force (BSF) men, were injured, eight of them seriously, when suspected militants lobbed a grenade in a market place of Pulwama this afternoon. The injured included five children and 10 women.
The police also averted a major tragedy with the recovery of 18 kg of RDX near the Eidgah Fire Station here today. The RDX packed in polythene bags was defused without causing any damage.
A police spokesman said the militants hurled a grenade towards a vehicle of he security forces near a taxi stand at Shaheedi Chowk in the main market of Pulwama town at about 1 p.m. today. Those injured were admitted to the district hospital and the seriously injured were shifted to various hospitals in Srinagar.
One militant was killed in an encounter with security forces near Hygam, Sopore in Baramulla district today. One pistol, one magazine, three AK magazines, one wireless set and two hand grenades were recovered from his possession.
One suspected militant of Harkat-ul-Jehadi Islami was apprehended by the security forces from Sangrampora, Sopore, in Baramulla district today. Four hand-grenades and six detonators were recovered from his possession, the police here said.
JAMMU (PTI): A jawan was killed when militants attacked a patrol party of security forces in Sanjote area of Rajouri district here early this morning, official sources said.
A party of Rashtriya Rifle personnel and police was fired upon by militants in the forest area of Sanjote at around 3 a.m. today, the sources said, adding the security forces also retaliated.