Cong vision paper promises 10 pc growth
Tribune News Service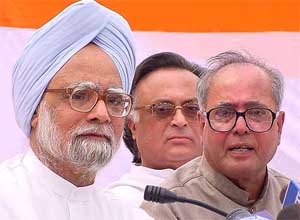 From left: Dr Manmohan Singh, Jairam Ramesh (background) and Pranab Mukherjee at a press conference during the release of the Congress Vision Document on Economy at the AICC office in the Capital on Wednesday. — Tribune photo by Mukesh Aggarwal
New Delhi, April 7
The Congress has promised a highly ambitious economic growth rate of 10 per cent for all, full growth potential to the farm sector, universal health-care and eradication of poverty, starvation and illiteracy.
Unveiling its much awaited vision document here today, Congress leaders Manmohan Singh and Pranab Mukherjee pledged to remove hurdles for domestic and foreign investments barring the sensitive defence industries.
Asserting that the Congress was against harsh labour reforms, they said the party would strive to generate more job opportunities and strengthen social security. Opposing the policy of hire and fire, they underlined the need for strengthening the protection
mechanism of the employed while ensuring that the burden of adjustment was not passed on to the weaker sections.
The Congress would check the falling interest rates.
Dwelling on development with accountability, they lashed out at the NDA government for having failed on all fronts in reforming the economy. "The mismanagement by the non-Congress government has cost the country a loss in output of Rs 170,000 crore," they claimed.
Desiring that the middle class should prosper, the document focused on the growth of the corporate sector and its role in helping the less privileged.
The leaders said public finances of the Centre required drastic restructuring as persistent fiscal deficits financed by borrowings had created an "explosive debt situation." They regretted that the fiscal deficit of the Centre and the states during the past six years of the BJP rule averaged 10 per cent and was one of the highest in the world.
"Disinvestment has become equated with strategic sales. No attempts have been made to restructure PSUs and fetch better value," they said.
On disinvestment, the document said it would disinvest only unviable PSUs and not touch those which were earning profit on a sustainable basis. Mr Mukherjee said each of the PSUs would be studied to find out if it could be revived and disinvestment would be undertaken only if this was not possible.
Regarding the minimum support price, Dr Manmohan Singh said its horizon and scope would be widened to protect the interest of farmers.
The document said if the Congress came to power it would accord the highest priority to meeting the investment requirements of sustained agricultural growth of 4.5 per cent.
The Congress leaders also alluded to building a strong public and private sector partnership for giving a boost to development and investment activities.
The document assured investors, especially the new and small entrepreneurs, self-employed and educated youth, particularly in the rural industry with appropriate credit and capital subsidies.
As envisaged in the Congress manifesto, a national commission would be set up to make recommendations for encouraging investment and supporting enterprises in the informal sector.