9 die in blast at PDP rally
Two Ministers among 53 injured in Uri grenade attack
Ehsan Fazili
Tribune News Service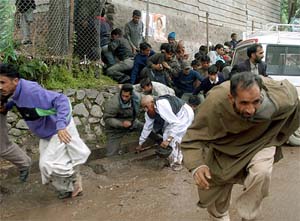 People run for cover after an attack during an election campaign rally in Uri, 102 km from Srinagar, on Thursday. — Reuters photo
Srinagar, April 8
In the first major attack on the electoral process, militants hurled a grenade at a public meeting of the ruling People's Democratic Party (PDP) killing six persons and injuring 45 at Uri, near the LoC, this afternoon.
(According to PTI, nine persons were killed and 53 injured in the grenade attack).
Those injured included Finance Minister Muzaffar Hussain Beigh and Tourism Minister Ghulam Hassan Mir. The PDP President, Ms Mehbooba Mufti, and party candidate for Baramulla constituency Nizamuddin Bhat escaped unhurt. Mr Beigh and Mir, who were immediately rushed to the SKIMS Hospital here are stated to be out of danger. Some of the injured were provided first aid at Uri hospital, while those seriously injured were shifted to Baramulla and Srinagar hospitals.
Senior police officers claimed that it was an attempt to disrupt the political activities in Uri which had so far remained peaceful.
The PDP leaders were leading the rally towards Uri township, about 100 km north of here near the LoC in Baramulla district. The rally was significant as the PDP had organised it for the "opening of the Uri-Muzaffarabad road."
Eyewitnesses said the explosion took place when Finance Minister Muzaffar Husain Beigh and Tourism Minister Ghulam Hassan Mir were proceeding towards the town on foot. The injured included their security personnel and over two dozen civilians who were participating in the rally.
There have been several attacks on political leaders in Kashmir valley after the announcement of the elections. A girl was killed and several injured when rifle grenades were fired upon a rally addressed by Chief Minister Mufti Mohammad Sayeed at Beerwah in Budgam district last month. Former Finance Minister and National Conference leader from Chrar-e-Sharief Abdul Rahim Rather also escaped unhurt when his motorcade was attacked in Budgam district recently. The militants had also recently fired upon the cavalcade of PDP President Mehbooba Mufti near Ashmuqam in Pahalgam constituency of south Kashmir.
Ms Mehbooba Mufti was campaigning for the opening of the Muzaffarabad road, for which the PDP has been a great supporter and various measures taken for opening of a bus service between Srinagar and Muzaffarabad. Reacting to the incident, Ms Mufti blamed those opposing the opening of the road for their "political motives".
National Conference President Omar Abdullah condemned the attack and described it as an "attack on the political process". Addressing newsmen after releasing the party manifesto here this afternoon, Mr Omar Abdullah said it was shocking for him and his party colleagues. He expressed sympathies with the kith and kin of those killed and prayed for early recovery of those injured.
The Jammu and Kashmir Chief Minister, Mufti Mohammad Sayeed and other ministers and leaders of different political parties have also expressed their shock and grief over the incident.