Serena's shots & strokes
Stephen Wood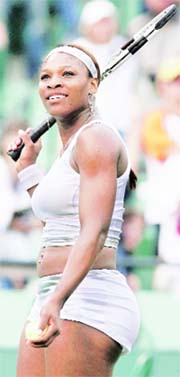 SERENA Williams was word perfect last week. She nailed her return to competition on the first take.
There was the raunchy wardrobe, immediately subject to censorship from across the Atlantic by Wimbledon officials.
There were demure waves and kisses to the Florida fans. There was a neat script and there was Williams in the starring role.
"I honestly didn't expect this," she said after winning the Nasdaq-100 Open title on her first outing in eight months.
Her good grace was welcome, but there was no need for it. The younger Williams sister — sportswoman, socialite, actor, model, role model — cannot suddenly fool us into thinking she is mortal.
A more appropriate insight was apparent in a teleconference interview she gave just days before she made her comeback from the knee surgery/acting/illness hiatus.
Told that most people would not be able to cope with a joint career in tennis and Hollywood, Serena replied: "I am not most people."
Critics may still try to undermine the America by suggesting she would not have casting calls without the multi-million dollar tennis career. They forget the black, ghetto-born child worked harder than most to earn privileges.
Others will demand she continue to give back to the tennis community what it has given to her. Even in eight and a half years on the professional circuit she has already paid her dues.
If her quiet boast about the acting portfolio she is sending to producers is well-judged, she could indeed successfully alternate between shots and strokes.
The only worry is that Serena might, justifiably, become bored with the lack of a challenge in the sport.
After hearing her peers tell her how difficult it would be to win following such a lengthy absence, Serena could have been forgiven a hearty laugh.
The accepted wisdom is that world No 1 Justine Henin-Hardenne, absent last week, will give Williams's comeback a sense of perspective when they compete on the green clay of Amelia Island this week.
"I don't care who I play," said Williams. "(Right now)" there's just so much I want to do better (on court).
There is room for improvement this week, but defeat will not change the bigger picture: that Serena transcends the game in a way Henin-Hardenne does not.
All the WTA can do is hope that theirs is, at least, a worthwhile rivalry on court. The only other point of interest at Amelia Island this week is the return of 47-year-old Martina Navratilova to singles play.
Navratilova, winner of 167 singles titles, is the sort of figure Serena can strive to emulate.
"She keeps me motivated," said Williams. "When I'm 47 I hope I can be standing, let alone competing." — Reuters