Punjabi television
All bubble, no soap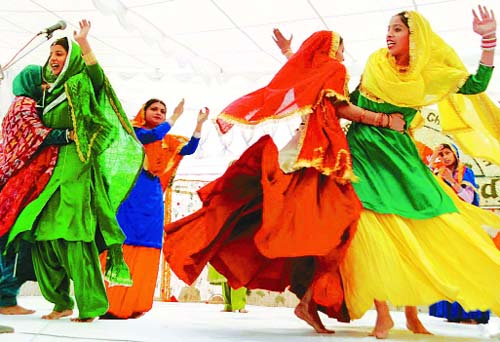 Punjabi channels hold much promise and potential. Far from being regional, they are beamed to several countries. Yet, the fare is lacking in verve and variety. Pop music is the prop on which the channels thrive. There is little else by way of serials, chat shows and current affairs, says Randeep Wadehra
PUNJABI TV? Eyes roll, noses turn up. Enamoured with the hep stuff churned out by Hindi channels, yuppies consider Punjabi television definitely passe – as baassi as last week's kadi-chawal pulled out from the fridge.
In the good old days, Daarji, Bebeji, Bhappaji, Jhayeeji along with Kaku and Sweety would curl up in front of television, with barrels of cha-sha and heaps of pakoras, to watch DD Jalandhar, the only Punjabi 'channel' available to the region. The much-reviled Kendra did come up with some quality programmes that attracted audience across the socio-economic spectrum as well as the international border. Whether it was the rib-splitting Atro-Chatro or a terrorism-related tearjerker, not to mention evocative tele-plays and films, all commanded rapt audience. Several artistes became household names. Pankaj Berry, Vivek Shauq, Jaspal Bhatti, Rama Vij, Preeti Sapru et al were regulars on the desi small screen. Old timers still chortle while recalling Jatinder Kaur's punchline, "Mera liss liss karda kaddu!" in that tu-tu-main-main teleserial.
The promise held out by the arrival of satellite television got lost in shor-sharaba. Initially, Alpha Punjabi came up with such striking serials as Sarhad, Man Jeete Jag Jeet and popular ones like Jaspal Bhatti's Prof. Money Plant and Bhagwant Mann's Jugnu Kehnda Hai. Lori and Patake Tha too are remembered by diehard TV viewers. If Lashkara's Rano and Do Akal Garh became hit with the public, Chandigarh Campus and Apne Begane too left their mark. Now only repeats and some nondescript in-house comedies are struggling to attract eyeballs. Punjab Mail and Xcuse Me Please often fall flat due to lack of imagination. Frankly, the game shows are borrowed ideas. ETC's Kaka and Nikki Time targets teenagers, but it remains to be seen whether the kids are captivated.
PTV and Hindi channels are making inroads into rural areas. In the urban areas, the balance is further tilted in their favour. English sitcoms too have a dedicated following. However, youngsters do watch Punjabi pop off and on. Prime time has become dhol time. While Kaku and Sweety gyrate to the beats of Punjabi pop and bhangra rap, Bhappaji and Jhayeeji prefer to have a quiet repast in the bedroom even as Daarji sulks and scowls and Bebeji mutters, "Kee rohla paya hai" Alas, now the family has stopped sitting together for the feast.
While hopping from one channel to another, one is struck by the uniformity in music quality. Thematically irrelevant video clips have become constant companions for songs of love, separation and celebration. Skimpily clad Caucasian damsels falling all over desi mundas in dense jungles, chic cafes or posh avenues, is something that has been overdone. It's like having pizza topped with sarson da saag. Or, alternatively, you've muscular hunks and chubby lasses going through contortions that are neither bhangra nor callisthenics. If the songs' treatment is pedestrian, their culmination is mediocre. We have a rich heritage of folk songs and literary compositions that can certainly be produced aesthetically, sending blood coursing through Punjabi veins. Going for the so-called fusion music just because it's in vogue in the West is too simian to be aped. We Punjabis are known for creativity. Then how come we have failed to evolve a literary-cultural ethos that would make us feel proud of our heritage?


Sad serial scene
Unfortunately, there is not one Punjabi serial on air at present; only repeats like Apne Begane. This has forced local artistes to either abandon the profession or migrate to Bollywood. Programmes like Khariyan Khariyan, Punjab Mail and Dama Dam Mast command some following, while the comedy show Ghuggi Express is the only entertainer that lights up the desolate scenario a bit.
"Pride in our heritage remains intact," retorts Rajinder Mohni, a prominent singer, "Look how the Wadali brothers have carved out a following across all age, class and gender groups." He himself is experimenting with qawwali and other Sufi renditions to attract the youth. "In order to enthuse youngsters, one must simplify classical compositions."
In his forthcoming album, Tu Nahin Tay Teri Yaad Sahee, he depicts qawwali in an unconventional manner. While he sings in a fort with Pathans in the background, the accompanying video clip tells the tale-with-tragic-denouement of a lovelorn youth who's unaware that his beloved is stricken with amnesia. Mohni feels that jazzed-up literary works have a market. He's planning to produce a video based on Shiv Batalvi's poetry. If the experiment succeeds, he'll make video albums featuring other Punjabi poets.
But why does the serial scene evoke yawns? "Lack of professionalism," pronounces producer-director-actor-writer and noted television personality Vijay Tandon, of the national award-winning movie Kachchehri fame. "You can't enliven the small screen with actors having full-time jobs elsewhere, or students seeking pocket money from this profession." "Unlike Mumbai, we do not have the right environment for nurturing talent," he condemns the system, adding that often payments to artistes and technicians are delayed or withheld. This discourages professionalism. But finance isn't the only problem, says Tandon. Today, NRIs are financing Punjabi movies in a big way. Most Punjabi channels cannot be described as "regional" since they're beamed to more than 60 countries. Money can flow into the making of serials too if the channels and the government fashion a conducive environment. "In fact, the government has ignored the Punjabi television industry for too long."
"Things are real bad," laments Bobby Ghai, an industry insider. He sees no hope for revival of serials. "Actors and directors prefer to work for Mumbai banners. Their talent doesn't get appreciated here." "What talent?" counters Mukesh Gautam, Alpha Punjabi's head programmer, "The region lacks good directors and actors." Amit Julka, a 24-year-old actor, chimes in, "I've acted in serials like Apne Begane and Chandigarh Campus. My role of a student addicted to drugs in the latter got me some recognition, but poor remuneration and uncertain future forced me to take up job with a finance company."
Ghai says that market research is not done to find out viewer preferences, often leading to bad programming. Gautam, however, emphatically denies this, "We do conduct market research. ETC and Alpha – both part of the Zee Group – are number one and two, respectively, in the region. Although the rural Punjab provides us maximum viewership, we have news and current affairs-based programmes, which are watched avidly by people living in places as far away as the UK."
When queried about the financial position of these channels, one encountered abashed silence. But it's obvious from the quantity and quality of advertisements on various channels that Punjabi television is not exactly in the pink. Only pop shows seem to attract advertisers. "Unlike other channels, we draw top brands for advertisement," Gautam boasts, when asked about corporate patronage for television programmes.
Refuting that only music is being telecast, he says that some comedy serials like Ghuggi Express and Mast Mast continue to be favourites. Yet, he concedes that serious serials haven't done well and are currently off air, but soon quality programmes based on the works of prominent Punjabi writers will be entertaining the audience. These will attract national viewership, he assures. When queried about the work culture not being conducive to artistic development, he agrees that Punjab, at present, can't match Mumbai.
It's a vicious circle. There's no finance coming because of lack of good scripts. There're no good scripts because Mumbai holds greater attraction for talented writers. Local talent flounders for want of financial and institutional support. Yet, Punjabi chutzpah may magically resolve the dreadful dilemma.
Let's say shava to that.
Familiar faces
Baldev Khosa: Starred in Putt Jattan De, Mahi-Munda, etc. Migrated to Bollywood. At present, a Congress MLA from Andheri (Mumbai).
Vijay Tandon: Actor, writer and director of the Kachehari fame. Good in both serious and comedy roles.
Dr Ranjit: Versatile actor, writer and lyricist. Made debut as Bollywood hero. Punjabi serials and movies are his passion

Shagufta Ali: Acted in Kachehari, Jatt Soorme. She is acting in a number of Hindi serials.
Avtaar Gill: Has acted in Lambardar, Kachehari. Mitter Pyare Nu. Now a prominent baddie in Hindi movies and serials.

Rama Vij: Talented, sensitive and sensuous, she is Punjab's answer to Smita Patil. Starred in Chann Pardesi,
Ankheeli Mutiyaar, Veera, Kachehari, etc. But where's she now?
Rana Jang Bahadur: Performed in Jeeja-Saali, Chann Pardesi, Kachehari, Nalayak, Mahaul
Theek Hai.

Upasana Singh: Did Punjabi serials like Patake Tha. This talented comedienne has immense potential.
Gurdas Mann: The original poster boy of Punjabi pop scene. Star of Mamla Garbar Hai, Kurbani
Jatt Di, Kachehari, Long Da Lishkara, Saheed-e-Mohabbat, etc.

Yograj Singh: Impressive screen presence. Prominent movies: Batwara, Badla Jatti Da, Yaar Gariban Da etc.
Mehar Mittal: Indispensable between 1975 and 1995, this comedy king's contribution to the industry has been immense.
Bhagwant Mann: Perhaps the most successful stand-up comedian till date. Known for his roles in Tabahi, Kachehari, Main Maa Punjab Di, and serials like Jugnu Kehnda Hai and Jugnu Mast Mast.
Gick Garewal: Glamorous and versatile, she's acted in Rano, Lakarian, Chandigarh Campus, Vajood, Shaheed-e-Mohabbat Buta Singh etc.
Jaspal Bhatti: The current Punjabi comedy king.