Most diseases don't strike suddenly
by Dr H.S. Wasir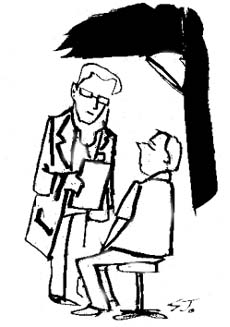 MOST of the diseases and many accidents do not happen suddenly. There are often warning signals which are ignored and then what happens is termed as sudden. Before I discuss the genesis and prevention of some of the modern diseases, let us see how some of the accidents occur. By taking the various preventive measures, not only the accidents can be prevented but also the deaths and disability from those accidents can be significantly reduced by observing vital safety measures.

Regular preventive check-up of the vehicles we drive, the railway tracks over which trains move on and the aeroplanes we fly, and paying timely attention to the minor noises and creaking sound of the gadgets and machines of daily use will help remove the defect at the beginning. By taking adequate remedial measures through stringent preventive maintenance of these machines, serious and often fatal "sudden" accidents can be prevented. Huge expenditures on the subsequent restorative work and the men and material lost in such accidents can thus be avoided. Even if a vehicular accident does occur, use of head covers and safety helmets by two-wheeler riders and use of seat of belts in the cars can help the victims to avoid serious injuries — specially head injuries and chest trauma which are often fatal.

Now let us talk of several diseases of our times which have turned out to be the biggest killers and have a great preventive potential.

Heart attacks, high blood pressure, diabetes and cancer are the main diseases responsible for the maximum mortality and morbidity both in the developed and developing countries. India has the dual burden of still facing major challenges from diseases due to infections and under-nutrition where preventive measures through food hygiene, clean environment, proper nutrition and immunization can help in the control of many such problems such diarrhoea, dysentery, typhoid, malaria, tuberculosis and polio.

Heart attacks, high blood pressure and stroke: Without going into the details of how these diseases occur, we know enough about some of the risk factors, mostly related to our life-styles, which either start the basic disease process or aggravate the problem. These risk factors are common for heart attacks, stroke and high blood pressure and so can be discussed together: (1) Lack of physical exercise; (2) Diet, high in refined carbohydrates such as white sugar, dairy products, excess of soft drinks (they contain 70-80 calories each medium size bottle) and highly spiced and fat-fried items which often have excess salt too. (3) Alcohol consumption beyond two ounces of whisky or equivalent of two glasses of beer or wine. Excess alcohol use results in high blood cholesterol, triglyceride and high blood pressure, all major risk factors for heart attack. (4) Smoking causes the narrowing of blood vessels which results in a decreased blood supply to the brain, heart, and other vital organs of our body. Apart from these cardiovascular diseases, smoking is responsible for chronic bronchitis, lung cancer and cancer of the voice box and cervix. (5) High blood levels of harmful lipids like cholesterol, LDL (low density lipoprotein) and triglycerides and low level of the protective or friendly cholesterol called HDL (high density lipoprotein) are also one of the major risk factors for heart attacks and stroke.

These metabolic risk parameters are generally the consequences of faulty eating habits and lack of physical exercise.

If these are the major risk factors for heart attacks, stroke and high blood pressure, then obviously their prevention will be possible to a large extent. This can be done in the following way: (1) Increasing the extent of physical activity through regular exercise and avoiding sedentary living. (2) Avoiding smoking. (3) Restricting alcohol intake to two drinks. (4) Avoiding over-indulgence in food intake, specially sugar and fried things, and eating more fresh fruit, nuts and vegetables.

Diabetes: Diabetes is appearing in almost an epidemic form in most of the developed and developing countries, including India. Being over-weight and lack of physical exercise are considered the two main risk factors for diabetes among adults. By virtue of the fact that this disease adversely affects the blood vessels of the heart, brain, kidneys and other organs of the body, diabetes is now being categorised as a cardiovascular disease. Uncontrolled diabetes results in heart attacks, stroke and kidney failure. Prevention of adulthood diabetes, therefore, lies in avoiding being overweight by diet control and doing regular physical exercise. Periodic blood sugar tests in the case of those with a family history of diabetes will help in the early detection of diabetes and its timely treatment.

Cancer: In most of the cancers, risk factors are not known. Smoking, however, is one single risk factor well recognised for its close relation with the cancer of the lung, voice box and urinary bladder. As there is enough evidence of smoking being a major risk factor for several types of cancer, by avoiding smoking and stopping it by those who are already smokers will help in the prevention of many cancers.

Other diseases: Many orodental diseases like that of gums and teeth and dental caries are the result of lack of proper oral hygiene and can, therefore, be prevented by health awareness techniques introduced in the school curriculum and the training of children by parents. Some of the skin problems may be prevented by avoiding synthetic fabrics, tight clothing and taking daily baths.

Role of preventive health check-up

Diseases like high blood pressure, initial stages of heart diseases and diabetes continue to be in a "silent" phase for a variable length of time till they suddenly show up with some complication. A small nodule in the breast which may be a harbinger of breast cancer may go unnoticed for quite some time unless a routine palpation of the breast helps in its early detection. There is, therefore, a great role of periodic health check-up in the so-called normal individuals for early detection of diseases like high blood pressure, heart disease, obesity, diabetes and some cancers such as that of breast by physical examination and mammography, of lungs by chest X-ray and bronchoscopy, and cancer of uterus by pap smear. Early detection of high blood pressure is easily done by simply measuring the blood pressure with sphygmomanometer, that of obesity by asking the person to stand on the weighing machine and recording the weight and that of diabetes by routine blood sugar testing.

Early detection of heart disease is possible by a detailed history-taking, physical examination, ECG, and tread-mil test (TMT) if resting ECG is normal, a 24-hour ECG (Holter study), echocardiography, stress thallium and contrast enhanced CT scan of the heart may help in some others for an early diagnosis of serious underlying heart problem.

The writer is Chief Cardiologist and Medical Adviser, Batra Hospital and Medical Research Centre, New Delhi.