Spirit of enterprise
A blend of spaghetti and saag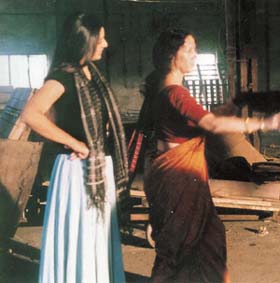 The choreographer with Tabu
IF using creativity and conviction and showing courage in her beliefs, against all odds, to pursue the path of self-actualisation are the hallmarks of a woman of substance, then Ileana Citaristi comes out with flying colours. Move over Saroj Khan, Chinni Prakash, Farah Khan; Ileana Citaristi is here. What is the noted Odissi and Chau dancer who came from Italy and fell in love with Odissi to make Orissa her home,doing in the company of film choreographers, you may as well ask. The Italian who continues to have an enduring and passionate affair with Indian classical dance and India is a quality film choreographer too. She already has a National Award in her kitty. She is in the news again for her brilliant choreography in M.F. Husain's just-released Meenaxi—a tale of three cities. In an exclusive interview with Bibhuti Mishra, she talks about her forays into film choreography.
Being a classical Odissi dancer who has trained under the legendary Odissi guru Kelucharan Mohapatra, how did you turn to film choreography?
It was by chance. Aparna Sen was going to shoot in Orissa. Her film Yugantar had an Odissi dancer as her heroine , reacting to the socio-political turmoil. It was set in the period of the Gulf War.Dance critic Sunil Kothari had suggested my name to Aparna. That's how I got the offer and it went on to win the National Award in 1996.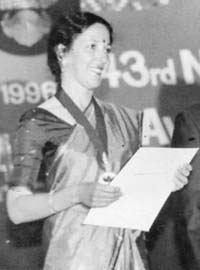 Ileana Citaristi with the National Award.
What problems did you face initially?
I came up against heavy odds. The camera space was different from the stage for which I used to choreograph till then. Besides, the leading lady Rupa Ganguly was not a dancer and I had to compromise a lot in solo.For the group dance I took professional dancers. I knew two styles Odissi and Chhau and exploited their possibilities. Jyotishka Dasgupta's music was brilliant and I basically reacted to that. For me, choreography comes like that. I close my eyes and react to the music. Choreography has its own law of direction, spatial use, quality of movements that are dictated by music and concept.
After Yugantar, which won the National Award, there was a gap of six years; why? And how did you get Meenaxi?
It was not very strange that after the National Award there was no offer.. These things work on contacts and I was based not in Mumbai or Delhi but in Bhubaneswar and that was a deterrent. However, I had met ace cinematographer Santosh Sivan at the National Award ceremony and he turned a friend and admirer. But despite promises Ashoka did not come to me; may be he had his compulsions. However, Sivan remembered me when M.F. Husain started work for Meenaxi, for which he was the cinematographer. My name came up for the choreography of the opening qawwali. They wanted something to be based on Sufi but punched with acrobatics. I had thought of Chhau and Kathak as a combination. Owais Hussain contacted me in January, 2002 and the shooting was held in the middle of August in Hyderabad.
How was it working for Meenaxi
It was hectic but extremely satisfying. I learnt a great deal about cinematic tricks and strategies while working with Santosh who was wielding the camera.The impression of elevation and search for flying moments all this made dance take on a life of its own.I had taken four male dancers of Kathak and Chhau and two Kalaripayattu dancers too. A.R. Rehman has given music for that and my favourite is the qawwali. Owais gave all the support, moral and otherwise and his wife was a great help too.
You have also done the choreography with Tabu for Gautam Ghose's Abbar Arannye; how was the experience?
It was totally different.Whereas Meenaxi had all high-tech equipments Gautam's film was more earthy.It just took one week.Many things had to be remade on the spot.It was a dream scene and a piece of waltz. But it was no less enjoyable.
Have you evolved as a choreographer working in all these quality films?
Oh yes, I learnt slowly but surely. I have matured too. I know that as a choreographer what I produce may not find place in the final film in all its totality. However, one has to produce and forget. No sentimentality there. It is in the director's hands. However, I have decided that next time I do a film I shall put the condition that I have to be present at the time of editing, because I was in for a disappointment when I saw the final cut of Aparna's film.Many portions were edited felt they could have added to the story but Aparna felt otherwise. I have no say; it's the director's medium.
Has your being a Chhau dancer helped you as a choreographer?
I love bringing in innovations in the Mayurbhanj Chhau. It is an amazingly rich style that adapts to innovations and it has shaped by choreographic sensibilities too.Foreign sensibilities of mine have an Indian base too and it helps, making a heady dish like Italian spaghetti and Indian saag (green) that I love.
Can you now take on an out-and-out commercial film?
Why not?I don't know Kathak but I still could handle it. My choreographic vocabulary, of course, would be taken from my two styles i.e. Odissi and Chhau besides other sources like martial dances and tribal dances that I have worked on. Even if you do not give shape of any particular dance my twenty three years' exposure to classical dance has given me all the attitudes, aesthetics and rhythm to make it as a choreographer be it films or theatre or stage.