NDA compromised with security: Cong
Tribune News Service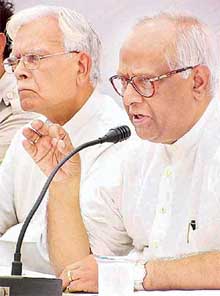 Mr K. Natwar Singh and Mr J.N. Dixit address a Press conference during the release of the Congress agenda paper on 'security, defence and foreign policy in Delhi on Saturday.
— Tribune photo by Mukesh Aggarwal.
New Delhi, April 10
The Congress party's second vision paper on "Security, defence and foreign policy," released here today read more like a chargesheet against the NDA government for its all-round failure in these areas.
Listing out its "record of grave failures", the Congress document accused the Vajpayee Government of destroying a 55-year-old convention of building a consensus on foreign policy, castigated it for its failure to contain Pak-sponsored terrorism and compromising with national security by not utilising funds for defence purchases.
The Congress was particularly harsh on the ruling combine's Pakistan policy which, it charged, has been "full of contradictory extremisms and ambiguities" and "lacking in clarity, consistency and conviction."
On its part, the Congress promised to resort to course correction if elected to power, stating the main objective of its foreign policy would be to safeguard the country's security and vital strategic interests.
The Congress also committed itself to fashioning a stable, working cooperative relationship with Pakistan while responding firmly to any threats from its neighbour.
In a scathing reference to the NDA Government's policies towards the USA, the Congress said these had failed to give due priority to India's own foreign policy and security interests by its willingness to adjust to the US priorities wherein the USA takes India for granted. The 12-page document said the NDA's claims of a "paradigm shift" in Indo-US relations stood exposed after the USA's recent unilateral declaration of Pakistan as a non-NATO ally.
Releasing the document, Mr K. Natwar Singh, chairman of the foreign affairs cell, maintained the Vajpayee government had changed its stance on Pakistan at least five times in the last five years. His colleague and former foreign secretary J.N. Dixit went a step further, stating," What you see today in Pakistan is not foreign policy but only Bharatnatyam," adding that cricket series will not resolve outstanding issues between the two countries.
The Congress said the NDA Government's policy on Jammu and Kashmir had also been devoid of clarity. At one point, it declared that the principal problem in J&K was Pakistan-sponsored terrorism and that there could be no meaningful discussions on the subject till cross-border terrorism was stopped. "Yet both at Lahore and Islamabad, the NDA Government has agreed to discuss the teroritorial status of J&K with Pakistan," the Congress document added.
While promising to improve its relations with all the major world powers and its neighbours, the Congress said its policies would be guided by national interests. The Non-Aligned Movement (NAM) may have faded away but the basic principle of non-alignment wherein the country's foreign policy is independent and rooted in equality, is very much alive, the Congress maintained.
"Let this government say it is not non-aligned," Mr Singh said while Mr Dixit explained non-alignment by quoting Mrs Indira Gandhi, who had said," I am neither pro-US, nor pro-Soviet. I am pro-India."
The Congress document also charged the ruling coalition with "deliberately and mischievously using" tensions with Pakistan to polarise Indian society and calling into question the patriotic credentials of a large number of people. It particularly attacked deputy Prime Minister L.K. Advani for his reported statement that only the BJP could make peace with Pakistan because that would make it acceptable to the religious majority in India.