Journalist's flights of fancy
Rajnish Wattas
Magic of the Fanciful
by Ashwini Bhatnagar. Abhishek, Chandigarh. Pages 176. Rs 295.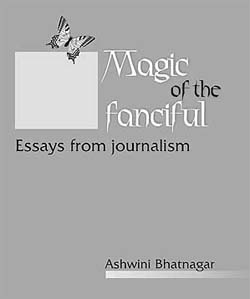 WHEN a journalist turns to creative writing, there emerges a world of beauty, joy and introspection and Ashwini Bhatnagar weaves the magic of aesthetic journalism with his fanciful pen. Magic of the Fanciful is basically an anthology of essays of all hues ranging from travelogues to reports from areas of strife to the romance of changing seasons to keen observations on writers and writing. One can take a random pick, depending on the moment and the mood, and savour it at leisure.
An eye for detail and a sense of brooding introspection underlie all pieces. Perhaps, the writer's experience of reporting on the underbelly of society has nourished these traits. Bhatnagar dwells on the theme of the journalist-writer symbiotic relationship in his trenchant introduction to the anthology: "Ernest Hemingway is every journalist's hero. He brought to journalism the refinement of literature and took to literature the dusty pell-mell of journalism; adding to the glory of both in the process. As in literature, so in journalism; the story begins with the writing of 'one true sentence."
Excerpts
Dreaming is mining the mindscape. It entails back-breaking prospecting, digging through mud and slime of day-to-day existence and travelling down the dark shafts to the core of your being. It is also about believing that there is a little priceless gem that is tucked away somewhere and it is meant only for you. The dream of its matchless lustre shining into your eyes as you hold it in your hand blinds you to the sweat and grime of the toil. There is nothing more luminous in the world than the sparkle of a dream.
To dream is to be young. It is about wanting enough to make the "world conspire with you" in its achievement. Dreams make age wither and time stop. They have their own chronometer, their own space. They have a life that is both entwined with ours as well as is wholly separate. Dreams live for themselves. But we live because of them. We die because we give up on them. We refuse to be fanciful and young.
***
Tentatively, the sky shot a handful of aqua pellets. Some dimpled the loose earth, others bounced off rocks or tumbled into crevices while a handful sizzled and burnt themselves on the scalding tar of the road. The sky's forehead darkened as it roared its disapproval. A breeze quickly rustled up to fan the heat away as the load-bearing clouds impatiently milled around growling their displeasure. The quicksilver flash of their mood hurried it to pick up a steady current and the heat began to dissipate. A drizzle started, and a minute later it began to rain steadily. The breeze wrapped itself around the thin curtain of droplets and tugged at it. A downpour ensued. The monsoon had arrived.
To quote the hero on the process: "All you have to do is write one true sentence. Write the truest sentence that you know`85 I would write one true sentence, and then go on from there." Journalism, to my mind, is writing that true sentence. It is, therefore, neither about power nor about glamour. It is not social activism either. It is about true writing. Power, glamour, activism et al follow in its wake. They attend on true writing, even though true writing has no use for these."
Although different essays would interest different readers, the collection of literary reviews in the book held the maximum interest for me. Bhatnagar's own words flow as gently as those of the icons he admires. In his obituary piece on R. K. Narayan, he writes, "Words, phrases, metaphors, similes, adjectives, even states of mind that are so typically Tamilian, issue forth in another language with natural ease. Their cross-cultural parentage never falls under the shadow of doubt as Narayan unfolds the saga of Malgudi before a wonder-struck international audience. His was truly Indian writing in English. He indigenised English in order to tell a local tale with a universal appeal."
Ashwini Bhatnagar's comments on diaspora writers who gathered at the Neemrana Fort are scathing. "The Neemrana Fort, like the writing in English, has been vacuumed and cleaned. It is said that it stands proud and confident in a different avatar. However, except for the artefacts and the starched turbans on waiters' heads, there is nothing that can distinguish it from any other hotel in Delhi or beyond. It has been sanitised; deprived of its heat and dust, the smell of its earth—its every soulpresented to the world for its Indianess. How far will it go?"
His observations on Chandigarh, where he lives, are also unsparing. Looking at the city as it turns 50, he writes: "It exists like a body etherised on the dusty plains of Punjab, at times charming curious passers-by with its good looks and childlike innocence. There could be, undeniably nobility in its heart, but its activity through the last half century has been measured out in coffee spoons, mostly half full. Therein lies its listlessness; its sorrow of a promise unfulfilled."
The most ethereal is the title piece, Magic of the Fanciful, a brave analysis of dreams. "I have a dream, is the first declaration of intent that a man can make. It is also the first declaration of innocence. A pragmatic person can only plan`85 a dreamer is innocent of all this and in his innocence lifts himself beyond and above what is. The wheel gets invented." Fanciful, but possible.
Perhaps there can be no bigger compliment to the writer's efforts than what the acclaimed author, Pico Iyer—whom Bhatnagar met at Neemrana—has to say: "I so enjoyed your soaring encomium to dreams (Magic of the Fanciful), to the need to send our imagination flying and especially your using Neemrana Fort (At Home in Which World, Pray?) as a symbol of Indian writing in English. I had never thought of it quite like that before and now I shall think of it like that`85"
Many of us would agree with Iyer and celebrate our local essayist's flights of fancy.