Netas, godmen and lucky charms
A.J. Philip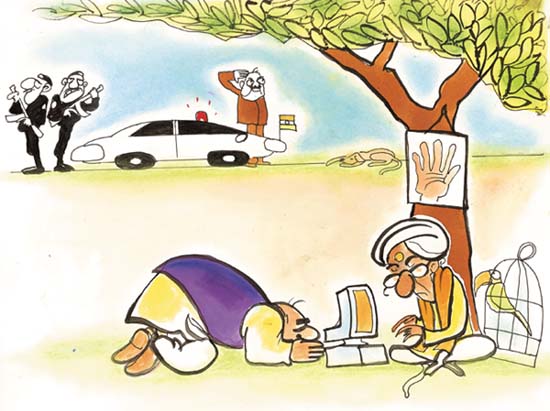 SEVERAL decades ago, when I was an impressionable boy, I watched with horror how my widowed grandma, who had brought up her children all by herself, was treated on an important day in her life. A pious lady, she was at the portico of our house with other women to receive her new daughter-in-law when a family member whispered something into her ears.
She immediately went into her room. I was too young to understand what had transpired to make her shed copious tears, all in silence. I had never before seen her cry. It was only later that I learnt that as a widow, she was not supposed to receive the new bride. What a pity she could not receive her own daughter-in-law because of a superstitious belief in a community which is supposed to be free of such evils.
Superstition is the bedrock on which our whole society seems to rest. Come April 13, Prime Minister Atal Bihari Vajpayee will leave for Lucknow to file his nomination papers. The date was chosen because 13 is a lucky number for him. He was sworn in on a 13th and successfully led the 13th Lok Sabha. That he was able to remain in the saddle for 13 days even when he did not enjoy majority support is also cited in this context. Since the counting of votes is, again, on a 13th (May), the BJP believes nothing will prevent Vajpayee from returning to South Block.
Willy-nilly, one signal contribution the Prime Minister has made is to metamorphose 13, considered unlucky ever since Christ and his 12 Apostles sat down for a dinner and He was betrayed by Judas Iscariot. The 18th century essayist Joseph Addison narrates an interesting tale which throws light on the hold of this superstition in The Spectator, a magazine he brought out "to enliven morality with wit, and to temper wit with morality":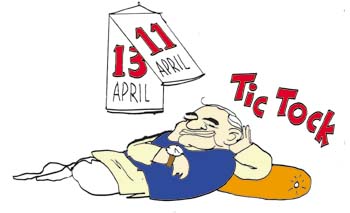 "I remember I was once in a mixed assembly that was full of noise and mirth, when all of a sudden an old woman unluckily observed there were thirteen of us in company. This remark struck a panic terror into several who were present, insomuch that one or two of the ladies were going to leave the room; but a friend of mine, taking notice that one of our female companions was big with child, affirmed there were fourteen in the room, and that, instead of portending one of the company should die, it plainly forebode one of them should be born. Had not my friend found this expedient to break the omen, I question not but half the women in the company would have fallen sick that night."
But by treating 13 as lucky and deliberately choosing it for important events in his life, Vajpayee has been behaving no better than the old lady in Addisonís tale. He may talk about "India Shining" and the "feel-good factor" but he has to choose a "lucky day" to file his nominations. Last time, an elaborate puja preceded his trek to the District Magistrateís office to file his nomination papers.
To be fair to Vajpayee, even his party does not want to hide his weakness for such rites and his desire to seek the blessings of godmen and godwomen. The multi-coloured Vision Document brought out by the BJP has, among others, an old picture of Vajpayee standing as a supplicant before the late Deoraha Baba, a favourite of Indira Gandhi, who blessed his followers by putting his "lotus" foot on their head. Why single out Vajpayee when every other politician has been found to be cultivating some godman or the other?
Take the case of Human Resource Development Minister Murli Manohar Joshi, who started his career as a physicist and will be remembered forever for introducing astrology courses in Indian universities. He went to a little-known baba in a remote village of Uttar Pradesh to seek his blessings for his electoral victory. He believes it was due to his blessing that he scraped through in Allahabad the previous time. His colleague in the External Affairs Ministry Yashwant Sinha, who is originally from the IAS, is no less clairvoyant. He had been advised by his astrologer to file his nomination papers on a Friday.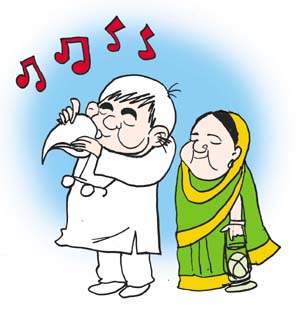 In Bangalore, Union Minister Ananth Kumar organises the BJPís electoral campaign from a makeshift office and not from the imposing party headquarters because the latter is "jinxed". It is difficult to believe that these are the leaders who have sworn to uphold the Constitution, which in the chapter on Directive Principles enjoins upon the State to build a scientific temper among the people.
For this very reason, Sanjay Paswan, a Central minister from Bihar, who walked on red-hot coal with a live snake around his neck, a la Lord Shiva, should have been sacked from the ministry. Maneka Gandhi, who virtually put an end to the use of animals in scientific research in the name of preventing cruelty to her four-footed and winged friends, should have demanded his sack for the cruelty shown to the snake. Worse, he was allowed to popularise mumbo-jumbo as an alternative curative practice.
The people who saw the Central minister walk on fire were too spellbound to ask him to remain static on the coals, for it would have exposed his trickery. Even educated people fall prey to such tricks. I realised this when I saw an editor of a leading daily prostrate before a godman, who specialised in tantric rites, and another who proudly flaunted the gold ring a godman had presented to him from "nowhere". It did not occur to him why the godman presented him with a ring while he gave only vibhuti (ash) to ordinary followers and why the ring did not protect him when he eventually became the butt of ridicule.
I once counted more than 10 rings on former Bihar Chief Minister Jagannath Mishraís fingers, each of which was meant to take care of some baneful planetary influence on him. But that has not prevented his perpetual downslide in politics.
Not many will remember that what prompted him to bring forward the draconian Bihar Press Bill in the early eighties was a report that he had undergone a bloodbath, for which a goat was sacrificed. He wanted to teach journalists a lesson they would never forget.
The late N.T. Rama Rao had no problem in sporting one earring in public. He reportedly wore a sari at night to become an ardhnariswara (half man, half woman), as advised by his astrologer. On his advice, he closed the gate through which he entered the Secretariat and built another that conformed to the exacting standards of Vaastu. Yet, within a few days of the gate coming up, he lost his job and a few months later, his life due to "exertion" in the bedroom when he was alone with his nubile wife.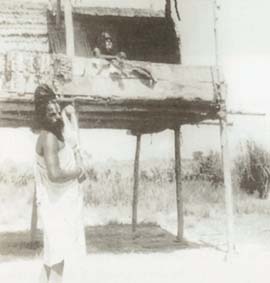 Deoraha Baba was a favourite of Indira Gandhi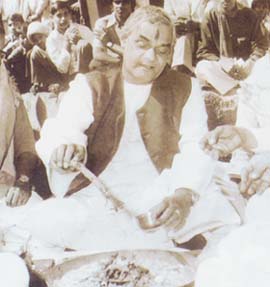 Atal Bihari Vajpayee performs a yajna
Numerology is another fad popular with our politicians; Jayalalithaa, who added one more "a" to her name, is known to reserve a particular number for herself whenever the Chennai Transport Department opens a new series for vehicle registration. Her counterpart in Madhya Pradesh, Uma Bharati, has been giving a free run to an assortment of holy men, whose presence marked her swearing-in ceremony.
Officials who know which side their bread is buttered have been propitiating godmen in the belief that it is the surest way to please a new chief minister. Even upright officers do not have the moral courage to say that they shall not pin their faith to their sleeve. Why should they when it is profitable to be otherwise?
Small wonder that the Madhya Pradesh police under Director-General S.K. Das did not find anything amiss in organising an elaborate five-day yajna at the Police Lines in Bhopal to ward off "evil influences". He resorted to this unusual step as half a dozen police officers had died of unnatural deaths recently. Das hopes that with Lord Shiva adequately propitiated, his forces would be able to handle the crime situation better.
The yajna is reminiscent of an incident in Indian history. In the 16th century, the Rajputs could have aborted Baburís plan of building his empire in India. Under Rana Sanghaís leadership, they had surrounded Baburís much smaller force at Khanua. Defeat stared Baburís army in the face. But Rana delayed his attack for astrological considerations, giving time to Baburís forces to get their act together. A superstitious belief changed the course of Indiaís history.
In "secular" India, Uma Bharati has already declared Ujjain, where the new millenniumís first Simhasta is now under way, a holy city, banning the sale of liquor, eggs and meat there. It does not bother her that hundreds of butchers and egg-sellers in the district town have been hit hard by this decision. Of course, Uma Bharati is not the only one to fall for the charms of the occult.
Four years ago, then Speaker of the Madhya Pradesh Assembly Srinivas Tiwari took the lead in organising a yajna at Bhopalís new Vidhan Bhavan in the belief that its "construction and layout" was responsible for the death of 12 legislators. He cared two hoots for the fact that most of them died of old age and there was no common thread linking their deaths, spread over several years.
Reason has no place in such beliefs and practices. I once detected that the astrologer, who wrote a weekly column in the paper I worked for then, was shuffling the predictions week after week. Just a few weeks ago, a reader had approached me for the astrologerís address. Why? He had predicted that "a planned marriage may not fructify". In his case, it had proved true as the groom failed to turn up for his sisterís wedding.
To address the needs of the serious students of astrology, there are a plethora of publications, one of which celebrated its golden jubilee recently. Murli Manohar Joshi found time to attend the function and pay tributes to its founder, who, incidentally, had predicted a glorious future for Prime Minister Jawaharlal Nehru a few months before he died.
Another astrologer, who charges a hefty sum for preparing other peopleís horoscopes, had no clue that his own daughterís marriage would be on the rocks and that she would eventually seek divorce from her husband.
Among politicians, DMK chief M. Karunanidhi is one of the few who do not have time for such charlatans. During the previous elections, Kalyanasunda- ram, a well-known astrologer from the temple town of Tiruchendur, approached him for a Lok Sabha seat. He asked the soothsayer how good he thought his chances of getting the nomination were. "Very high" was his prompt reply. Karunanidhi was equally quick in showing him the door, forcing the astrologer to revise his own horoscope.
Twentyfive years ago, A Statement on Scientific Temper, was issued, among others, by P.N. Hasksar and Raja Ramanna stating, inter alia, that "the role of reason is to apply scientific knowledge to problems, to grapple with them through the methods of scientific inquiry and to work for social transformation inspired by scientific temper."
But who bothers for such thoughts in a country where even the Railways gives a 50 per cent concession to those wanting to participate in the birthday celebrations of a godwoman in Kochi and every minister arrives for the event on state expense. As pseudo-religionism takes over in this country, secularism goes for a toss. And with that the scientific temper that the Constitution speaks of.