TELEVISION
High-flying doc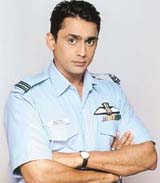 Saxena in Saara Akash: Three-in-one man
A doctor, a managing director of a pharmaceutical company, a TV star. Will the real Anuj Saxena please stand up?
"Actually, I am all three. The trouble is that I am always juggling between my shoots and office meetings and I hardly find time for my family," says the doc who plays Flight Lieut Karan Singh in Saara Akaash.
Lifeís been a rollercoaster for this one-time doctor ever since he starred in Asha Parekhís Kora Kagaz and Ravi Raiís Kshitij. What followed was an offer from Balaji Telefilms. Playing Abhay Kapoor in Kkusum made him a household name.
As if all this is not enough, Anuj is now mulling over an offer from the National Network. " I canít disclose much now. All I can say is that I am looking forward to the show as it will take me to the rural masses. DD is still the number one channel in villages." Now thatís what you call a left-handed compliment, donít you?
Big Bís big plans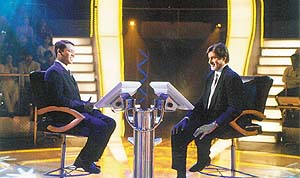 Bachchan in KBC: The quizmaster is returning.
IT is the best of times for the iconic Amitabh Bachchan. He shrugs off suggestions that it may be time to walk into his golden sunset. "This thing about age is rubbish. Look at Baghban. People are still coming to see my films. Thatís what keeps me going," he says.
But more than films, the Bade Mian is now eagerly awaiting his small-screen comeback, that is as soon as he can find time slots for a re-packaged Kaun Banega Crorepati.
"I am itching to get back into the hot seat again," said Bachchan, who was in Delhi recently for the announcement of IIFA awards.
There is also some talk of his doing a mega serial for Sahara Manoranjan to lift the fortunes of the channel after the collapse of Karishma ó The Miracle of Destiny. Yes, there are plans and more plans and the actor has never been busier.
"Yes" he laughs " The flame burns brightest before extinguishing. Thatís how itís about my film offers." Of course, when they dry up, thereís always the small screen to turn to.
Recipe for a vamp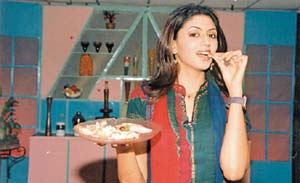 Kaushik in Pakwan: Foodieís day out
THERE is something ominous about her. For many, just her name bodes evil. The venomous Manya of Kahani Ghar Ghar Ki and the scheming Sakshi of Kutumb. Kavita Kaushik is fast out-vamping other vamps.
This Gen Y baddie is quite literally proving that variety is the spice to life as she returns to host Pakwaan on DD. She had earlier anchored 16 episodes and moved on. Now sheís back, saying she just couldnít resist the aroma of a cookery show.
"I love the show because I love good food and cooking de-stresses me," says Kavita on why she has come back to the show.
And no. Though she did a cameo in Ram Gopal Varmaís Ek Hasina Thi, sheís not crossing over to Bollywood. " I am happy being on TV. Now the cookery show is a great way to relax from the strain of playing a vamp two times over." Food for thought, indeed.
Marriage dotcom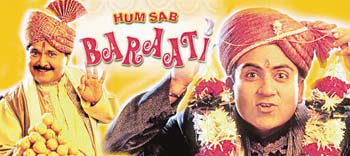 Hum Sab Baraati HainÖWedding solutions
WHAT happens when you cross The Wedding Planner with Monsoon Wedding? The outcome would be Hum Sab Baraati Hai on Zee TV, Sunday to Wednesday 8 p.m.
Sanjay Chehel, the king of one-liners who has delivered hits like Naya Nukkad, Filmi Chakkar, Philips Top Ten, Malini Iyer and films like Rangeela, Yes Boss, Phir Bhi Dil Hai Hindustani and Khubsoorat now comes up with this one-stop wedding solution.
Starring stalwart comedians like Tiku Talsania and Dilip Joshi, this is a story of parivaar that specialises in arranging weddings right from selecting the venue to entertaining the guests. Each member specialises in a particular job and thereís a website as well.
Encapsulating the warmth and humour in Indian weddings this sitcom is a laugh riot. And next time anyone is planning a wedding you know where to go!
Kahani Karmarkar Ki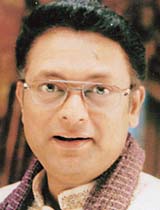 Karmarkar in Kahaani Ghar Ghar Kii: Popularity awards
HIS popularity peaked last year when he received several best actor awards for his portrayal of a modern day Lord Rama in Kahani Ghar Ghar Kii. Now Kiran Karmarkar is regaling viewers as Nischay Kapoor in Balajiís Kkehna Hai Kuch Mujhko on Sony.
"Itís a very believable role of an ambitious young man who craves for lifeís good things. Because of its contemporary theme it is very popular," says Karmarkar of his new role.
The star, who started with cameos in Panther and Safar before graduating to Itihaas, Padosan and Ghar Ek Mandir, says Kahaani Ghar Ghar Kii got a new lease of life when it was fast-forwarded by two decades. "It has done wonders to the viewership."
Yes, he agrees, his new serial Kkehna Hai Kuch Mujhko is a women-oriented family drama. "I am proud of doing a serial that portrays empowered women and shows so much respect for them," says Karmarkar in a touching tribute to Balaji Telefilms. NF