AUDIO/VIDEOSCAN
Raat Chand Aur Main (Times Music)
ASC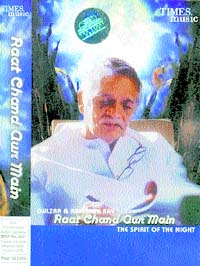 Gulzar is not only a gifted poet, he is also blessed with a powerful voice which makes hidden meanings of words stand out. Here he recites some of his poems, which are also sung and set to music by Abhishek Ray, who has been composing music for television since his schooldays. The recitation and singing gel seamlessly.
The imagery of Gulzar is superb and has been rendered with a lot of feeling by Ray. Ray manages to do justice to Gulzarís word-pictures of pain and loneliness, love and life. He had earlier released Udaas Paani with Gulzar.
The night, the moon and "myself" are portrayed as three nomads who after travelling to distant lands seek refuge for the night in the belovedís eyelashes. This is perhaps the most evocative melody of the album. Then there are Tameer, Tere Shehar, Dhoop Aaye na, Phir Sham Jag Gayi and Suje Suje, which are equally arresting.
Pankaj Udhas: Melodies Of The Ghazal King
(Times Music)
Pankaj Udhas has not been coming up with very many new offerings of late but almost all his old ghazals have become classics. That is why most companies keep repackaging them as "best of Pankaj Udhas" or "a selection of Pankaj Udhas".
This particular album is different. It has the instrumental versions of various ghazals like "Sab ko maloom hai main sharabi nahin", "Ghungroo toot gaye" and "Thodi thodi piya karo". In all, there are 16 ghazals.
Music has been arranged by Vivek Sharma on the keyboard, octopad, guitar, mandolin, banjo, tabla, dholak, sitar, flute, santoor and saxaphone.
They make a lovely accompaniment if you like to hum along.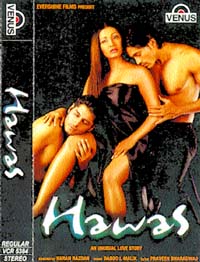 Hawas (Venus)
Composer Daboo I. Malik has sprung a pleasant surprise with the maturity of his tunes. He has some surefire gems among the songs penned by Praveen Bharadwaj.
The most polished of them is "Tera libaas ban jayoon," which figures twice in the voice of Shreya Ghoshal and Sonu Nigam.
Daboo Malik sings "Alla Miya" along with Sunidhi Chauhan but this song proves to be the only weak link. The opening song, "Churaya hai" (Shreya Ghoshal, Babul Supriyo) is impressive.
This feature was published on April 10, 2004