Did you know
Bible is the most 'shoplifted' book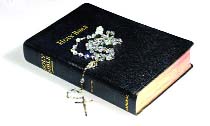 The longest Monopoly game ever played was 1,680 hours long, that is 70 straight days.
The largest web-footed bird is the albatross.
According to a web site the Bible is the number one shoplifted book in America.
On July 31, 1994, Simon Sang Sung of Singapore turned a single piece of dough into 8,192 noodles in 59.29 seconds.
At 12 years old, an African named Ernest Loftus made his first entry in his diary and continued every day for 91 years.
Toronto, Ontario, was home to the biggest swimming pool in the world in 1925. It held 2000 swimmers, and was 300ft x 75ft. It is still in operation.
Shakespeare's most talkative character is Hamlet. None of his other characters have as many lines in a single play.
— Compiled by Gaurav Sood