FASHION
Get rocking in style
Pinky Adil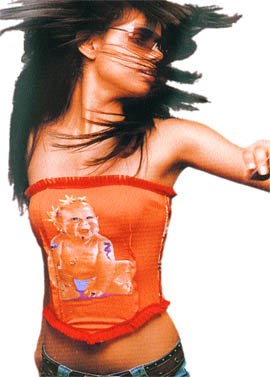 PARTY wear is getting bolder and bolder. Nowhere in India is this more in evidence than in Mumbai's many pubs, nightclubs, discotheques and lounge bars where the city's PYTs (pretty young things) gather religiously every evening, if only to shoot the breeze and be seen.
Little wonder, designers like Kavita Bharatia, Manish Arora, Ranna Gill and Ashish Soni who were till recently operating from Delhi have opened shop in Mumbai, joining the well-entrenched lot such as Abu-Jani, Manish Malhotra, Narendra Kumar and Rocky S.
All these designers are united in their singular concern at reinterpreting the word 'sexy'. As Gill points out, women have become comfortable with their bodies as they work hard and party harder. "Women in Mumbai really look after themselves and enjoy wearing form-fitting clothes," echoes Bharatia. "This is why I have done a whole range of bustiers for my Mumbai store." Indeed, nobody can go wrong with a bustier as party wear. Wear it with a pair of jeans and you are ready to swing; top it with a skirt and you can become the hottest number on the floor, team it with a sensuous saree and you would set the night on fire!
Next to bustiers, embellished T-shirts are must-haves for anybody on the party circuit. Sabina Singh first started designing tees three years ago when they were considered casual wear. Now, with jewelled tones coming in, they are regarded as formals and constitute Sabina's best selling items. Her recommendation: silver and bronze highlights against anything that shimmers."
Going by the recent Christmas and New Year bashes, Rocky S feels that colour would stage a comeback with the youth in 2004. "I may still be doing a lot of blacks, but eventually, it looks like pink and lavender would determine colour trends for the year," he says. "As for clothes, avoid the fusion look as it has been overdone. Instead, go for something that gives a more combat look."
"We have had enough of the kurti," opine Rohit Gandhi and Rahul Khanna. "Something with an element of combat would be a better option. Fitted is great and if you are going to wear black, make sure you throw in another colour too. Green is a good colour that goes with multiple pockets and zips."
On a more feminine level, skirts are setting the temperature soaring with waists dropping lower than ever and hemlines rising higher and higher. And should that appear too bold, designers are introducing a touch of old-world modesty by reviving the geometric prints of the 1960s.
Moreover, they are saying that the days of baring the legs are over. Hosiery is already showing up in the form of fishnets, opaque tights and lace stockings. And in further covering those "dressed-up legs", knee-high boots have become the current craze for party hoppers.
"Right now, it is all about the boot," opines Rina Shah. "And within boots, the main theme seen on international runways is the sexy boot. High-heeled boots are making such a statement everywhere that you can now wear them day and night."
With menswear, styles are getting just as risque and upbeat. The range of party shirts doing the rounds these days includes well-fitted numbers in faux silk with zari borders, velvet and satin as well as crushed cottons with block prints or stripes.
"Look out for unusual styling details like French cuffs and Mandarin collars," advises Kumar. "As for suits also, concealed buttons and thin lapels are hot. But above all, go for only those clothes that you feel and look confident in, rather that what others tell you to wear." Men's jewellery too is making a big statement in the party circles with the yellow metal showing up all over the male body—as chains around the neck, rings on the fingers, bracelets on the wrists, not to mention gold cuff-links, tie pins, watch straps and buttons.
For women though, jewellery styles are more retro with the art deco look of the 1920s being recreated. Consequently, coloured stones are what everybody is wearing with both gold and silver. Tourmaline seems to be a common favourite—probably because it is inexpensive and its transparency works well with any colour of the dress. (MF)
This feature was published on January 17, 2004