Sight & Sound


When anchors hog the limelight
Amita Malik
THERE is a media joke doing the rounds about NDTV's "Gang of Four". Your guess is as good as mine, but one of its "award-winning" stars has been shining a little too bright for viewers and did not leave at least this columnist with a feel-good reaction.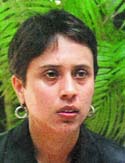 Barkha Dutt: Excessive exposure
Let me explain. Many of us choose channels which we feel suit our personal tastes. Although I watch as many channels as I can for professional reasons, NDTV is something I watch for personal reasons because I find it professional, interesting and pleasurable. But look what they did to me last weekend. On Saturday evening, they showed Shah Rukh Khan around 6 pm in Jai Jawan, which took us to the troops in the border areas. Aamir Khan had preceded him at Ladakh and Rani Mukherji in Rajasthan. In each case an anchor-escort was provided and in two cases it was Barkha Dutt and she is not one to keep a low profile. In fact, when with Shah Rukh, the producer, who I think was Aarti Singh, and the camerapersons seemed to think the star of the programme was Barkha Dutt. Sometimes Shah Rukh was shot from behind or the side, while Barkha faced the camera full face. More often than not, when Shah Rukh said something interesting to a soldier, the camera would focus on Barkha's reaction rather than that of the soldier, which was bad judgement. This undue attention to the anchor took away a lot not only from Shah Rukh but also from the soldiers.
Well, having had one dose of this programme early evening, there was Barkha again in her programme Chai Stop (who thinks up of these gimmicky titles?). Though she claims to meet ordinary people in this programme, in this case the very ordinary person was the head of infosys, no less. We had barely got over this second long dose of Barkha when the Shah Rukh programme popped up again the same night. Sunday was no better. The Jai Jawan programme was repeated twice and in between we had an even longer dose of Barkha in We The People. I had sat patiently through this overdose to monitor professionally how far they would go. I then decided enough was enough and did what the viewer, who has a choice, can always do: switch channels.
I found Sahara Samay was doing a very competent job of cricket, with a daily panel discussion anchored by Arup Ghosh, and with Azharuddin, among others. It got two telephone exclusives with Saurav Ganguly. I also watched one instalment of experienced Shireen's incisive panel discussions with the political leaders from different states, this time Punjab. Star News has a daily cricket round-up but its anchor, Aparna, seems to be competing in speed (a common amateurish mistake) with the Rawalpindi Express and goes so fast that, at times, one cannot make out what she is saying.
Open-air discussion shows are now becoming the vogue. While Star News kept the Gateway of India and the Taj Mahal Hotel as a backdrop in Mumbai for grilling the local netas, Aaj Tak chose the national stadium in Delhi and India Gate for Sushma Swaraj and Sheila Dikshit to hold a spirited dialogue. Dikshit, as usual, was unruffled and civilised, but, alas, Sushma Swaraj again took to loud, shrill retorts. In spite of all those alleged lessons in studio and public speaking, it is amazing how even experienced speakers like L. K. Advani shout into the mike at public meetings when the mike is there. In the event, Advani suffered unnecessarily from distorted sound as well as a very hoarse throat during his long yatra.