STAMPED IMPRESSIONS
A tradition of valour
Reeta Sharma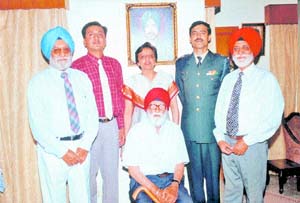 Joginder Singh (sitting) with his clan. From left: Brig Kuldip Singh Kang (retd), Maj Sandeep Kang, Capt Mandeep Kaur Kang (retd), Major Babbar Singh Kang and Lt Col Mohan Singh Kang (retd)
THE youth today are not keen on joining the armed forces. At best, they choose this option as their last resort. The reasons are not hard to find. When a nation is driven by market forces, armed forces appear too lacklustre money-wise to allure the Gen X. In such a scenario, some families bring in a ray of hope. Today, I shall tell you the story of one such family — the Kangs.
Sunder Singh Kang was born in poverty in Boormajra village in Morinda. Of his four sons, the elder two never saw school and died as bachelors. However, his other son Joginder Singh joined the army as a civil clerk during World War II. Soon, he became Junior Commissioned Officer.
This was the beginning, for the Kang family eventually serve the armed forces for the next four generations.
Joginder Singh's eldest son, Kuldip Singh Kang, displayed his brilliance by bagging scholarship in school. He was selected to the National Defence Academy (NDA) and was the first to represent the entire Ropar belt. His schooldays were as tough as his father's. Morinda, being a sandy area, had extreme summers and winters. In the rainy season, students had to wade through knee-deep water to reach school. This tough life prepared Kuldip for the strenuous training at NDA.
But a strange handicap stared him in the face: he wasn't well conversant with the English language. Most of the cadets at NDA were from English-medium schools and well-acquainted with western mannerism and sports for the elite like cricket, tennis, golf, and billiards. Kuldip opted for the most inexpensive athletic sports: running. No prizes for guessing that he beat all his companions at it. In December, 1954, he joined the Jat Regiment at Dagshai.
Meanwhile, his youngest brother, Surjit Singh Kang, also joined NDA in the very first attempt. After the Chinese aggression of 1962, his third brother, Mohan Singh Kang, too joined the defence services for the Short Service Commission. Amazingly, all three brothers were in active operation. In 1965 Indo-Pak War, Capt Surjit Singh Kang of Seven Sikhs was killed in the Poonch sector. Incidentally, that was the last day of the war. His body was retrieved after the ceasefire and given a military funeral in Poonch itself. This brave soldier was only 24 and unmarried.
Though the entire Kang family at that time was struggling for financial security, they unanimously decided to donate to the village school his insurance benefits as well as the Punjab Government's grant of Rs 30,000. Besides, the family also set up a trust in his memory. On every September 22, his martyrdom day, financial aid and prizes are awarded to children of the village school where Surjit Singh had studied. Mohan Singh Kang served the nation and retired as Lieutenant Colonel. Brig Kuldip Singh Kang fought in all three wars between India and Pakistan. He also commanded a unit in J and K. After his retirement, he was appointed Director, Defence Welfare, Punjab. He also served as Managing Director of the Punjab Ex-servicemen Corporation. Many people come and take such jobs and retire but only a few leave a mark and Brigadier Kang is one of them. He is credited with the setting up of the War Museum in Ludhiana, and the Defence Services Officers' Institute and Sainik Bhavan in Sector 21, Chandigarh. Besides, more than 10,000 ex-servicemen were re-employed in Punjab in the reserved quota.
The fourth generation of the Kangs, Brigadier Kang's only son Major Sandeep Singh Kang, is currently posted in Shimla. He was recently decorated with a Commendation Certificate by the President of India. His daughter Mandeep has already completed five years of Short Service Commission. Lt. Col Mohan Singh Kang's only son Major Babbar Singh Kang is in Signal Corps.
Ask the Kang family about their fifth generation joining the defence services, and they are game for it.

This feature was published on April 10, 2004