The poet as witness
M.L. Raina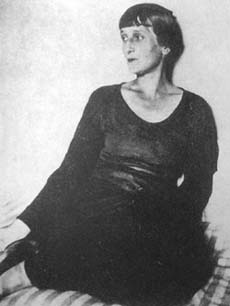 Anna Aakhmatova
TO speak of Anna Aakhmatova (1889-1966) as simply a woman poet is to belittle her achievement. Or to speak of her as a Russian poet of the last century is to confine her artistic range to one country. Akhmatova was neither a woman poet in the narrow militant feminist sense in which the term is understood today, nor just a poet of Russia alone. She inherited the tradition of St Petersburg Classicism which itself derived from the European literary heritage at large.
Her poetic involvements went beyond the domesticated lyricism of conventional feminine poetry and embraced larger questions of political and social inequity. Though essentially a poet of 'the keening muse', as Joseph Brodsky described her, Akhmatova rose above personal sorrows (too numerous to relate here) to create a disciplined yet many-layered work of haunting reverberation.
It is a long-standing belief that out of suffering under totalitarian regimes new forms of literature and art emerge. Nowhere is it truer than in Stalinist Russia where repression produced distinctive poetic responses such as those of Pasternak, Tzvetaeva, Mandelstam and Akhmatova. One has only to read the two memoirs of Nadezhda Mandelstam, Hope Against Hope and Hope Abandoned (both 1970) to discover the depths to which Stalin's terror drove talented artists of his generation.
Like these memoirs (in which she figures prominently), Akhmatova's poetry is the outcry of an unhappy, intelligent and educated person struggling, first with her poet- husband Gumilyov and then alone, against the torments and deprivations inflicted by Stalinist purges. Every atom of her poetic being is saturated with misery and grief not comprehensible in normal terms.
Rejecting her status as a nun or a whore (Stalin called her both), she continued to write the poetry of longing and regret, of hopes betrayed and promises belied. In this sense she was no different from others who wrote about loss and suffering- the Austrian poet Nelly Sachs for one who wrote of the terrible consequences of the Holocaust.
In an early poem she laments: We aged a hundred years, and this/happened in a single hour:/the short summer had already died, /the body of the ploughed plains smoked. Here the doom-laden later years are anticipated with something of a calm resignation—a trait that was to stand her in good stead in life as she endured social and political catastrophes and fought endless persecution by the secret police.
The October Revolution, though universally hailed at first, turned into a nightmare and gradually devoured dissident men and women of talent. Akhmatova's second husband and son were taken away as was the poet Mandelstam. Her grief becomes the collective grief of all the suffering wives and mothers awaiting news of their loved ones. In the 1930s and 1940s her poetry becomes a brooding, almost mystical meditation on death, love and other human affections.
These themes have universal inclusiveness and lift her verse above mere sentimental mourning. As it turns out, love becomes the ground bass of her entire output. The one constant note in her verse, as it experiments with a variety of metrical forms and content, remains that of controlled terror, of ' fearful symmetry' in Blake's sense.
Poems such as Anno Domini, Poem Without a Hero, Leningrad Quatrains fuse an awareness of the ongoing terror with a will to triumph over private tragedy. Even when she writes poems to eulogise Russia's war effort (designed primarily to secure her son's release), one notices a defiant solicitude for the victims rather than a self-pitying fatalism.
"And the stone word fell/on my still-living breast. /Never mind, I was ready. /I will manage somehow/Today I have so much to do:/I must kill memory once for all, /I must turn my soul to stone/I must learn to live again". ('Sentence'). Or, "Mary Magdalen beat her breast and sobbed/ His dear disciple, stone-faced stared/His mother stood apart. No other looked/into her secret eyes. Nobody dared". ('Requiem').
Anna Akhmatova's best-known sequence, Poem Without A Hero, celebrates her dead friends such as her husband, poet Mandelstam and many others who had fallen prey to Stalin's brutality. Its epic sweep brings to mind Pushkin's Boris Godonov and fellow poet Alexander Blok's Twelve; but in spite of its range of interests, it retains the concentrated charge of a testament: "And in my dream it seemed/ what I was writing was a libretto for somebody, /and the music refused to stop. But a dream—is also something real, /soft embalmer, Blue Bird, /the parapets and terraces of Elsinore". ('the other side of the coin').
Akhmatova's is a 'poetry of witness' that defends the individual against all forms of coercion. Such poetry does not go into 'holes of oblivion' as Hannah Arendt would put it, but nags our guilt of connivance with tyrants like Hitler or Stalin. It invokes religious symbolism to reinforce the language of extremity and to compensate for the fragmentation of social vision caused by the turmoil of the times. Five years before her death she could justifiably claim: "No foreign sky protected me. /No strangerwing shielded my face. /I stand as witness to the common lot/ survivor of that time, that place".
The poetry of witness draws upon what Akhmatova calls 'the invisible ink' of others to strengthen its claims to authenticity, not as a substitute for ones tattered memories but as a reminder that others have gone down the same path as oneself. It also asks successive generations to bear a similar cross. Not surprisingly, the poet Marina Tzvetaeva does just that as she sculpts in words the images of her own troubled destiny.