Travels through the outsourcing hub
Peeyush Agnihotri
Whatís This India Business? Offshoring, Outsourcing and the Global Service Revolution
by Paul Davis. Nicholas Brealey Publishing. Pages 233. £ 9.99.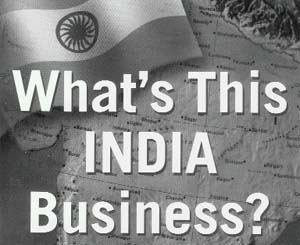 OUTSOURCING, the business phenomenon of the day, has taken the whole world by storm. Developing countries, including India, are gloating over it, while opinion is divided abroad, ranging from crying foul to subdued appreciation. In the US, this IT-enabled business paradigm has become a fulcrum on which the election rhetoric is going to revolve.
While politicians and jobless youth are trying to get outsourcing banned, others like Paul Davies, the author, acknowledge that outsourcing is here to stay. This book is a 253-page statement on this fact. Perhaps his underlying philosophy is "when you canít bust a wave, try surfing it," and that is apparently why this former Managing Director of Unisys India has authored a book that delves into many intricacies of doing business in India and with India. Essentially targeted at those desirous of outsourcing business to India, two-third of the book looks more like a travel guide on India with issues like immigration, currency, taxi drivers, religion and the Indian attitude being discussed in detail.
The book also gives a fair idea about how outsourcing business is growing, quoting figures from Nasscom surveys. Listing out the companies that outsource to India, Microsoft and GE included, the author points out that the IT Enabled Services (ITES) business is projected to grow to $ 142 billion by 2008 for India and the revenues are going to touch $ 87 billion.
The author takes the viewpoint of both outsourcers and outsourcing haters. He says: "Outsourcing looks like a Trojan horse that, once it enters your citadel, will destroy you from inside out. Alternatively, you can look at what happened to western IT companies, short-cut some of the analysis, take a hard look at what is really core in your company processes, and gain a competitive advantage that will be longer lasting."
Comparing costs, the author reasons: "In mid-2003, the annual cost of an experienced call centre agent in the US was about $ 43,000. In India, the direct equivalent was about $ 6,200." The book also discusses the issues of data privacy and core competency.
Part I of the book is all on outsourcing business, while the other two parts discuss what India is aboutóbloated bureaucracy and haggling habits of Indians, included.
The book says: "Someone who goes through life without experiencing India misses a whole range of opportunities, paradoxes and contradictions. Where else in the world would you see electronic voting machines being transported to far-flung locations on the back of an elephant or the most advanced communications fibre being laid into the ground with only the help of pick and shovel?"
A statement like this can come only from a person who has observed India minutely and has seen the country inside out. Like it or leave it. India has arrived. If you remain an offshoring-basher, youíll miss the bus, so better brace up. This is the statement that the book makes, covertly.