He has struck a classical note in films
Shalini Rawat
Notes of Naushad
edited by Shashikant Kinikar. English Edition. Pages 203. Rs 495.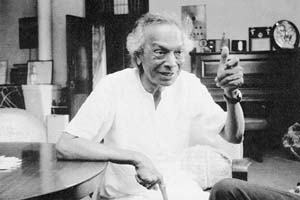 Naushad pioneered many trends in playback singing
NAUSHADíS rise to fame is the primeval tale of success attained through toil and sweat. Perhaps Naushadís greatest contribution was to bring Indian classical music to films. Many of his compositions were inspired by ragas and he even used distinguished classical artistes like Amir Khan and D.V. Paluskar in Baiju Bawra and Bade Ghulam Ali Khan in Mughal-e-Azam.
Naushad was one of the first to introduce sound mixing and separate recordings of voice and music tracks in playback singing. Ever the experimenter, he put the microphone in a ceramic-tiled bathroom, to produce the echo effect in Rattan. He was the first to combine the flute and the clarinet, the sitar and mandolin. He also introduced the accordion in Hindi film music and was among the first to concentrate on background score to accentuate moods and dialogues.
Born on December 25, 1919, in Lucknow, he grew up watching musicians first practice and then play for the silent-era movies. He initially trained under Ustad Laddan Khan and in 1935 joined the New Star Theatrical Company. He developed the knack of picking up rare musical jewels from the folk traditions of Punjab, Rajasthan, Gujarat and Saurashtra during the companyís visits to those regions. Naushad was literally thrown on the streets when this company broke up.
He moved to Bombay in 1937 to try his luck as a musician. He had to spend the nights on the footpath before he found work as a pianist in composer Mushtaq Hussainís orchestra. He joined music director, Khemchand Prakash, (whom he considers his teacher) as an assistant.
Prem Nagar was his first independent break, but he was noticed for Sharda where 13-year-old sang for heroine Mehtab. It was Rattan that took Naushad to the top and enabled him to charge Rs 25,000 a film. Ankhiyaan Milake and Sawan ke Badalon became the most popular songs of the day.
Naushad churned out superhits in the 1940s, mainly for A.R. Kardarís Shahjehan, Dard, Dillagi, Dulari and ís Anmol Ghadi, Elaan, Anoki Ada, and Andaaz. He was among the early composers who gave an opportunity to sing in Andaaz and Dulari along with Mahal and Barsaat and was instrumental in her rise.
Naushad received many awards, including the Dadasaheb Phalke Award in 1982, the L.M. Award and the M.P. Government Award in 1984, the Amir Khusro award in 1987, the Maharashtra Gaurav Puruskar and the Padma Bhushan.
The book offers a series of Naushadís notes translated and edited from the original in Urdu. What comes to the fore are his grit and clarity of thought. His respect for and relationships with film personalities of yesteryear provide interesting anecdotes, although we get to know very little of his personal life. He champions the cause of film music and the need for the copyrighting it.
However, the editing of the book leaves a lot to be desired. There are incidents that are told several times over while the translation is too literal to even facilitate reading.