Fruits of labour, a bitter harvest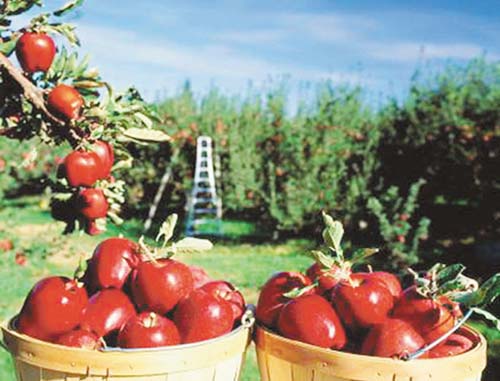 For the past two years, India has replaced Brazil as the largest producer of fruits in the world. But what is the use of producing 4.64 million metric tonne of fruit, if we are going to waste 70,000 crore of the produce annually. This produce perishes due to lack of infrastructure and post-harvest management, writes Aruti Nayar
THE karma theory teaches most Indians to do their karma and not bother about the fruit of their effort. Perhaps that is why the government expects our fruit growers to remain stoic in the face of all apathy. Or else why is it that in a country that is the largest producer of fruits at 4.64 million MT, out of the world's total production of fruits at 45.37 million MT, thereby accounting for 8 per cent of the world's total production, consumers cannot enjoy the fruit of the producer's labour? According to an estimate, the country loses Rs 70,000 crore annually on account of post-harvest wastage, while another estimate by the National Horticulture Board (2001-2) pegs the wastage at 5,000 crore. A staggering figure by all accounts, isn't it? Even if eminent scientist M. S. Swaminathan says, "Fruits and vegetables are the food of the future," we have with our usual lackadaisical attitude shown scant regard for our own future as a nation by refusing to maximise the rewards that our varied climatic zones offer.
Fruit, thus wasted can meet the nutritional needs of the people and provide vitamins, minerals and micronutrients, thereby providing health cover effectively. Does it not then seem almost criminal to waste so much of fruit? Is it not sheer apathy and a lack of a social conscience that no one campaigns for fruit? While in India, the National Dairy Development Board roots for milk, the egg coordination committee for eggs, and in the USA and the UK, the Meat Board for meat, the largest fruit growing country in the world has no one to lobby or run a campaign to focus on fruit and minimise wastage.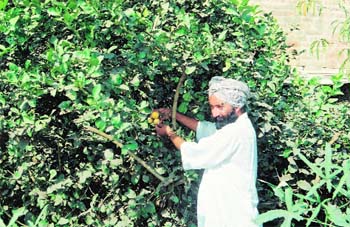 Is it because the fruit industry does not have a lobby, unlike manufacturers of soft drinks who vie with each other to jack-up sales? So fruit continues to rot, and despite a glut, is not made available to more and more people to meet their nutritional needs. Inadequate methods of harvesting, careless handling, faulty storage and delayed transportation account for wastage of 25 to 40 per cent of the harvested fruits. The producers might have shown the way but there is insufficient support in terms of post-harvest management and technology to ensure that the produce remains safe in its journey from the field to the consumers.
To capitalise on all the hard work put in by the growers, government has to ensure that adequate infrastructure for storage is in place and zone-wise setting up of processing industry is effectively achieved to minimise wastage. The frequent occurrence of either glut or scarcity is due to an unorganised market where the grower has no control. Increased post-harvest management can help in regulating and stabilising demand and supply. This alone can ensure optimum returns to the farmer. Most crops are harvested within a short span of two months. A good post-harvest infrastructure can ensure that the produce is available to consumers across the year in quality acceptable to consumers.
Fruit facts
FRUITS and vegetables are grown only on 6 - 7 per cent of gross cropped area but contribute more than 18.8 per cent of the gross value of agricultural output and 52 per cent export earnings from total agricultural produce.
Areas under fruit production increased by 172 per cent from 1961 to 1993, productivity per hectare was nearly doubled, leading to an increase in production to the tune of 320 per cent.

India can grow almost every fruit and vegetable.

The average labour requirement for fruit production is 860 man days per hectare per annum as against 143 man days for cereal crops. Crops like grapes, bananas and pineapple generate much larger employment roughly from 1000-2500 man days per hectare per annum.

Commercial scale of horticultural production can generate large scale employment and income generation in rural India.

Horticulture crops earn more foreign exchange than cereals and generate more employment.
Consumption
According to the WHO norms, the per capita per day fruit consumption should be 85 gm, in India it is only 62 gm. The per capita consumption of citrus fruits is 107 kg per annum in Lebanon, while in India it is a mere 3 kg per annum.
According to Manzoor Ahmad, an apple grower in North Kashmir, a fruit grower gets the lowest benefit. "The middleman between the grower and the consumer exploit the situation," he adds. The cost of production is on the increase but it is not commensurate with the sale price, where the fruit growers "get the least benefit." However, according to Amrik Singh Sandhu, Director Extension Services of the PAU, the problem in Punjab is that everyone is a leader and nobody wants to be a follower. He adds, "Effort to minimise wastage should begin at the harvesting stage since 60 per cent of the fruit is locally consumed and only 40 per cent marketed. That is why cooling chambers and cold storages should be built to prevent rotting."
Further elaborating, Manzoor Ahmad says: "Marketing is dependent on three things, the cost of production, transportation which is beyond the reach of growers, and the 10 per cent commission of the businessman in the middle who forwards the fruit to the outside market." Whether it is the mountainous terrain of nearly 300 km Srinagar-Jammu national highway, the only surface link between the valley and rest of the world, methods of transportation remain traditional. Market intervention schemes mean purchase low grade fruit at higher rates. Integrated packing house with electronic devices for fruit grading can be set up. Refrigerated transport system is being used for carrying fresh fruit outside the state. M.A. Mir, a fruit merchant at the main fruit market, Fruit Mandi, Sirinagar, feels unfavourable weather conditions and substandard pesticides and fungicides have led to lower turnovers in the markets whereby the sale prices hardly compensate the cost of production. Manzoor Ahmad also has a grudge against the state horticulture department, which comes out with the schedule of applying fungicides and pesticides at a very late stage, and by that time, the whole crop gets damaged. "I have not seen a single expert from the department visiting my orchard for necessary instructions, over the past three decades," he laments. Even the pesticides and fungicides available in the markets are substandard. While fruits from some European countries, China and the US are "properly dressed and coloured" to fetch better prices, the "facility which is not available to us. If we apply local colouring agents, it damages the fruit," comments another grower. Khushwant Ahluwalia, the largest grower of kinnows in Punjab is of the view that in post-harvest management, "We have improved a lot especially in citrus. The waxing and grading centres enable us to send kinnows to distant Indian markets. Also, the world over, the juice varieties are different from the table varieties. But in India it is not so. Since the table variety has to look cosmetically good, we use a lot of spray to achieve that effect. The world over, processors of juice are not bothered about the cosmetic value of the varieties they are using to produce juice and hence less sprays." Incidentally, it is the indiscriminate use of pesticides and fungicides that is responsible for Indian fruits being rejected in the international market. Recently, a consignment of grapes was rejected by the European Union countries and returned due to use of pesticides not permissible according to EU norms.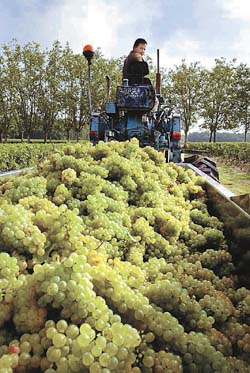 Extension services offered by agricultural and horticultural universities supposed to bridge the gap between the lab and the soil services are bogged down due to a resource crunch or an unwillingness to reach out to the growers and use the input to further fertilise the research. Jagmohan Singh, Dean, College of Horticulture and Director Extension Education, Dr YS Parmar University of Horticulture and Forestry, Nauni, says: "We have literature in Hindi and English, which is distributed to farmers. We also have a telephone helpline which runs two days in a week. If we can solve a problem over the phone, we do so otherwise we ask the farmers to come and meet us in the campus. We also have a show on the radio two days a week. Farmers can write in their problems to the radio station which forwards the problem to us. There are also lectures on the radio on the cultivation of particular crops."
Experts of Haryana Agricultural University, Hisar, say farmers, too, lack risk-taking capacity in the absence of adequate government support and inadequate infrastructure for processing. Since the risk is higher in fruit growing as compared to traditional crops, specific and financially viable fruit processing technology developed by the university in the past has not been adopted. The university developed a particular variety of grapes suitable for conversion into raisins by drying. However, lack of incentive to the growers rendered all the efforts by scientists a complete waste. On the other hand, Maharashtra encouraged its growers and today it is the biggest producer of grapes and raisins in the country. India has set a world record for productivity in grapes. The technology was similar. The government support was not. That is why the results were different.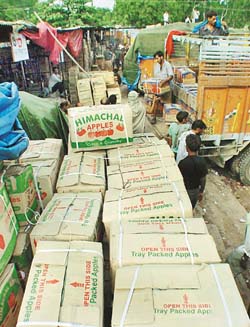 Khushwant feels that the PAU, a pioneering institution, is simply basking in its past glory. "It is not that people are not competent, but the lack of exposure, inbreeding and a hackneyed approach hardly equips them to deal with the changing world scenario. Officials attribute their problems to lack of funds, but there is lack of motivation. Of what use is information when it is not to be passed? Last year in August, kinnow fruit was infested by a pest fruit fly. The university does not have a recommendation of its own and gives advice out of borrowed literature from Florida University. Not even one person from the extension or the research department could identify and show me that how the damn fly looked like. The university then took the eggs from the fields to rear them up in a beaker to see what the fly looks like. The university, as a prevention, recommends hanging of traps on trees to control the fly, since it is borrowed literature. Florida University recommends these traps." It is another matter that the traps are used as indicators that the pest has arrived and not as the solution to control it.
If the varsities falter, even the farmers are ill-equipped to assimilate technology. The HAU had developed a simple technology for making wine from grapes in the late seventies. It was a highly cost effective technology which could be easily adapted at the farmer level. However, there were no takers for it simply because the efforts to grow grapes failed miserably and farmers who had experimented with diversification lost heavily as orchard after orchard wilted due to lack of proper assimilation of technology. Swaraj Thakur, a horticulturist, puts it: "Most farmers perceive technology as machinery and processes much beyond their economic capacity and marketing too remains a concept that is understood minimally, more in terms of trading. Thus the Indian grower will remain at a great disadvantage in a world order where technology plays a fundamental role."
The quantity of exports cannot grow because of lack of quality. Consequently, inadequate availability of planting materials, a high incidence of pests and diseases and a low availability of high-yield, disease-resistant cultivars add to producers' woes.
The success of cooperatives in Gujarat and Maharashtra has benefited the fruit growers because they have become a lobby and are in a position to use the best, be it in terms of pesticides or growth-promoting hormones such as Gibralic acid on the fruit to spray on crops. In fact due to observance of "good agricultural practices", such growers can do cost-effective farming and focus on quality, instead of merely on productivity. Agriculturally advanced states were given the target of feeding the population and as a result horticultural crops were treated as one of the several means of land use of secondary importance, with food grain crops receiving prime attention and, consequently, heavy investments. And, of course, our horticultural universities have to find ways of becoming more relevant to the local needs of our fruit growers.
Development of improved varieties and rootstock, eonomical methods of propagation, developing and popularising hi-tech horticulture and precision farming as well as organic farming in fruit crops can help Indians target global markets.
Need for developing a low-cost integrated biological pest and disease management system. The government could play a more pro-active role by helping the local fruit-growers set up agro-based industries on zone-to-zone basis to minimise the possibility of awesome wastage. The fruit-growers could organise themselves into co-operatives and plump for state funding to launch district-wise and/or statewide movements to reduce the losses resulting from inter-state movement. Moreover, efforts should also be made to ensure that optimum utilisation of fruit production takes place. Special incentives could be offered to these agro-based industries in terms of various tax exemptions and exports promoted in a more aggressive manner.
Till that happens, the fruits will continue to wilt and rot away. Only if we could stem the tide!
With inputs from Raman Mohan (Hisar), Ehsaan Fazili (Srinagar)