Devoted disciple, chosen successor
Today is the 500th birth anniversary of Guru Angad Dev
Roopinder Singh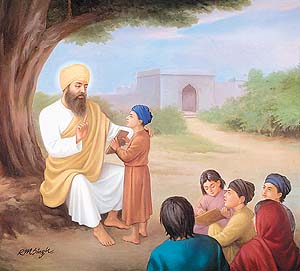 Guru Nanak chose Bhai Lehna as his successor and called him Angad Dev
HE polished the Gurmukhi script, took further the concept of sangat, pangat and langar devoted himself to teaching children how to read and write. Guru Nanak hand-picked him to be his successor, over the claims of his sons, knowing that he alone would be the right person to lead the fledging faith.
The man who became Guru Angad Dev was born in Matte de Sarai village, which is now called Sarai Naga and is in Muktsar district. He was born on Vaisakh Vadi 1st, Samvat 1561, which corresponds to March 31, 1504 AD. His name was Lehna and his father, Pheru Mal was an official of the Nazim of Ferozepore. He became a trader after the family shifted to Khadur. Lehna's mother, Sabhrai, was a devotee of Goddess Durga. Lehna was very pious, and he used to lead a group from his village to various places of pilgrimage every year, particularly to Jawalamukhi.
Once he heard Bhai Jodha, a devout follower of Guru Nanak, reciting hymns or bani composed by Guru Nanak. Enchanted and intrigued, he decided to try to meet the Guru who had composed the bani.
Kartarpur, a town founded by Guru Nanak, where the founder of Sikhism spent the later years of his life, had by now become a centre of attraction for seekers of spirituality and people from all over came to meet the Guru.
Lehna too, came to Kartarpur in 1532 AD. He had travelled from Khadur, a village that was 60 miles from Kartarpur. Lehna was 28. Here he partook of langar and listened to kirtan, the recitation of holy hymns. He travelled no further.
Lehna devoted himself to the service of Guru Nanak and soon became a true and dedicated follower. He would be seen cleaning the utensils after langar, a service that has been considered among the highest that a Sikh can do.
The seeker had found what he wanted all this while, and in Guru Nanak's presence, he felt tranquil. What was for many others work, became for him the labour of love.
There is an interesting anecdote about Bhai Lehna. Wearing fine clothes, which had been sent by his in-laws, Lehna met Guru Nanak in the fields on the outskirts of Kartarpur. The Guru was cutting grass, which had to be carried to the village to be used as fodder. Lehna took the bundle of grass from Guru Nanak and placed it on his head, the conventional way of carrying such weight in rural areas.
Since the grass had come from a rice field, it was both wet and muddy. As Bhai Lehna carried the bundle, water and mud streaked his clothes. When he went to drop the bundle of grass at the Guru's house, Mata Sulakhni, Guru Nanak's wife, saw his condition and admonished the Guru for making Bhai Lehna carry such a bundle as he was dressed in fine clothes.
To this the Guru said that Bhai Lehna was not carrying a load of grass, but a wreath of sovereignty! The mud on his garments was as expensive and rare as kesar. The Sikh lore is replete with anecdotes about the humility and piousness of Bhai Lehna.
Guru Nanak had made up his mind that his sons were not competent enough to succeed him. Srichand was a person of great learning, but he had turned towards the path of renunciation and was becoming an ascetic, an Udasi. Lakhmidas was interested a bit too much in worldly affairs and he kept himself occupied in material pursuits. Both were dutiful sons and good human beings, but the Guru perhaps felt that they did not have that extraordinariness that was necessary in his successor and did not conform to the requirements of pursuing his mission.
As Guru Nanak compiled Japji and Asa di Var, it was Bhai Lehna who assisted him in editing the compositions. The Guru saw in his devotion and piety a deep understanding of His Word. Guru Nanak thus chose Bhai Lehna as his successor as in him he found the requisite qualities of piety, humility and devotion. He called him Angad, which literally means a part of oneself.
The janamsakhi tradition has this account of the succession:
The Guru came to the bank of the Ravi. He placed five copper coins before Angad and bowed down at his feet. Lehna, the faithful disciple, was thus installed Guru. Guru Nanak gave a manuscript containing his compositions to his successor. This was in 1539.
Guru Angad was asked to go to Khadur. Tradition has it that that Guru Angad spent six months in seclusion and meditation at Khadur before he was called upon by Baba Budha and other Sikhs to lead them. He was to be a Guru for 13 years, during which he polished the Gurmukhi script and propagated Punjabi language. Since the language and the script were accessible to common people, this helped in making them literate and thereby made the society more egalitarian.
He wife Mata Khivi, contributed mightily to the langar, another institution which was used by the Gurus to dissolve differences artificially created by man. Everyone who came contributed by doing sewa or service at the langar and partook of food together.
He had edited the Japji and Asa di Var in the presence of Guru Nanak. Continuing the work, he wrote about devotion, love and the greatness of God and over 60 of his compositions are enshrined in the Guru Granth Sahib.
He also founded Goindwal, which was built on the land given to the Guru by his follower, Gobind. The city had been constructed by Amar Das, who had become a disciple after having been attracted to gurbani recited by Bibi Amro, Guru Angad Dev's daughter. Bibi Amro was married into Amar Das's family.
Like Guru Nanak, Guru Angad too laid great stress on not only the spiritual, but also the worldly affairs of his followers. He concentred on children's education and also laid stress on physical fitness for the over all well-being of his devotees. He loved interacting with children. He is also credited with starting the Janaksakhi tradition.
Guru Angad passed away in 1552 at Khadur Sahib. He had two sons and a daughter, but when the time came, he deicide that his follower Amar Das would succeed him.