Shimla awakens to spring
Once again we can feel the fresh shoots of grass blades under our feet. All the trees are covered with tender leaves. The Rhododendrons are bursting into flames, the plum trees are laden with delicate white blossoms — looking like a bride all dressed in white to go to the altar, and the cherry blossoms are like a poem in pink, says Shivi N. Sekhri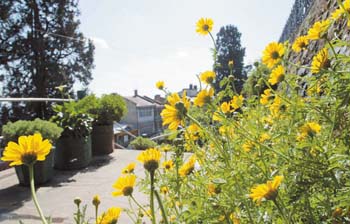 The riot of colours is soothing for the soul. — Photo by Anil Dayal
IN East Berlin, Isaw a ballet put up by small children in which the advent of winder and snow was depicted by a fairy, dressed all in white with a silver wand in her hand and swish....the whole scene turned snow-white and all the kids went into a deep and peaceful slumber. In the next scene the spring was ushered with the same fairy in floral dress with a golden wand; and lo.....the whole scenario became bright and clolurful. Everyone was stirred into wake fullness; the flowers were full of fun and frolic and were dancing away to glory.
Similarly, as we came back to Simla on the 30th January after our two months annual leave, Shimla was in the thick of winter and it had been snowing incessantly for the past five days. The whole town was under a thick white mantle of snow and complete landscape was in a deep and divine slumber under an unending expanse of a white blanket...it was a truly heavenly sight. The life had come to a complete standstill and as far as eye could travel, what we saw was only untouched, spotless shite virgin snow. The city was pretty nearly immoblized, all roads were blocked and we could not reach home by the highway. We had to abandon the car, with all the luggage, near the Army head quarters and we trekked back home with one air bag only.
There was a chill in the atmosphere and the air was so crisp that you could cut it with a knife.t had stopped snowing that morning only but the ensuing unbearable cold was pervading all over. Our house was like a deep freeze; it was surrounded by almost four feet of snow lying in the lawns. Some enthusiastic people in neighbourhood had sculptured a beautiful statue of Lord Shiva out of snow in our garden. It was a real work of art and they had made it perfect to the last detail — with an imitation snake around the neck and a trident in his hand. All the flowerbeds in the garden were buried under a deep layer of snow. We were completely frozen and a nice comfortable feeling desended on us as we sat near the roaring fire in our bedroom with the steaming cups of tea in our hands. It was interesting to listen to our "Jeeves" giving us all the detailed account of what severe winter and what heavy snowfall he had experienced in our absence and no water supply-power failure etc, etc; in his typical dramatic manner as he served us another cup of tea.
Next morning we woke up to a glorious sunny day. I clad myself we and went our in my garden to savour the beauty of far off snow clad mountain peaks and the valley, all bathed in bright sunshine. I thanked God for such a magnificent spectacle and even bowed my head in reverence in front of the snow carved statue of Lord Shiva and touched His feet. A strange stillness pervaded all overnot a bird was to be seen or heard not a leaf was moving — each and every leaf and twig was covered with soft snow and they looked like the delicate hands of a bride which have been freshly adorned with intricate designs of Heena. I rushed indoors as it was getting much too cold. I felt much richer after having seen and savoured such splendid glory of nature.
After that we had quite a few sunny days., only occasionally we had little rain or snow. Gradually the snow started melting — the features and the stature of our Lord Shiva started getting mor and more distorted till one day the whole structure mingled with the snow on the ground. One day all the snow gathered on the roof came down with a deafening thud like a glacier and our entrance door was completely blocked. The garden waqs gettina bit muddy with all the snow melting. The other day as I stepped out my eye was caught by a solitary "Calendula" flower peeping through the thin sheet of snow-holding its head high with pride and dignity, as if conveying the message, how it had withstood the odds and oddities of a severe winter; I turned around and I discerned a smiling 'Pansy' in one flower bed and a fascinating 'daffodil' in the other, 'Bravo'. Itold them in my flowery lingo — "how much we humans can learn form you all; how to resist and face the worst possible circumstances and to come out smiling and spreading happiness all around you — "Brave" — I repeated.
Now I look around at the vast valley and hills and it appears as if the sprawling landscape has been indulging in a bit of naughty strip-tease — or like an Egyptian dancer with seven veils and as if it has been shedding its veils one by one and what fascinating and breath taking beauty had been revealed to us. It appears as if the fairy of the ballet had touched the whole town with her golden wand. Once again we can feel the fresh shoots of grass blades under our feet. All the trees are covered with tender leaves. The Rhododendrons are bursting into flames, the plum trees are laden with delicate white blossoms — looking like a bride all dressed in white to go to the altar, and the cherry blossoms are like a poem in pink.
The birds are back and keep renting the air with their non-stop musical chirping. The sleepy roads are lively once again with the school children looking fresh with roses in their cheeks, laughing and babbling and rushing to school with heavy school bags.
The sweepers back to their job of sweeping the roads and the shopkeepers are putting their shutters up. Very soon the Mall, the fashionable shopping center of Shimla, will be bubbling with life and soon we will be melting in the unending stream of tourists, local army and civil officers and students. In a few weeks time all the gardens will be aglow with all kinds of summer flowers. Now we have only an ice cream cone sized snow in our garden and gradually the winter is fading into pale insignificance. We can breath spring in the air and Shimla has woken up from its long siesta and I hum the famous lines from Shelley's "Ode to the west wind" — "If winter comes — can spring be far behind".