Hazards on the highway
H. Kishie Singh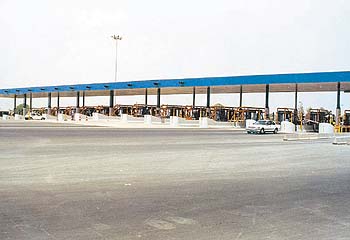 The Delhi-Noida direct (DND) flyway toll booths
IT is not enough to build roads. You have to build safe roads. Though the National Highway 1 has been widened and resurfaced but its alignment stays as it was during the days of Sher Shah Suri.
Congestion, confusion and chaos reign supreme on the road, which runs through towns like Panipat, Gharaunda, Kurukshetra and Samalkha. The open road is dangerous enough, but in the townships, the danger multiplies many times over. New fast cars are forced to compete with pedestrians, animal-drawn carts, cycle rickshaws, vendors with carts and buses that stop in the middle of the road. Indiscipline, our national characteristic, is on display.
Conditions will change only if some knowledge is imparted to the public. So far, there is no evidence of this.
That the road has been built and is being operated by people with no consideration for traffic rules is abundantly clear. Take, for instance, the toll-booths at Dera Bassi and Karnal. If you are in the left-hand lane, the booth comes up on the passenger side. This means that a man from the toll-booth will come around to collect the money. He will then go back to the toll-booth, punch a receipt and saunter back to the driverís side, delivering the receipt and the change. Finally, he will wave to the man in charge of the roadblock, who will roll the wire mesh fence out of the way. It takes a long time, long enough to have a large number of cars line up at the toll-booth.
Compare this with the Delhi-Noida-Direct (DND) Flyway. An ultra-smooth road leads to the toll-booths, about 20 of them. Three lanes open into eight or 10 of them. Each booth is managed by one person. A smartly dressed-up young man (or woman) in uniform takes your money, hands you the receipt and up goes the barrier, which is electronically controlled. Itís all over in the blink of an eye.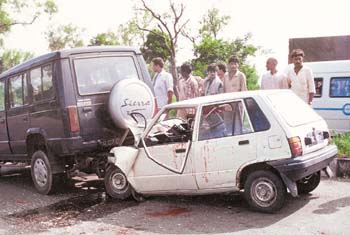 The terrible consequenses of a rear-end collision
The DND Highway is brightly illuminated and has proper signposts. The Karnal and Dera Bassi toll-booths sit in darkness. There are no markings. Only huge boulders in the middle of the road mark the approach road.
And now comes the most distressing news. A part of Dakshin Marg will have six lanes. It is amazing that our engineers have not learnt anything from the follies of NH 1 or do they think it is a perfectly designed highway? Donít they realise that local commuters will be on the same road as a Manali-Delhi traveller.
Six-laning is no solution ó it will only compound the problem. In traffic flow, there is a term known as a bottleneck. It is the job of the road engineer to avoid this. In this case, they are building a bottleneck. When six lanes of traffic (three in each direction) converge into four lanes there is bound to be a bottleneck.
It simply does not make sense for a car, truck or bus going from Delhi to Manali to pass through the heart of Chandigarh. The driving time gets increased by an hour at least. This defeats the very purpose of a highway. A highway and a city road, like chalk and cheese, do not mix.
Compared to India, Malaysia is a very small country, yet it has made space for highways. Its highways do not share space with pedestrians, cows, dogs, bullock carts and just about everything that impedes the free flow of traffic.
The distance from Kuala Lumpur to Johar Baru is almost 600 km. The driving time is less than six hours. It can be done non-stop. Fuel outlets, restaurants, toilets and conveniently located prayer halls are available in specially built parks.
The roads are wide with escape routes. This space allows for braking in an emergency. Should the vehicle not stop, there are bushes to hold the vehicle gradually. Compare this with N.H. 1. While overtaking, you are millimetres away from a concrete wall. Thereís no escape route. Foreigners who drive along N.H. 1 refer to it with a shudder as "Suicide Alley," "Murder Lane" and other such nasty names. Sad, but it is true that not just the Chandigarh-Ambala stretch, but the whole highway is a killer road. The only well-designed stretch is the N.H. 1 and N.H. 22 junction, but that too is poorly patrolled. Traffic flows in all directions. Again, this defeats the purpose it was built for and makes it extremely dangerous.