The art and life of Kelucharan
In a glowing tribute to her guru, Kelubabu, Sharon Lowen unveils interesting, lesser-known facets of the dancer and the man.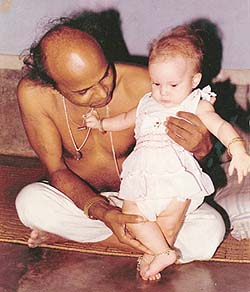 Guru Kelucharan Mohapatra plays with the writerís daughter
KELUBABU, as the great Padma Vibhushan Guru Kelucharan Mohapatra was respectfully called by audiences and students around the world, was one of the most distinguished figures of the past century in the revival of classical Indian performing arts. He was the undisputed master performer, choreographer, teacher, and percussionist (pakhawaj) of Odissi. All of us who knew him or saw his performances were enriched by magical interpretations of an inner world of spiritual beauty and truth. He was the embodiment of the transformative power of the Indian classical performing arts.
The humble, slight man offstage, balding and with missing teeth, transformed into an enchanting Radha in the Geeta Govinda or the powerfully moving devotional boatman in the Ramayana. The stage became a sacred space when he set foot upon it.
As a child, he sneaked out of the house while his father napped to learn Gotipua, one of the foundations of classical Odissi still performed by pre-pubescent boys dressed as girls. He apprenticed in a theatre group, gained invaluable hands-on experience in backstage technical work, learned the tabla, and performed as a child actor. He spent a frustrating year as a betel leaf cultivator, working for five annas a day till he got a job as a drummer with Orissa Theaters in Cuttack. Eventually, his frustrated desire to dance was discovered by Guru Pankaj Charan Das, who included some dance form in every theatre production. After this, there was no looking back as he embarked on a life-long process, exploring the Mahari temple dance and Gotipua public art traditions of Orissa, folk forms, ancient texts, temple sculpture, and paintings with an open-minded genius for examining new material and understanding its aesthetic possibilities and dimensions.
Paan practice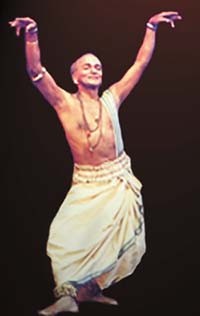 GURUJIíS attention to detail in the myriad aspects of his life and art is nowhere more evident than in the way he prepared paan. Since he gave up smoking over 40 years ago, paan and tea became the major support system fuelling his untiring stretches of creative output. From the carefully pruned leaves to the elegantly cut slivers of betelnut, the cloves and the final result, perfectly shaped cones; the entire process was an especially fine art in Gurujiís hands. This was one of the many real-life elements used to convey abhinaya that Guruji modelled for the legion of disciples who sat at his feet. His ritual of preparing paan leaves for travel abroad was amazing. Years of experimentation in the finer points of carefully layering the paan leaves between cloth and plastic ensured that his supply could last up to three weeks, without refrigeration.
The result was that he was both the architect of the neo-classical revival of Odissi and the guru of most of the leading exponents of this art. For years, he travelled untiringly with his greatest disciple, Sanjukta Panigrahi, crossing the length and breadth of India, sleeping on trains at night and performing for days, to introduce the art of Odissi to the whole country, and later, to the whole world.
He had a unique ability to teach relatively large numbers of students systematically and precisely with his own creative methods that were constantly evolving. As soon as the students understood the movement, he moved on to give as much as a student could handle, sometimes even more. I recall that after his summer courses at home in Cuttack in the 1970s, he would joke that the Bombay girls would run home for bhelpuri, swinging their music cassettes over their shoulders and forget everything. At the same time, he knew that his generosity would enable the serious ones to spread his art.
He put each of us to shame teaching the sensuous walk of Radha that no female among us could match. Kelubabu has always taught abhinaya by saying, "Observe and feel, donít mimic or look in a mirror". He stopped class in Cuttack 20 years ago to instruct students to observe my infant daughter crawling so that they could learn the natural way of showing Bal Krishna. After rehearsing an expressive dance passage, he would have us falling apart with laughter as he imitated each studentís interpretation of what he had taught.
In the 1970s, I saw Kelubabu patiently paint the alta and do the make-up mixed from dry pigment for an entire dance drama. His generosity went beyond teaching technique and tradition. At my first recording session, with the five items Iíd learned, he included an additional seven to spare me the expense of recording whenever I needed them in future, trusting that I wouldnít use them without his training. At times, he took no payment for accompanying performances when he knew my expenses were not being covered.
Kelubabu was amazing at putting things together, taking them apart, reassembling and recreating, whether cameras and tape-recorders or elements of making a dance. He could do perfect music editing cuts with simple cassette recorders that now require digital studios.
Much of the standard repertoire of modern-day Odissi was created by Kelubabu with gifted music composers Balakrishna Das and Bhubaneswar Misra to assist him.
Starting from a Gotipua repertoire that stretched to 30 minutes, Kelubabu drew on his vast knowledge of dance, traditional Oriya painting and temple sculpture, mastery of the pakhawaj, and years of theatre work to create a repertoire of hundreds of solo and group choreographies for the stage.
Kelubabu received many honours, starting from the Sangeet Natak Academy Award in 1966 to the Kalidas Samman, the Legion of Honour from France and the Padma Vibhushan.
Kelubabuís enormous achievements were the result of a combination of ceaseless hard work, openness to challenges to experiment and respond to changing times, and his personal genius as an artiste. His performances moved audiences to tears of wonder and joy. The memory of his creativity and affection will continue to inspire and nourish. We are fortunate that such a man touched our lives with his artistic darshan.
The writer is an Odissi dancer trained since 1975 by Kelucharan Mohapatra. She came to India in 1973 from the University of Michgan to study Manipuri and later, Chhau and Odissi.