Remembering Khurshid
Pran Nevile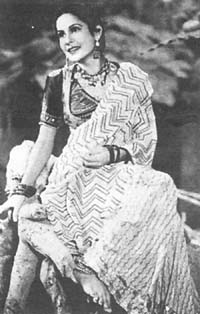 Khurshid, the singer-heroine of K.L. Saigal, died on this day three years ago
CELEBRATIONS of singing legend K.L. Saigal's centenary cannot but revive memories of Khurshid, a singing star of the 1940s who attained fame and popularity after teaming up with the maestro in Ranjit's hit Bhakat Surdas (1942).
A charming personality with extraordinary acting talent, Khurshid was also an accomplished singer. Sharing with Saigal a common Punjabi background and outlook, Khurshid showed up as a natural heroine with him. Saigal too was perfectly at ease with Khurshid. Little wonder that Saigal and Khurshid were acclaimed as the superstar duo of the era.
Born around 1912 in Choonian tehsil of Lahore, Khurshid embarked on her professional career with Madan Theatres of Calcutta in 1931. Madan was the leading Indian film company of the time with a chain of cinemas all over the country.
The heroines in the silent era were mostly drawn from the Anglo-Indian community and joined films under glamorous native names. Khurshid with the screen name Shehla made her debut in Madan Theatres Laila Majnu. She followed it up with supporting roles in Shakuntala. Chitra Bakavali, Hathili Dulhan, Muflis Ashiq (1933). She also appeared in Shorey's Kamla Movietone production Radhey Shyaam and then as a heroine in Swarg Ki Seedhi.
Unfortunately, all those films produced at Lahore flopped miserably at the box office and the artistes and technicians were forced to try their luck in Calcutta and Bombay.
Khurshid moved to Bombay in 1935 and made a mark in Sitara. She was earlier noticed in Saroj's film Murad (1937) with the well-known hero Jairaj, who claimed that Khurshid was the third heroine whom he had kissed on the screen, the other two being Madhuri (Meena Kumari's eldest sister) in My Hero(1930) and Zebunissa, the heroine of She.
Fortune smiled on her in 1940, when she rose to stardom with Holi, in which she co-starred with Motilal. Her famous number Pehle jo mohabbat se inqar kiva hota established her as the leading singing actress of her days. This paved the way for her being selected to star opposite Saigal in Bhakat Surdas. Apart from the duets with Saigal, like chandani raat aur tare khilehon and jis jogi ka jog liya, Khurshid also sang memorable solos such as panchhi banwara chand se preet lagaye and madhur madhur ga re manva.
The following year (1943) she attained still greater heights in her second appearance with Saigal in Tansen. Khurshid was recognised as the top star, only to be surpassed two years later by Noor Jehan, the beautiful and talented artiste from her hometown Lahore. The film's opening scene showed Khurshid singing that sparkling melody, ghata ghan gor, gor, mor machaye shor. Other melodies included the famous duet more balapan ke sathi and her solo barso re barso kale badrava.
Before she left for Pakistan in 1947, she sang with Mohamad Rafi in Aage Badho. In 1946, she married Lala Yakub, an actor with Kardar productions. After parting ways with Yakub in 1956, she married businessman Irshad Bhaimiyan. Thereafter, she retired from films and engaged herself in philanthropic work. Many singing actors tried to copy her style but without much success. Khurshid died in April, 2001, in Karachi after a prolonged illness.
She had the voice and talent to turn songs into enchanting melodies. Khurshid fans in the subcontinent still remember her and revel in her music.