TRAVEL
Scintillating Santa Fe
Mohinder Singh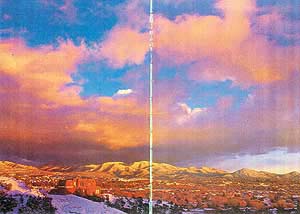 Sunset over Santa Fe is a picturesque sight
SANTA FE, the capital of New Mexico, at an altitude of 7,000 ft and with a population of 60,000 has emerged as the one of premier art centres in the world. There are over 80 art galleries on Canyon Road alone, said to be the most concentrated art market in the world. Another 120 art galleries stand sprinkled in and around. By 1920, dozens of distinguished artists had made Santa Fe their home, turning the isolated little town into a major centre in the avant-garde Expressionist Movement. Madame Mao goes to USA, an opera based on the story of Jiang Qing — the cruel, lusty, vindictive wife of Mao Zedong—opened at Santa Fe last summer. The first place that Madame Mao went to was Santa Fe. The town boasts of a beautifully designed 2126-seat theatre. Reservations to its fabled musicals are snapped up months in advance. There is more music and theatre in Santa Fe than in any town of comparable size.
What lures artists and musicians of all imaginable calling to the place are the land, light and people. The light in Santa Fe is unlike any place else: powerful but not harsh or punishing. Rugged mountains lie strewn in a picturesque desert. And a heady mix of people: Red Indian, Hispanic, Mexican, Anglos.
What strikes you straightway about Santa Fe is its air: unbelievably clean, thin and dry. It makes you feel lively. You drink more liquids to counter the dryness.
There are majestic mountains on all sides, covered with scrub vegetation or dramatically bare. Green valleys, watered not so much by rain but from the melting of snows. Glorious sunsets. Brilliant blue skies. Nights sparkling with stars. A breeze blowing most of the time.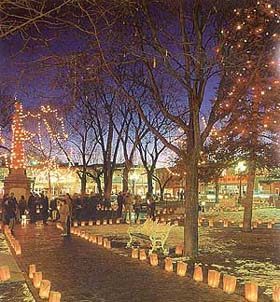 Santa Fe Plaza at Christmas time
Another thing that strikes you is the architecture of the place. The traditional pueblo dwelling had thick mud walls, called adobe (on display, is the oldest house in America). Santa Fe has adopted the adobe pattern for its public buildings, houses and markets. As thick mud walls are proving too expensive to build because of rising labour costs, the outer walls are often given a cement-type finish that looks like mud. You have luxurious villas and five-star hotels but exuding the same mud-like exterior of sobriety and strength. The town authorities do not favour high-rise buildings.
Many rich persons have moved into Santa Fe. Celebrities, especially Hollywood stars, keep second homes here. Their fancy villas lie scattered over hills, often accessible only by dirt roads — the more money you have, the more likely you are to live on a dirt road.
The central Santa Fe is a walker's city. It has a visual and tactile romance that can't be fully appreciated through a car window. The best place to begin is the Plaza, a historic site with the old palace of governors on one side. You can walk the narrow streets, visiting art galleries and shops selling antiques or browse in umpteen bookstores.
Santa Fe has some 300 restaurants, quite a few of them world-class — and expensive. Food here is known for its taste and sharpness, a good deal from the liberal use of chillies. One of the great restaurants is Coyote Cafe, housed in a building that was once Greyhound bus terminal. You need at least a month's reservation in advance for a dinner table. Other noted places are Cafe Santafe and Cafe Casa Sana. The town offers every sort of cuisine, including tandoori chicken and other Indian specialities.
There's a lively nightlife with plenty of bars with heady margaritas. The hottest bar is Swig and another popular one is Pink Adobe. Over the last two decades, Santa Fe has been witnessing a huge rise in tourist traffic. To an extent, this is changing the character of the place; cars and crowds where it was all peace and quiet. Numerous hotels have come up, some as expensive as $700 per room per day.
Locals show a fierce pride in their city; its cultural heritage, its diversity of people, and its spirit of tolerance. There are churches of various denominations, a well-known Buddhist temple (lately visited by the Dalai Lama), a Hindu temple, even a gurudwara. You see white American Sikhs (believers of Guru Ramdas) moving about, both men and women wearing white turbans. Yoga centres abound as do concerns of "alternative medicine".
To savour Santa Fe, you need a minimum stay of four to five days. This gives you enough time to frequent art galleries, visit a few top museums, and make trips into the enchanting countryside. A must is a visit to one of the pueblos. As laws are liberal in Indian reservations, half a dozen casinos have come up within a short motoring distance of Santa Fe. There are ample facilities to fish, play golf, ski, and hike.
Taos, high up on the hills, is a couple of hours' driving. It's an interesting town, with its own array of art galleries and historic buildings. A stay at Santa Fe won't be complete without a trip to Taos.
To be able to buy art pieces one would need more time. The variety on offer in metal, glass, plastics, as well as paintings is enormous as this is a collector's wonderland. For example, in glass alone, a wide choice in art glass, blown glass, gilded glass, glass print, leaded glass, and glass beads. Limitless offerings in pottery, both traditional and ultra-modern. And a vast range in landscape paintings.
Antiques on sale include Mexican wood carvings, pueblo jewellery, especially turquoise jewellery, Hispanic textiles, and cowboy memorabilia. One needs a connoisseur's eye to make sure you aren't passed an imitation instead of the genuine article.
Santa Fe is not on the beaten tourist track. Yet a few days' stay there can prove most rewarding.
This feature was published on April 4, 2004