TELEVISION
Mauli's new dreams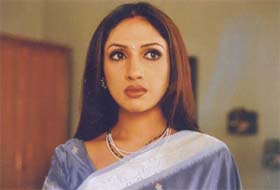 Mauli Ganguly: Tasting the fruits of freedom.
FOR some in the Balaji camp it may have come as a shock, though not as a surprise, that Mauli Ganguly has finally called it quits. Rumours had been doing the rounds that she had had enough of Kaahin Kissi Roz and was walking out.
But Mauli, one of small screen's top eyeball grabbers says the parting has been amicable and without acrimony. " It was just that I reached a point of stagnation playing Shaina Sikand and wanted a life outside Kaahin Kissi Roz."
And quite a life she's having. She's just finished her first film Raincoat with Rituparno Ghosh and has two big serials under her belt.
In Sahara's Sahib Biwi Ghulam she essays the role played by Waheeda Rehman in Guru Dutt's classic. In Cinevista's Saaksshi she plays a middle-class woman, who is in in search of her missing brother and joins the anti-terrorist squad.
"Both serials offer me a wide scope to perform and I am enjoying my freedom to the hilt," says Mauli, hoping that this is the turning point in her post-Ekta Kapoor life!
Souping up news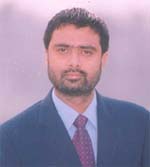 Chaurasia…Broadcast news.
HE vividly remembers the time when the Nepalese royal family was massacred. The news came at 4 am. By 9 a.m, he was on the flight to Kathmandu. When he was covering the Gujarat quake in January, 2001, he did not sleep for 10 days.
"I travelled by night to the remotest areas like Kandla and Bhuj and presented my reports during the day. These unearthly hours are all a part of the job," says Deepak Chaurasia, who surprised everyone when he left Aaj Tak and joined the lacklustre DD News.
But six months on, this charismatic journalist is fast proving his doomsayers wrong. DD News is slowly being revamped. "The change cannot come overnight but we are striving hard to achieve it," says Chaurasia, a broadcast journalism graduate from Cardiff.
"We aim at showing news as it happens, without sensationalising it. The prime focus is credibility," says Chaurasia, out to change the way things work in the national network.
Whether he'll be able to professionalise DD is not in doubt. But whether the all-pervasive babudom allow him to bring in sweeping reforms is the question.
One more in poll fun run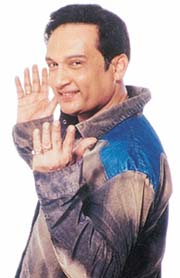 Shekhar Suman: Funny side of polls
THOUGH it may be a case of one too many, the art of political satire is alive and kicking on leading channels.
What started as a fresh idea when NDTV began airing Gustakhi Maaf has now turned into a tide with Jaspal Bhatti's Khabar Tadka on Zee News, Jaaved Jaaferi's out-of-the- box satire JBC on Aaj Tak and Sanjay Mishra's Dharti Pakad on Sahara News.
Now comes Shekhar Suman, the latest entrant in the me-too-in-the-funny-fillers race. There's no denying that Suman has built an enviable fan following, thanks to his razor sharp wit, but in Poll Khol on Star News he seems to be running out of good scripts.
For Star News though the compulsions were different. Having lost Vinod Dua to NDTV, the channel had to do something to stem the rising TRPs of rival channels. And what better way than to hire the services of Suman for Poll Khol.
Taj revisited

Visions of paradise: The Taj Mahal
OVER 350 years ago, Shah Jahan built the world's grandest and most beautiful mausoleum in memory of his wife Mumtaz Mahal. Since then, this masterpiece in marble has come to symbolise love and creativity.
The image of India down the centuries has been linked to the marble minaret of love. Travel brochures and advertising campaigns have used the Taj with telling effect to sell India as a destination. And no tourist worth his passport has given it a go-by in his travel plans.
In Visions of Paradise: The Taj Mahal, April 24 at 9 pm, Discover India revisits this great example of Mughal architecture that blends Persian and Islamic styles. Get an in-depth view on the history and the present status of this centuries' old monument built on a foundation of love which today is crying out for some molly coddling from its keepers.
Rallying star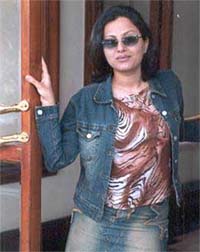 Vani Tripathi: Politics of being a star.
WHETHER it is theatre, ads, films or television, for Vani Tripathi all are important. Five years into acting, she has to her credit over 150 plays, numerous ad campaigns, a long list of serials, some cameos in films and now, of course, a few political rallies.
Rallies? Why on earth would a sensible star be a part of the election juggernaut? Perhaps political ambitions are for some easy money. Vani of course denies both. "Joining the BJP gives me a platform to reach out to people," she says, sounding unconvincing.
But when it comes to her performances she sounds more convincing. Currently, she is doing Eehsaas and Agneepath on the national network and is comfortable essaying the role of a simpleton in one and a girl with a disturbed childhood in the other.
Vani, who made her foray into acting with an Indo-Italian film Omero—a Cannes Film Festival entry, says " I like to do fusion films as Indian and western values are mingling fast." Hope the BJP doesn't find the Italian connection too politically incorrect.
Back on track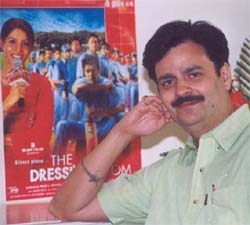 Wattal: On a high note again
THE man who revolutionised Indipop in the 1990s is back with a bang. Jawahar Wattal is composing for his first film—Silence Please`85The Dressing Room.
"There was a personal loss and it took me time to overcome my grief. But now I am back and raring to go," says the mild-mannered Wattal, who has to his credit over 3000 jingles, including Pepsi and Nescafe and 19 top selling albums.
Besides, he has landmark compositions on TV and has done mega hits like Baba Sehgal's Dilruba, Daler Mehndi's Bolo Tara Ra Ra, Dardi Rab Rab, Shubha Mudgal's Ali More Angana, Ila Arun's Hole Hole, Shweta Shetty's Deewane and Hansraj Hans' Jhanjhar.
"Although I have a couple of films in the pipeline, I am really looking forward to do more work on small screen," says the poor man's Quincy Jones of India. NF