ULTA-PULTA
Nothing to declare
Jaspal Bhatti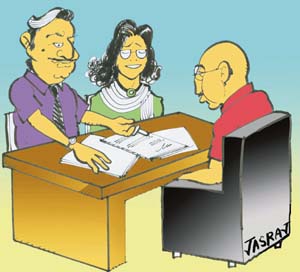 THE Election Commission is also guilty of mudslinging. It has forced every candidate to declare his assets on filing his nomination papers. This amounts to throwing mud on the candidates and sullying their name.
When a politician having assets of more than Rs 200 crores has to declare that he had only Rs 2 crore worth of property, he will certainly be dejected. Mayawati is bold enough to declare that she has around Rs 9 crores in her bank, but she says that this money has been gifted to her by the party workers. It is possible that all those who came with bribes to get their work done were inducted as party workers.
Sometimes these figures are humourous. Foreign Minister Yashwant Sinha has Rs 1700 in cash whereas his wife Neelima has Rs 2600, Laloo Prasad has Rs 50,000 and his wife has Rs 60,000. This implies that the extra cash is for running the kitchen. In some cases wives are richer than their ministers on MP husbands. For example, Chandrababu Naidu has declared Rs 1.5 crore worth of property, whereas his wife has a property of Rs 19.34 crores. My wife said,"Why donít you also contest the elections?" I asked her what was the need for that. She said, " Youíll at least feel ashamed when people come to know how little jewellery you have bought for me!"