Ultras attack Cong HQ in Srinagar, 12 injured
Ehsan Fazili
Tribune News Service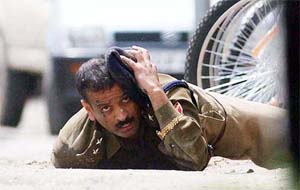 A CRPF officer lying on ground after being injured in a militant attack on the Congress headquarters at Maunala Azad road in Srinagar on Friday. ó PTI photo
Srinagar, April 23
Twelve persons were injured when militants fired three to four grenades inside the highly guarded premises of the Pradesh Congress Committee (PCC) headquarters at MA Road here this afternoon. Those injured included five security personnel and six civilians, two of them photo- journalists.
The incident followed a grenade attack on an election vehicle of the National Conference campaign party at Solina, near Ram Bagh bridge, in which at least 11 persons were injured this morning. The police said six civilians and five police personnel were injured in the grenade attack at about 11 a.m. The attacks created panic in the city in view of the polling in Srinagar constituency in the second phase on Monday. These attacks by militants have been stepped up here as tight security arrangements are being made to ensure smooth and peaceful polling to thwart the designs of militants to disrupt the electoral process.
Militants fired three to four grenades towards the premises of the Pradesh Congress Committee this afternoon injuring 12 persons including five security personnel. These grenades were fired in a span of about one hour between 1 pm and 2 p.m. in what was suspected to be a suicide attack. As the grenades exploded the police opened fire in the air. The entire premises was cordoned off to flush out any hiding militants for about two hours. Later the cordon was lifted and life on the busy M A Road and Residency Road resumed.
A Congress spokesman told TNS that two party leaders and about 10 staff members were rescued by the police from the rear-end of the complex. The leaders who were in the office at the time of the attack included Abdul Ghani Khan, working president of the Srinagar District Committee, and Ghulam Mohammad Sheikh, former chief of the Seva Dal wing.
The attack is the fourth one of its kind in the central Lal Chowk area close to the Chief Ministerís residence.
The PCC office is opposite to the Residency Road, where a suicide attack on the PIB building killed two suicide militants on March 9 last. Five persons, including a former militant leader and politician, Javed Hussain Shah were killed in a suicide attack on the Greenway Hotel near the PCC office on August 27 last year. Two militants were also killed in a suicide attack near the residence of the Chief Minister on the MA Road on October 17 last year.
Two persons were killed and six injured in two separate explosions here yesterday in the stepped up violence by militants ahead of the polling for the Srinagar constituency.
Meanwhile, a spokesman of the Hurriyat Conference here today claimed that the APHC chairman, Syed Ali Shah Geelani, had been kept under house arrest since early morning today, while several other leaders were arrested ahead of the elections. Geelani and other separatist leaders have been campaigning for boycott of elections across the valley.