The beauty trap
Pageants are out of step with present times, says Prerana Trehan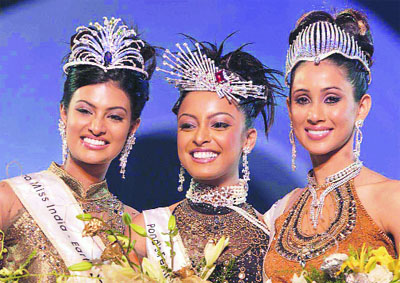 When Lakshmi Pandit surrendered her crown, cracks appeared in a picture-perfect world. And as the spotlight swung away from the disgraced Pandit, it brought into sharp focus the uneasy, often contradictory, relationship between the beauty industry that refuses to keep pace with changing realities and the rapidly evolving society that worships it.
Walking the ramp is now a middle-class dream. No longer is it considered worthy of only the odd woman of exceptional beauty but has become an aspiration for the girl-next-door. The industry isn't, apparently, prepared to accept this reality. Little wonder, then, that it offers few safeguards to these women, many of whom are from small towns and have no links with the glamour world. Although many, like Sunil Bansal, director of Studio Model Creators, feel that uneducated girls should not enter the beauty business as they are more vulnerable to exploitation, the Miss India contest rules do not specify any educational criteria. Says Divya Jaitly, Femina Miss India finalist 2002, "Many girls drop out of studies to take up modelling. This is wrong because not only are the chances of uneducated girls getting exploited greater but also because the shelf life of models is extremely short." It is sad that the organisers of the contest do not take upon themselves the responsibility of ensuring that these women have the wherewithal to not only safeguard their interests while they are a part of the industry but also to make their way in life when they are not. This becomes especially important because many of these women join the industry in their teens and leave it a decade later, when it is difficult for them to go back to their studies.


March 2004: Lakshmi Pandit, first runner-up Miss India contest, was forced to relinquish her crown when media reports suggested that she was married.
April: Aloyna Pisklova, a favourite to win a Russian contest paving the way for entry in the Miss Universe race, was disqualified when it was found out that she was 15 years old, not 18 as stipulated.
February: Chen Lili, a Chinese transsexual, was barred from the Miss Universe contest. Even though Lily had obtained legal recognition as a woman in January after she underwent a sex-change operation in November last, the organisers rejected her saying that there was no precedent in the history of the contest.
2002: Russian Miss Universe Oxana Fedorova lost her title when she got married secretly, got pregnant and put on weight.
1997: Regina Flores lost her Miss Colorado title for not fulfilling the commercial terms of her contract.
1984: Vanessa Williams, the first Black Miss America, lost her crown when it was found out that she had posed for hardcore lesbian pornography. Her photos later appeared in the Penthouse.
1974: Spain's Amparo Muñoz became Miss Universe but lost the title when she became a soft porn movie star. In the same year Helen Morgan of Wales was stripped of her Miss World title when it was discovered that not only had she been an unmarried mother but was also married.
1957: Miss USA Leona Gage was disqualified after she reached the semi-finals of the Miss Universe contest when it was found out that she was a married mother.
(Compiled from the Net)
While the contest is open to women between the ages of 18 and 24, some like Nikita Anand, Femina Miss India 2003, feel that the age limit can be raised to 28 or 30. Considering that looking good is now more a matter of fitness than age and some of the highest-paid models are well into their 20s or early 30s, the contest's insistence on 24 as the upper age limit seems to be anachronistic.
Live-in relationships, too, are more visible and acceptable today. After the controversy erupted, Pandit said she was single but pretended to be married to be able to rent out a flat with her boyfriend, a feat which would otherwise have been near-impossible in a conservative middle-class neighbourhood. Her act draws both criticism and sympathy. Says Anand, "Many single women in places like Mumbai find it difficult to rent accommodation." It is usual for women to lie about being married just to be acceptable to landlords. "Why make such a big deal about it?" asks Shefali Talwar, Miss Delhi Femina Miss India 1992. "Moreover, in metros live-ins are often a matter of convenience," she adds. Sky-rocketing rents force many couples to pool their resources and share accommodation. This is especially true of men and women from small towns who move to big cities. While none of this may justify Pandit's act, one wonders if the contest's insistence on singlehood might have lost relevance in the present context.
Again, at a time when people's sexual preferences are considered strictly their private affair and gays and lesbians campaign openly for their rights, it is paradoxical that Chen Lili should be banned from the Miss Universe contest for being a transsexual (see box). Although the contest rules specify "natural born" women, these rules were probably framed at a time when one's gender could not be reversed under a surgeon's scalpel. When the courts give an individual the right to change his or her sex, the pageants' refusal to accept this seems to be another example of their insistence on existing in a time warp.
That Aloyna Pisklova's disqualification (see box) from the Russian contest might have been a relief to the organisers is another 'unsightly' contradiction of the beauty business. They were worried that at 164 cm and 60 kg, Pisklova was a little too 'ample' to find acceptability with advertisers partial to models in the Barbie-doll mould. Considering the big money involved in the beauty industry, it is easy to see why the thought of Pisklova being 'unsaleable' to advertisers might have given the organisers sleepless nights.
In a politically correct world beauty pageants would not discriminate against married women or transsexuals or those living in with their partners. But, then, in a politically correct world would there be beauty pageants at all?

Poor Lakshmi: No place for fortune
Anita Anand
For the first time in the 40-year history of the Miss India pageant, a finalist surrendered her crown when a media story revealed that she might not be single — a prerequisite for all contestants. The brouhaha raised questions about the nature of the beast in the pageant organisers and aspirations of young women.
Lakshmi Pandit's "incorrect statement" in her application for the pageant was that she was single. Technically she is: she was sharing an apartment with a male model. Pandit says she presented herself as a married woman only to get the apartment she wanted to in Mumbai.
Like Pandit, thousands of single women in India find it difficult to get accommodation as prospective landlords want to know a great deal about their personal and professional lives. Indians have a hard time with the 'singleness' of women. Without the protection of men, they are viewed as 'fast or loose'. Despite this, more and more women are single, out of choice, not just by chance.
The Miss India pageant regulations require applicants to be single and not have had (previously or when they apply) a pregnancy. Pandit wanted several things desperately enough to allegedly lie about her marital status to get the apartment she wanted. In terms of her aspirations, winning the crown was the goal and she used whatever means necessary to achieve this. The pageant, intentionally or unintentionally, encourages this. When young women see the kind of life an ex-Miss India titleholder has, the temptation is great and the lines between right and wrong become increasingly blurred.
Should young women be blamed for wanting to be winners? Clearly not. The kind of media attention given to them is hard to resist. From being young women next door, they are catapulted to fame and fortune. Who can resist?
Recently, actor-director Rahul Bose was asked on a TV show why Miss India titleholders should be role models, and not the Medha Patkars? While there was a round of applause, the reality is that most would rather look at a Lara Dutta than a Medha Patkar.
Empowerment is women's exposure to choices but do 18 to 22-year-olds have the means to exercise these choices? By this age, most women in India are already married. Few had or have choices. But the contestants of pageants have a choice. They also have ambition, stars in their eyes, and are encouraged by their families and support groups to go for the title. Chances are that few have the maturity it takes to handle the success. But, it is their choice.
As for role modelling, women who aspire to become like ex-Miss World Aishwarya Rai, see a fair skin, light eyes, a lovely body, money, and stardom.
As Pandit goes back to a life without her title, she represents a dilemma and challenge. The issues that have come to surface won't go away. Our evolving environment requires a constant examination and redefinition of almost everything — from individual to national aspirations, personal to public relationships. This does not come easy
However, in a pluralistic and democratic society, the answers are diverse; and for people to live side by side, a prerequisite is acceptance of these differences. And, most important, a recognition that in the eternal search for beauty, in and outside of us, there will always be a bit of the beast.
— WFS
(The writer is the author of The Beauty Game)