Punjabi Antenna
Striking a balance
Randeep Wadehra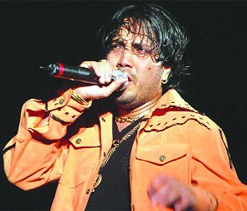 The channels were in a dilemma last fortnight. How much, and for how long, should Tohra's death be mourned? Should Baisakhi celebrations be given short shrift? Politicians of all hues vied with one another in offering their tearful homage to the departed leader. And Janus blushed. There was the usual ardaas for peace to the departed leader's soul.
The ETC, however, preferred to strike a balance between the lamentation and the Baisakhi celebration.
Consequently, there was this entertainment show with comedy and dance. The jokes were really off-putting. Sample this one: A rustic asks his neighbour, "Teri gharwaali de kee hoya aie?" (What has your wife delivered?) The neighbour responds, "Pata nahin, shakk jeya hoya aie" (Can't say, she's delivered something resembling a doubt). Ugh. The recycled ribald stuff, spewed in the streets by bhands, can be really nauseating. Malkit's song and dance was the saving grace. And that's not saying much, considering the fact that he really had nothing new to offer. It's election time. Punjab Today dutifully gave equal time to the Congress and the Akali-BJP combine. The latter accused the ruling party with failure in protecting the state's interests and the former blamed the Akali-BJP combine for making the state bankrupt. The problem with Punjabi news channels is that they don't analyse the unfolding political scenario and play safe by airing the respective parties' official views.


Eye-catcher

Theatre, television and film personality Vijay Tandon religiously adheres to the mantra given by his late elder brother, RN Tandon: "It's better to light a candle than to curse the darkness."

Winner of the 1994 National Award for writing, producing and acting in Kachehari, which was adjudged the best Punjabi feature film, Tandon was associated with the likes of Balwant Gargi and Shiv Batalvi. With main roles in 30 Punjabi films, he's acted in Hindi serials like Buniyaad, and Tara. Tandon is emphatic that only Dharmendra has selflessly contributed to Punjabi cinema.


Vijay Tandon with Dharmendra