Leaders who defined India's image
Kanwalpreet
Makers of India's Foreign Policy. Raja Ram Mohan Roy to Yashwant Sinha
by J.N. Dixit. HarperCollins, New Delhi, 2004. Pages 328. Rs 500.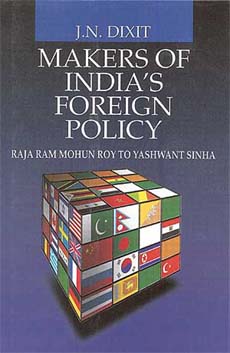 INDIA'S foreign policy and its framers have frequently been under scrutiny by critics and analysts alike. This book by J.N. Dixit, a former foreign secretary, is bound to find many readers as the subject is not only interesting and controversial but concerns an aspiring superpower. Moreover, India has been very vocal about protecting the interests of Third World countries.
Though the book covers a long time span, Dixit has done justice to all luminaries who have left their mark on the country. If he discusses Nehru who dominated the politics of India for 18 years, he also highlights the role of prominent diplomats like Sir Girija Shankar Bajpai, K P S Menon, Subimal Dutt, Badruddin Tyabji etc. The book is written in simple language. The author traces the influence of leaders like Raja Ram Mohan Roy, Davendranath Tagore, R.C.Dutt etc., who had a feeling of inferiority vis-`E0-vis foreign countries and also of leaders like Swami Vivekananda, Tilak etc. who stressed the richness of Indian culture. These individuals lived under the same imperialist power but each developed his own viewpoint and "influenced the evolution of India's views on its foreign relations".
Mahatama Gandhi's thoughts and ideas were moralistic and unrealistic, yet their traces can be noticed in our foreign policy. "His (Gandhi's) reading and perception of western social and political thought were underpinned by his profoundly religious Vaishnavite background". Dixit says that Gandhi's faith in the inner goodness of human nature did not gel with the realpolitik of modern times. Subhas Chandra Bose and Vallabhbhai Patel are the "modern day Chanakyas" as they put national interest above all else. Patel's letter to Nehru anticipating China's "acquisitive intentions" sheds light on the statesmanship of the former. The author also discusses the contribution of Lal Bahadur Shastri to India's defence planning process.
Indira Gandhi's determination and farsightedness made India a force to reckon with. Unlike her father who initially believed in the "idealistic view of the essential goodness of human nature or nation states", Dixit says that Mrs Gandhi adopted "a realistic approach to international politics." Although today's generation may not be familiar with the names of V.K. Krishna Menon, M.C. Chagla, Sardar Swaran Singh etc. but these intellectuals — "behind the scenes operators" — were the ones who made up the think-tank of the government and influenced its policies. Swaran Singh's strategy of buying time for the Indian Army to complete its operations in 1971 while he was addressing the UN Security Council, Patel's role in integrating the princely state of Indore into India, George Fernandes expelling Coca Cola and IBM from the country are some of the examples of the exceptional research that has gone into the book.
Along with their role in framing the foreign policy, the part that these leaders played in the freedom movement is also highlighted and assessed. This book should provide food for thought for future generations of policy planners.