Impaired franchise
R.C. Rajamani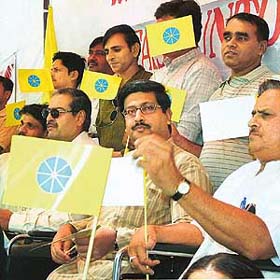 People with special needs are protesting against the lack of facilities for enabling them to cast their vote. — Photo by Mukesh Aggarwal
THE general election in India is said to be the world's largest democratic exercise. But when this mammoth process remains virtually blind and deaf to its disabled population's need to exercise franchise with dignity, Indian democracy surely can't be said to be wholly inclusive.
Our poll process sidesteps almost six per cent of our population that has its voice muted, vision impaired or limbs twisted. In successive elections, the eligible voters among the country's estimated 60-million disabled population have been unable to exercise their franchise for lack of access to polling booths or, in the case of the blind, an inability to read poll instructions.
"I overcame all odds to cast my vote once. But what's the point if it's not secret ballot ?"asks Bhanwar Kumar, who is visually challenged. "There is a provision for someone else to vote for me but that robs the ballot of secrecy," is the wry comment of 45-year-old Rajeev Raturia, who too is visually impaired. Although technology has enabled the move from ballot papers to electronic voting machines (EVMs), nothing has been done to incorporate braille instructions in EVMs. Things are tough for the disabled, especially wheelchair-users, as they cannot access polling booths with stairs or cross security barricades.
National parties and the government have done precious little to facilitate their participation in the election process, rue representatives of the organisations working for the disabled. Parliament woke up as late as in 1995 to pass legislation to protect their interests. There has been a vociferous demand that the disabilities issue find prominence in party manifestos. But sadly, party manifestos offer promises to virtually every section of society except the disabled. Yes, the disabilities issue did make it to party manifestos in 1996, a year after the Disabilities Act came in to force. But it was back to square one in the very next election in 1998.
"We have asked for Braille stickers and special ramps for the disabled," says an official of the Election Commission. In the meantime though, groups of the disabled are planning to field their own candidates so that their unique problems can be highlighted and addressed.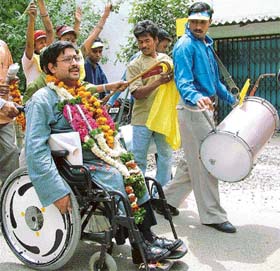 Javed Abidi, Chairman of the Disabled Rights Group, is cheered as he goes to file his nomination papers for the New Delhi seat.
— Photo by Mukesh Aggarwal
Activists of the Disabled Rights Group (DRG) recently demonstrated outside the Election Commission office in New Delhi to press for disabled-friendly polling booths. "We want to force political parties to react," says Javed Abidi, convener of the Disabled Rights Group (DRG), an omnibus heading organisations working for the rights of the disabled. "We want them to recognise disability as a national issue." If the Election Commission wants, it can facilitate the disabled people to vote without much financial investment, he asserts. No cost, after all, is too high to enable the eligible voters among six per cent of the country's population to exercise their precious democratic right with dignity.
"We want them (politicians) to take notice of us," says Sakina Mushtaq of the New Delhi-based National Centre for Promotion of Employment for Disabled People. "They should not treat us like an invisible minority." Though the law stipulates that three per cent of jobs in all services be reserved for disabled people, there are about seven million employable disabled people without jobs. Only an estimated 3,000 to 4,000 of them are recruited every year.
Abidi is contesting the coming Lok Sabha elections as an independent candidate.
"The decision to contest from the New Delhi constituency was made for symbolic and emotional reasons," says Abidi, who will take on Culture and Tourism Minister Jagmohan.
Recently, despite the scorching heat, nearly 1500 disabled people from various parts of Orissa gathered to attend the first political convention of the disabled at Bhubaneswar. Organised by the Orissa State Disability Network (OSDN), the convention drew representatives from the Congress, BJP, CPM, Samajwadi Party and the Biju Janata Dal. "We are not an invisible minority. Value our votes,'' demanded Sruti Mohapatra, the physically challenged convener of OSDN.
Their demands include three per cent reservation in political constituencies, accessible polling booths, postal ballot facility and escorts for blind voters. The disabled also want an independent Disability Commission to be set up on the lines of the National Human Rights Commission or Minorities Commission.
Sops for the disabled do not find any worthwhile mention either in the Congress and NDA manifestos or the Vision 2004 Document of the BJP. It appears, yet another general election is set to bypass a major chunk of 6 per cent of our population.