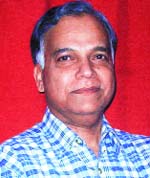 Arvind Saraswat: Cooking is a passion as well as his profession
ARVIND Saraswat, the author of Professional Chef—The Art of Fine Cooking is one of the senior-most chefs in the country. He is Director, Food Production Taj Group of Hotels. In between all that food production he has been writing books - one book after the other. He has certainly worked hard, set up food units in some of the best-known luxury hotels in the world. In an exclusive interview with Humra Quraishi, Saraswat discusses his work and writing.
This is your third book, with a fourth in the pipeline on cuisine. How do you take time off to write?
The chef's profession is very time demanding where one get a few hours after lunch break for relaxing. I have utilized this time for the book. The subject material collection is a result of 35 years of my experience in this profession and put together in the form of a book. It is a continuous effort and require constant search for knowledge.
How long did it take you to write this detailed book . It has over a thousand recipes from all over the world?
I always felt the need for a comprehensive chef's book. There is no such book available in the market by an Indian Author. The compilation is an effort of eight years of work. Each recipe had to be tested a number of times to make into a perfect dish. To make Professional Chef" a complete reference book; other relatedchapters have been included.
There is so much of emphasis on food and awareness about health. Why are people are turning up with health-related problems?
My philosophy is "eat what you enjoy but in limit" unless one is suffering with some ailment then one should refrain and eat as advised by the Doctors. With healthy food, some kind of physical exercise is a must.
Did you get a free hand and what was your experience working for foreign hotels?
Yes, the experience was amazing and the management did provide me with a free hand. There was lot to learn, enough to implement and great challenge at the shop floor. Each kitchen was unique in itself.
Is the food and catering industry in the country reaching a saturation point?
India's culinary life is changing at a fast pace. Cuisines are more inclined towards innovation, creativity and visual appeal. Hence a great challenge for the chefs to fulfill the present demands of the guests. The food industry is still in its adolescent stage and there is a great scope to compete the globe with a stride.
Who does the cooking in your home and personally what type of food do you prefer?
My wife is the best chef for me, I do cook occasionally to make her happy, especially the non vegetarian and the rice which she is not confident of cooking. Time comes in this profession when you already have enjoyed innumerable delicacies around the world and you simmered down to the basic food subzi, dal, roti, chawal etc.
In this book you have not`A0just dealt with kitchen designing but focused on 'food hygiene'`A0and even given historical backgrounders to classical dishes.
For any food handler, the knowledge of hygiene is very important to make the food free of contamination. Therefore, the chapter on hygiene has been included. To understand the dishes with a historical background must be explained to have a better understanding of the dish. This book is based on syllabi and requirements for the students undergoing Hotel Management Courses.
You have focused on cuisine from all over the world except Africa and Middle East. Why?
The book is not world cuisine oriented but it does cover the cuisines which are most prevalent in India and it is hoped that it shall find a wide audience in housewives, professional chefs and anyone who regards the kitchen as a place of pride.