Ritesh reloaded
For Ritesh Deshmukh, it's time for some fun with Masti in the theatres. The architect-turned-actor hopes that this film will draw attention to his acting abilities, writes Avinash Kalla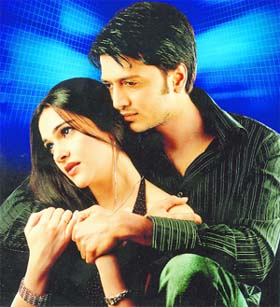 Deshmukh: He now has designs on Bollywood
THE blazing Delhi afternoon sun doesn't bother him. Nor does the fact that his new film could clinch his future in Bollywood forever. An enviable calm marks his visage as he talks about his career switch, films and more.
Ritesh Deshmukh's mantra is cool and simple: "I don't expect anything from anybody. I just do my best and leave the rest to destiny. What matters to me is the quality of my work and not the outcome."
In case you've missed reading between the lines, he's is talking about his last film Out of Control doing a Titanic at the box office.
But that's a thing of the past. Now his acting skills will be tested in Inder Kumar's Masti, in which he plays Aman, one of the three husbands who is terrified of his wife. The film boasts of big names— Ajay Devgan, Vivek Oberoi, Lara Dutta— and Ritesh candidly admits that he was a bit overawed by his senior co-stars.
"Frankly speaking, no one would come to the theatres to watch a Ritesh Deshmukh film. I feel proud that I was considered for a film with a big star cast. Every scene was a learning experience for me," says Ritesh
Ironically, acting was never the primary interest of this three-film-old star. An American-educated architect, he did, however, train at the world renowned Lee Strasborg Theatre Institute in New York to learn the nuances of acting
Architecture was his full-time preoccupation till the day cinematographer Kabir Lal introduced him to director K Vijaya Bhaskar. And that's how he got his first break—Tujhe Meri Kasam.
"I was still not convinced about an acting career but decided to taking the plunge as the offer had come on a silver platter. I always had my architecture firm to go back to after doing the film," reasons this son of former Maharashtra Chief Minister.
Although the film bombed in the metros, it was a silver jubilee at 22 centres in Uttar Pradesh and Bihar. Enough for the offers to pour in, including Vashu Bhagnani's Out of Control.
Now of course, his priorities have shifted. Though his architecture company is still being run professionally, acting takes up most of his time. The next film he has lined up for release is E. Niwas' Bardaasht, in which he plays Bobby Deol's younger brother.
Ritesh will also be starring in another Vashu Bhagnani film Bisaat where he plays a cop.
And his one big wish? "I want to do a movie with Kajol some day. She is my favourite heroine." Well, for that he will have to wait to be approached by Karan Johar or Yash Chopra. Till then, he can at least dream big.