Reel look at life behind bars
Ervell E. Menezes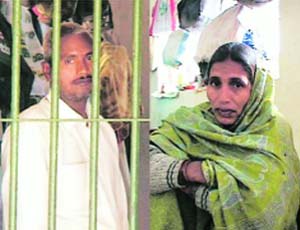 Scenes from the film Days and Nights in an Indian Jail
SET inside Tihar Central Jail in Delhi and filmed over a year, Days and Nights in an Indian Jail is a powerful, heart-rending story about characters for whom hope is a mirage and tomorrow is as dismal as yesterday. It has been made by the Delhi-born, UK-based brothers, Yugesh and Sunandan Walia.
Raymond is from London and is on remand, accused of smuggling 70 kg of heroin. Laxmi is serving a life term for the murder of her husbandís mistress. Then thereís Bhabhuti, his wife Prempatta, and son Ram Shankar, implicated in a dowry death case. Their daughter Pushpa also lives in the prison with her mother. There are also two Swedish youths charged with possessing drugs.
The jail has 11,000 inmates, of whom only 2000 have been convicted. Munshis are the convicted prisoners who run the wards. The camera pans on these doomed prisoners and gives an insight into their psyche and does a rewind into their past .
Their living quarters are anything but livable, the toilets are a terrible condition and their daily routine is quite boring. Their lawyers do little to help them and the process of law is virtually at a standstill. And so life goes on, remorselessly. Laxmiís husband hasnít come to see her for five years as he is living with another woman. When he does meet her, Laxmi almost picks a quarrel with him. "Did you call me here to fight," he asks. She overcomes her anger and even enquires about his health. "I want to die first as a widow has no place in this world," she says but her wish is not granted.
Through meshed fences the prisoners strain to get a glimpse of their loved ones but almost in vain. They face long hours of loneliness. Some read to pass time, others stare into space. Raymond seems out of place in this mileu but his sense of humour keeps him going. The two Swedish youths turn to meditation. A Catholic priest visits them to provide solace.
"She killed us too, not only herself," say the dowry death survivors and the camera goes back to their village, where their land is lying uncultivated. Prempattaís daughter Pushpa must leave them and go to school but parting with her isnít easy. Day follows night with a monotonous regularity in the jail. Misery is the glue that binds them into a family. There is a convicted woman who acts as a counsellor. The Walia brothers do well to weave these stories together with whatever common thread they can come up with. Variety is the essence of the narrative and humour an important ingredient. But even Raymondís humour runs out. After a futile meeting with his lawyer he comes back to jail dejected. "I had a very long day... Iím exhausted, longing for a cup of tea and another cup of tea," is his very British way of saying it. And then just when one begins to wonder how this film will end, it moves into the future and the present becomes history.
How many are lucky to leave the jail? Very few. Their sorrow enters the soul like an iron and for a moment their crimes seem to melt away into oblivion. The question that disturbs the mind is: why should their world be so bereft of hope? Theirs is a fate one would not to befall even oneís enemies. In depicting this lies the power of the film.