NATURE
Sweet armour of aphids
Nutan Shukla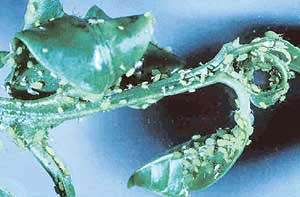 Aphids are tiny sap-sucking insects commonly found on the leaves and stems of plants
SOME ants earn a living through dairy farming. Aphids, the tiny sap-sucking insects commonly found on the leaves and stems of plants, excrete sugary honeydew in abundance. This is consumed by many organisms, including ants. It is because of this substance that the ferocious ants, instead of attacking the aphids, take full care of them and even guard them against ladybirds, hoverflies and many small birds that prey upon these tiny creatures.
An aphid's rear end looks like the head of an ant. Its hind legs too move in the same waggling fashion as an ant's antennae. Whenever an ant touches its rear parts with its antennae, an aphid immediately excretes nutritious honeydew, which is high in sugar but low in protein content. It is believed that this entire exercise of the aphids is meant to attract their protectors and keep them in their vicinity.
Animals that prey upon these sugary insects have to contend with the ant 'guards' that have an unpleasant bite.
To counter this, predators have devised their own ways. For instance, the larvae of the North American lacewing fly (chrysopa slossonae) resort to disguise. The larvae live among these insects and feed on the wooly alder aphid (prociphilus tessalatus). To fool the 'security personnel', they cover their bodies with the waxy wool taken from their prey. This trick works and the intruders are mistaken by the ferocious attendants for the aphids and left alone. Experiments have shown that if the larvae are stripped of their covering, they are immediately attacked by the ants and removed from the aphid colony.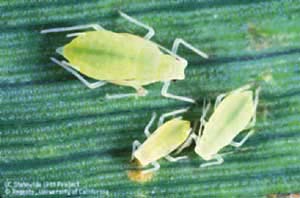 These insects secrete a sugary substance to attract ants that protect them from predators
Aphids not only have numerous species, they are also found in abundance. Their number can exceed even 5000 million in a hectare of vegetation. While feeding, they extract juicy material containing sugar and nitrogenous compounds with their specially modified mouth parts, known as stylets, from young stems and leaves.
In most species of these insects, males and females are sexually active chiefly in autumn and they deposit the eggs in crevices to save them from the winter chill. In spring and summer, reproduction is by parthenogenesis, which involves no mating, and females produce only daughters that are genetically identical to them. The breeding rate is phenomenally high and a single female can produce up to 600,000 million offspring in a season. The insect weighs about a milligram. Each female produces young ones that areall identical to her.
From an evolutionary point of view, all the aphids produced are the same. Even if a predator eats a few of them, it merely amounts to removing a tiny part of a gigantic individual. The effect on the total genetic unit remains minimal.