TELEVISION
Shaadis: Big and small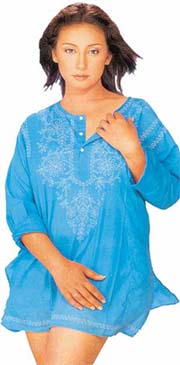 Divya Dutta: Two marriages at a time
SHE sure has shaadi on her mind. Why else would she be doing two wedding projects—-Shaadi Ka Ladoo on the big screen and Shanno Ki Shaadi on the tube.
Divya Dutta is hoping both roles will bring her accolades. Recipient of the Smita Patil and Nargis Dutt awards for Shaheed-e-Mohabbat, Divya, who was recently seen in Baghban and Agnipankh, is eagerly looking forward to both shaadis.
"I am keeping my fingers crossed and hoping they do well," says the actress, who has delivered some memorable small-screen performances in Sansaar, Ittefaq, and more recently Kadam, apart from hosting Mussafir Hoon Yaron.
"I am trying to balance films and TV," says Divya, who is doing a host of crossover films like Dubai Return, Birth of Death, Devi- The Bride in Red and Chikan Tikka Masala.
"Apart from these, what I am really looking forward to is a new Yash Chopra project and Shyam Benegal's film on Subhas Chandra Bose wherein I play Netaji's 17-year-old niece, Ela Bose," says Divya, fervently on the lookout for that one big elusive hit.


Cosmetic changes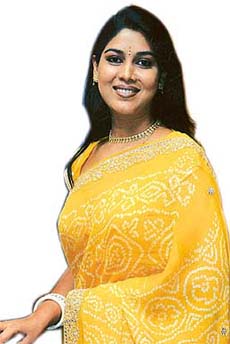 Saakshi Tanwar: Moving on
WHEN Ekta Kapoor struck upon her foolproof formula for family soaps, it not only guaranteed her hit after hit but made her a household name and spawned countless wannabes.
Now, four years down the line, the formula looks jaded and in urgent need of re-invention. And the lady is trying all tricks in the book to whip the froth back in her soaps.
After putting Kahani Ghar Ghar Ki, Kahiin Kissi Roz and Kyunki Saas`85in fast-forward mode, she is now getting new faces to play the same old characters. Take the case of Kahani Ghar Ghar Ki. The plastic surgery ploy was cleverly applied when Mandira Bedi was replaced with Achint Kaur.
Now it's time for another makeover via the cosmetic surgery route. Little known Telugu star Jaya Seal is stepping into the shoes of Saakshi Tanwar, who, tired of playing the righteous Parvati bhabi for three years, is moving on.
What is worrying Ekta is the rate at which leading characters are walking out of her serials. And she knows that replacing them with new faces is at best a facesaver, certainly not a facelift.
Award overkill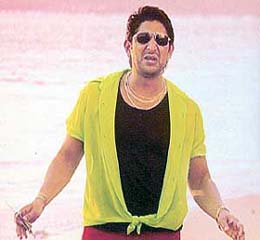 Warsi in Sabse Favourite Kaun?: Yet another awards night
IT may be a season of drought as far as movies go, but it's surely raining awards. From Filmfare to Zee and Sansui to IFFA, award nights have kept viewers glued to the idiot box.
Now comes the Pepsi Gold Sabse Favourite Kaun? On Star Gold, April 23, 8 pm. The channel claims this is no run-of-the-mill award as it would sift real stars from the flash-in-the-pan variety and would be anchored by the new flavour of Bollywood, Arshad Warsi.
Warsi meets film fans across India to find out who the awards should go to in the five categories— Sabse Favourite Hero, Sabse Favourite Heroine, Sabse Favourite Comedian, Sabse Favourite Naya Hero and Sabse Favourite Nayi Heroine.
Says Warsi, "These awards are truly representative as they take a collective view of fans all over the country. No other awards can match this one." Didn't we hear all other organisers make the same claim?
HBO — Hindi Box Office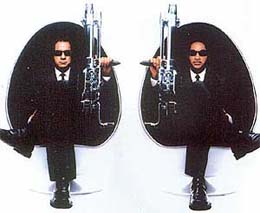 HBO Blockbusters: Wooing the Hindi audience
THE summer is going to be hot in more ways than one as HBO brings in a movie fest of Hollywood blockbusters dubbed in Hindi.
In an attempt to reach out to the Hindi viewers, the channel debuts with the dubbed version of the hit trilogy—-The Mummy, The Mummy Returns and The Scorpion King.
"This is going to be our first attempt and a thank you India offer," says Shruti Bajpai country manager, HBO, South Asia.
Apart from the Hindi extravaganza, there are thrillers like Men In Black-II, Black Hawk Down, Red Dragon, Spiderman, Terminator-11, Matrix, Mira Nair's Hysterical Blindness and other action-packed movies.
So, have your popcorns ready to watch these adrenalin-pumping flicks, Monday to Thursday, all through May.
— Newsmen Features