ULTA-PULTA
Poll golmaal
Jaspal Bhatti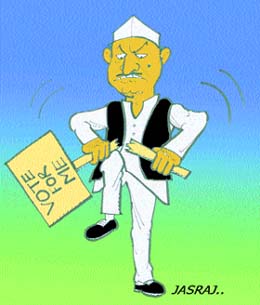 FILING one's nomination is a game. Some people like Dharmendra filed their nominations with a great fanfare. Thousands of people converged near the election office to have a dekho at the star, while satellite channels coverd the event live from Bikaner. At the other end was Atalji, filing his papers in a simple way, as if he was applying for a ration card.
Most of the candidates look for a auspicious time, carefully calculated by the astrologers to file their nominations. There are some like Navjot Singh Sidhu,whose filing time and date depended on the conclusion and outcome of the Test series in Pakistan in which he was a commentator.
After the nomination date is over, some of the candidates withdraw their nominations. There are many candidates who are in fact not interested in contesting the elections. They file their nominations just for fun, or out of resentment. A party leader, who has been denied the party ticket contests the elections as an independent candiadate out of resentment. There are some candidates who just keep waiting for some party to approach them.The party requests them to step down in favour of its candidate, promising them great returns if they do so.
How a candidate withdraws his candidature without losing his izzat is also an art. If Jethmalani withdraws on Atalji's request, he would be a sure gainer.
One such candidate was quarelling with his friends, "Why did you not request me to withdraw at an appropriate time. I have lost the elections as well as my honour."