Bal Thackeray votes after 8 years
Shiv Kumar
Tribune News Service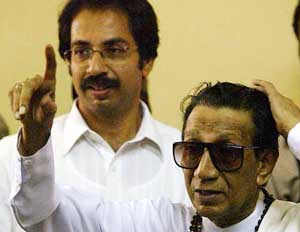 Shiv Sena Supremo Bal Thackeray gestures to the crowd after casting his vote in Mumbai on Monday. — Reuters photo
Mumbai, April 26
Shiv Sena Supremo Bal Thackeray today cast his vote after more than eight years at the Middle Income Group Cricket Club in suburban Mumbai.
Thackeray's electoral rights had been suspended for six years from the mid-1990s for indulging in corrupt practices in an election. Since today's election was the first since the suspension came to an end more than a year ago, Mr Thackeray was eligible to vote.
Mr Thackeray was subdued when asked about his ability to restore his franchise after a long period. "I am happy to be able to vote again," he told reporters. However, he, displayed his sarcastic side by questioning the electoral process. "Elections are a gamble. You have got to put your money on the winning horse," he told reporters.
Mr Thackeray has long ridiculed the democratic process in favor of a popular dictatorship with himself at the helm.
The Bombay High Court had suspended Mr Thackeray's electoral rights after he was found guilty of indulging in corrupt practice by seeking votes in the 'name of religion' at a public rally. The supremo, in an election campaign meeting for Shiv Sena candidate Ramesh Prabhu in the 1990s had sought votes from the people in the name of religion.
Prabhu's opponent Prabhakar Kunte of Congress subsequently filed a petition in the Bombay High Court which set aside Prabhu's election on the ground that Thackeray had sought votes on religious issues and thereby committed corrupt practice under provisions of Representation of People's Act.
Amidst reports that the Shiv Sena-BJP combine would lose a major chunk of their seats in Maharashtra, Mr Thackeray noted that the Shiv Sena would leave the National Democratic Alliance if the Nationalist Congress party joined the government. "We will stay out and support the government from outside," Mr Thackeray said.
However, Mr Sharad Pawar, president, NCP, has denied that he would break away from the Congress Party-led alliance and switch sides. "The statements by the BJP are aimed to create confusion in the minds of the people," Mr Pawar said in Pune yesterday.