Social monitor
He lights up lives, gives them hope
It has been a long journey for Ram Hingole, who has chosen to rehabilitate children of commercial sex workers. Reema Anand meets the man who has touched many lives.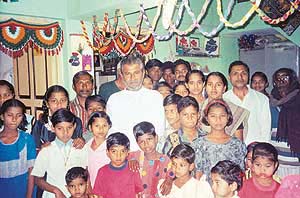 With the children of commercial sex workers.
MY destination was a three-room house, situated on the periphery of Nagpur city. It was evening and more than half of the city seemed to have crawled back to their respective shelters. It wasn't a motorable road, but we drove and parked at a 'God forbid' place. A short, stocky man in his forties, wearing a white khadi kurta pyjama stood outside his main gate, with his hands folded in a welcoming namaste. What struck me was his smile.
Confident, yet an unassuming demeanour, with a reasonable amount of cheerfulness around him — this was Ram Hingole. A new chapter being added to the history of Nagpur. Around him revolve destinies of 37 children of Commercial Sex Workers of Nagpur (he doesn't acknowledge this).
"I have kept the media away from these children, because of the sensitivity of their situation. I don't want them to get hurt".
It has been a long journey for Ram Hingole — from 1990s to 2004.
"When I entered the Ganga Jamuna Basti (the red light area) in 1980s, for a research-based study, I didn't know how strongly I shall be bound to the lives of the women living there."
In mid-1980s, the then Commissioner of Police, Nagpur, initiated a hafta vasool drive against the Commercial Sex Workers (CSW). Poor women ended up paying most of their earnings to the police. They decided to protest and refused to give in. The Commissioner retaliated and ordered their arrest. Trucksful of these women would land in the thana and then in the district courts. Realising their predicament, the district judge would grant them bail and send them home. When this cat-mouse game didn't stop for six months, the judge reprimanded the Commissioner severely. His ego dented, he got important civil functionaries along with the local politicians to start a movement for the removal of the Ganga Jamuna Basti from the interiors of Nagpur. Enter Ram Hingole.
He was associated with another social activist Jamuvant Rao Dotte, and to know the basics of the situation, he spoke to and interviewed 450 commercial sex workers. A case was filed in the courts, and after lot of hard work, Hingole won the case for these women. The Basti still stands where it was originally designed by the then King Raghaji Rao Bhosale. The funny part is that most of the respectable citizens of Nagpur today end their mortal journey in the cremation grounds built in the same area.
"Having seen the lives of these women from a very close quarter, it was difficult for me to let go! According to my analysis, they are fine as long as they are functioning, but once age sets in, they have a miserable time. 90 per cent of them commit suicide. So I started persuading them to save money." How did he do this?
"I would request the agents of cooperative banks, get these ladies to fill forms and get money as less as five rupees deposited. My purpose was that by the time they reach fifties, they should have enough bank-balance for their survival."
All these efforts did not ease his personal trauma. The children of these workers filled every nook and corner of his mind. They were suffering for no fault of theirs. Ram Hingole was running a brick-kiln then and his earnings were just sufficient for a decent living. Still he took two kids from the CSW colony and put them in a hostel in Nagpur itself. He maintained a follow-up on those two for two years. To his dismay, he found that despite changed environment, the kids were not responding favourably.
"I realised then that they needed the atmosphere of a normal average home. Perhaps a family around them!" It was at this stage, that Hingole started discussing the whole issue with some of his close friends, who shared the same ideology as his. To start with, he brought one child to his own home. Did his family accept the kid?
"No! But they stopped their cribbing after some time. This was 1993. Nana Dhotekar was a very close friend. He offered to help. So with Rs 10,000 in his pocket, Ram Hingole rented a house and brought four kids of CSW to live with him.
"It was tough. They needed parents and I could just be a father figure. I was not married." Then began his search for a couple who would provide affection to these children in return for money.
"God was kind. I found a couple who fitted my notes. Things went on smoothly, till Nana was bitten by a dog and he developed rabies. With his death, my financial support vanished. I could not afford the couple any longer. My own work had already come to a standstill, because I was spending most of my time organising food, bills and clothes for children."
He was totally in despair, when his friends volunteered to help. They persuaded him to seek media's help too. Contributions started pouring in. Clothes, books, food and in different forms.
"But I was very conscious that their self esteem should not be hurt or underminded. I would sit with them and rip open all the clothes, stitch by stitch. Then they themselves would design their own clothes. It worked wonders for their confidence." These children know that they have no option except to study and they are damn serious about their education. Even while we sat talking, all kids were engrossed in studying for their annual exams. Today Ram Hingole proudly claims.
"One of my sons is a lawyer, while my eldest daughter is doing her graduation through correspondence," and he points towards Pinky Singh, who is married and has a small daughter. Ram Hingole's is mamaji to all these 37 children. He is not only rearing them but is also teaching them culture and developing their finer sensibilities. "I want them to be sensitive to humans less fortunate than them. Frankly, I am a happy man today. I see my children contributing in tits and bits to the very society which rejected them in the beginning." The boys who have grown up in Ram Hingole's house, have started earning and are living separately with their mothers." "Don't they hate their mothers?" "No! I have taught them to respect the mother figure. It is their profession, which they hate."
Pinky Singh brings to my notice a news item published a month back. It is a story of a twenty-year-old girl, who was kept in a home made cage by her poor, labourer parents for twenty odd years. This resulted in stunting her mental and physical growth. The media had got hold of the news item and it was a public announcement by a Nagpur daily, asking for help for that misshapen child. Pinky brought a child near me and said, "This is the child!"
Pinky had taken the initiative of going to this village which was sixty kilometres from Nagpur, and had brought the child to Ram Hingole's house. She was attending to the girl, massaging her twisted body thrice a day. "She can sit on her haunches now," Pinky declares proudly.
"My children," informs Hingole, "have started a school for the poor children of quarry workers. They cannot afford school, so my eldest group takes copies pencils, slates, chalks and hold classes for them over the weekend. Pinky talks to the female labourers about birth control, AIDS and HIV and safe abortion."
It is very difficult for an average Indian to inculcate in his child who has been nurtured in normal circumstances, that life is not just eat, sleep, study and make merry, but here is Ram Hingole with his adopted brood of 37 kids coming from a black and white background, who is conscious of what his kids must imbibe and give back to the society. And his satis faction grows when he sees his efforts bearing fruit.
This is one classic case, where a new story unfolds every day, and the climax shall be reached when each character in the story develops into a rich story by itself. We definitely need more Ram Hingoles to inspire us.