School for harmony
It is a religious school with a difference. It is an experiment in transcending communal divisions and deep-rooted prejudices. Geetanjali Gayatri reports on a madrasa in a nondescript village in Punjab which has Hindu and Sikh children as well.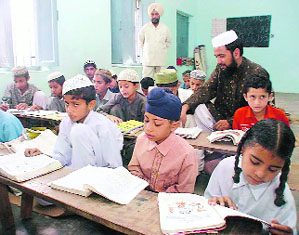 Secular show: Hindus, Sikhs and Muslims study together at the Jamia Shaw Walli Ullah madrasa, near Malerkotla. — Tribune photo by Parvesh Chauhan
Kari Shakeel Ahmed's whole life is a creed of faith. At a madrasa near the Muslim-dominated Malerkotla, where green assumes an almost mystical hue against the backdrop of the many mosques that dot the belt, Ahmed is quietly going about the business of building bridges over moats of religion that divide humanity. Many faiths come together under one roof and education about Islamiyat soars beyond the narrow confines of religion at this Muslim centre of learning in Gospura village on the Ludhiana-Malerkotla road in Punjab. Unlike the many fanatics who talk bagfuls of religion and act not a grain, this divinely inspired 'school of thought' believes children belong to no particular community.
Driven by this faith, the maulvis at this madrasa and everyone associated with it are working towards binding children together with the thread of love and trust, thus lending it a more secular character. Though the process has been painfully slow since the madrasa started "Operation Binding" in 1997, the concerted efforts of maulvis at the Jamia Shaw Walli Ullah madrasa are beginning to bear fruit. This is evident from the fact that the 85-odd Muslim students share their classrooms, books, stationery and food with nearly 25 children coming from Hindu and Sikh families to attend classes.
A prayer in Urdu resounds on the premises to mark the beginning of a new day. With their books placed on tottering low tables, a solitary bulb flickering in the room, students gear up for learning a lesson in life. At this picture-perfect class of students, swaying back and forth and repeating after their maulviji, religious divides cease to exist.
While this coming together of religions might be a rare situation given the image a madrasa conjures up in mind, it comes as no surprise for the villagers or the maulvis themselves. And it is not because they have nurtured this trust or garnered support from all communities during all these years of struggle but because the very foundation of the madrasa lies embedded in the unity of religions. "I came to Malerkotla from Muzaffarnagar in 1997 with Rs 250 in my pocket, a spade, and a trowel on the direction of a pir. More than the desire of propagating Islam, I dreamt of spreading the light of education all round and penetrating every nook and cranny. It began to seem a reality when Harchand Singh, a non-Muslim sarpanch of Dulma Gospura, now two separate villages, gave me permission to build a madrasa on panchayat land. The ball got rolling and thus began our story," Shakeel Ahmed recalls. Using the tools at his disposal, he, with the help of a few villagers, cleared the wild growth on the panchayat land. Shakeel took the class of his first batch of seven children, all Muslims, under a keekar tree a week later.
Shakeel admits he had a hard time convincing even the 100 Muslim families of the village to send their children to the madrasa for studies. With carcasses dotting the land given to the madrasa and the place abounding in snakes, parents were almost indifferent to Shakeel's repeated pleas for sending the children to attend classes under a tree. For the Hindu and Sikh families the thought was almost "untouchable". But around this time non-Muslim villagers were getting disillusioned by the non-performing government and private schools of their area. Gradually, they thought of trying the madrasa, which had made it well known that it was willing to take children of all religions in its folds without thrusting Islam onto them or their families. Its only condition, however, was that Urdu would be compulsory, and that was something the parents didn't mind at all. "So, the following year we were able to add to our student strength and needed class rooms. Accompanied by village elders, we went from house to house seeking donations and the first few rooms with tin sheet tops came up in 1999. While these were used as classrooms during day, they changed to hostels at night," he adds. With the arrival of the first Hindu child at the madrasa, the maulvis modified their time-table in a way that Islam and its teachings were taken care of before or after school while the syllabi prescribed by the Punjab School Education Board was followed in class.
This cash-strapped, financially fragile madrasa, relying only on donations for finances, awaited Eid and the month of Ramzan for funds to flow in as the numbers in their school began to rise. However, they were averse to the idea of seeking help of the Wakf Board. "They are only looking for establishing control over institutions and madrasas. We don't want to give them any such opportunity and prefer to fend for ourselves. At present we are in the red with a debt of Rs 45,000 on account of the growing expenditure," explains Shakeel as he helps Krishan Kumar with writing the Hindi alphabet. "We have worked out our own money-collection schedule," he goes on to add. Setting aside three days of a month to mobilise funds, a team of 11 teachers headed by a Sikh headteacher, goes calling at the homes of the influential. With the amount collected, the teachers are paid salaries, children are given bags and books and the hostellers get their food. Given the enthusiasm that schooling has generated among the children, the maulvis are committed to meeting the daily needs of these children. "We can't let them down. We have to give them food and their studies should not suffer whatever the cost. They are our responsibility," they say in unison.
In the playground, it is lunch break at the madrasa: the Parminder Singhs, Manoj Kumars, Mohammad Altafs and Shenaz Fatimas have mingled as one. The madrasa has recreated the identity of these children and taken away the religion that divides, giving it a new look and name. At the Jamia Shaw Walli Ullah madrasa, it is called Catholicism.