In the news
Ready to leap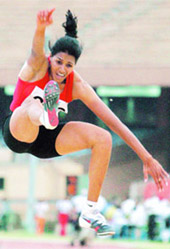 Indian medal hope in athletics, Anju Bobby George, is leaving no stone unturned in her quest to be ready for the Athens Olympics. She is training hard with her husband and coach Bobby George.
She will take part in events at Grand Prix Masters in Osaka, followed by a tournament in Dubai and a further 12 events in Europe to peak in time for the battle at Athens.
Anju won the gold medal at Asian Games and a bronze medal at the Commonwealth Games. She then went on to jump to the bronze medal at the World Athletics Championship last year.
Her eight-week stint with world champion Mike Powell helped her hone her technique and boosted her morale and confidence.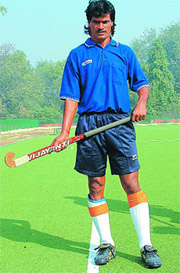 Hopes dashed
Mercurial striker Dhanraj Pillay, who had hoped to play in his fourth Olympics at Athens in August, was not among the 30 probables selected by the Indian Hockey Federation.
The most recognised face of Indian hockey was stunned to hear the news after he had announced that he was fit to play again. He had sustained an injury during the Azlan Shah tournament in January.
Two other senior players — Baljit Singh Dhillon And Baljit Singh Saini — were also not part of the probables. Dhanraj had led India to victory in the Asia Cup at Kuala Lumpur in September. On landing at Chennai he had a public spat with coach Rajinder Singh and has been out of favour ever since.
Rubinder Gill