Punjabi Antenna
Ghuggi Express a runaway hit
Randeep Wadehra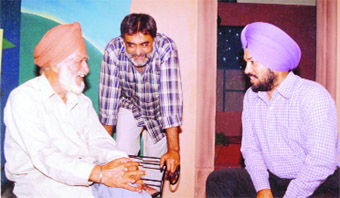 (From right) Gurpreet Ghuggi with Sukhwant Dhadda and Charan Singh Safri
When director Sukhwant Dhadda, of Ek Chadar Maili Si fame, meets anchor-cum-comedian-cum-scriptwriter Gurpreet Ghuggi, you get an entertaining, thought-provoking magazine called Ghuggi Express. It begins with a laugh riot when Ghuggi's side-splitters set up the viewers' mood for an encounter with a celebrity. Celebrities come from all walks of life. They have been litterateurs like Charan Singh Safri, Surjit Pattar and Jagdev Singh Jassowal, and film stars like Paintal and Poonam Dhillon, not to mention physically challenged achievers, pop singers, musicians et al.
No wonder, with 130 episodes, Ghuggi Express has been the longest running serialised entertainment programme in Punjabi that has great repeat value. Naturally, Gurpreet Ghuggi has become a household name not only in Punjab but also abroad. Amar Noorie's a stunningly beautiful, uncomplicated person. A talented actress, she's a fantastic singer too. All this came out vividly in Kujh Pal Tere Naa (Alpha Punjabi). Satinder Satti, the anchor, uncovered several nuggets from the life of this Ropar girl. Noorie was an infant when Shiv Batalvi blessed her. She began singing hymns at the age of nine, and subsequently branched out into folk and classical singing. She chose domestic bliss over BR Chopra's lucrative offer of a role in a Hindi film. Bollywood's loss has been Punjabi entertainment industry's gain.
With poll fever at its zenith, the political debate's showing all signs of touching the nadir. Khabarsaar (Alpha Punjabi) devoted two episodes to scrutinise media's role in the current political drama.
Real fireworks began in the face-off between Gurinder Pal Singh Dhanola, Mukh Sewadar of Miri-Piri Sewa Dal, and Daljit Singh Cheema, SAD's Press Secretary. Cheema was the first to go ballistic, Dhanola returned fire with gusto. Adjectives and invectives, innuendoes and insinuations flew thick and fast. Poor Ritesh Lakhi, the anchor, had a tough time preventing the verbal fusillade.
Who won the hectoring war? Your guess is as good as mine.