RHYME TIME
Gift of books
We should love books;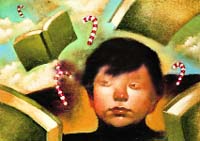 They have power to change crooks.
They make our lives sublime;
make us properly utilise our time.
They are indeed a treasure;
help us pass our leisure.
Apart from knowledge they give us wisdom;
entertain us, tackling boredom.
Such things may come out of books;
which may entirely change our outlook.
Let us make it a habit, point and reason,
to only gift books on auspicious occasions.
Akshay Chopra, Class VII-F, Kundan Vidya Mandir, Ludhiana.
Rock of Gibraltar
Visibly common,
Like any common woman would be
Yet different,
Extraordinarily.
Itís a matter of pride,
Itís a matter of honour,
To possess,
Such a Rock of Gibraltar
...My mother.
Ramandeep Singh, class IX-B, Chandigarh, Baptist School, Chandigarh.
Ode to blue
So, finally Sourav & his men have written a new history.
Let me introduce you to these players of fame,
Sachin & Sehwag are well set in their aim,
Sourav & Dravid too are the same,
Yuvraj & Parthiv play in true spirit of the game,
Pathan & Balaji make the Pakistan batsmen tame,
Kumble & Nehra showed the way to pavalion to Pakistanis when they came,
Laxman & Zaheer are also in the list of fame,
Agarkar & Kaif fulfil the responsibilities that remain,
In nutshell, the men in blue keep burning Indiaís flame,
And brought home the Samsung Cup after winning the final game,
And men in green have now nothing left to claim,
They only have their bad luck to blame,
We are proud of you, hearty congratulations, once again.
Nidhi Singla, Class XII, Government, College, Hoshiarpur.
This feature was published on May 1, 2004