STAMPED IMPRESSIONS
Film stars in flimsy roles
Reeta Sharma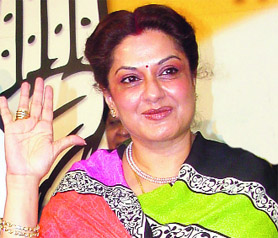 Moushumi Chatterjee: Cashing in on star appeal
In the past, film actors influenced our lives as much as our parents. Heroes and heroines in Hindi films projected a defined set of rights and wrongs. Thus, we received a large dose of moral education from the values portrayed by them.
Today, I feel that these gods and goddesses have failed us. Suddenly, they have emerged as characters that are totally alien to us. I wonder what could have drawn them towards these new roles. For decades, they were busy making money, enacting roles of ideal men and women. None of our heroes and heroines, except for Sunil Dutt, was keen to wade through dirty and dingy bylanes to experience poverty.
Now, suddenly, you have a number of these top stars of yesteryear plunging into the political arena. I wonder what has driven them to do so? Were they bored with life? Or was it the greed to refurbish their faded star appeal? Or was it the desire to share a slice of political power? Many unconvincing arguments have been put forward, justifying their decision to join the bandwagon of politics.
I was aghast to witness the arguments on a TV Channel about why people would like to vote for Tulsi (Smriti Irani), who is contesting from Chandani Chowk in Delhi. Innocent and vulnerable voters said they did not know Tulsi's real name but that they would vote for her because she was the best bahu in the TV serial. Stars like Dharmendra, Rajesh Khanna, Hema Malini and Moushumi Chatterjee have had no political grooming. They have spent all their learning years polishing fictional roles in films and leading jet-set, luxurious lifestyles. Today, they have entered a world alien to them. Their motive to "serve the masses'' sounds wishy-washy.
Seasoned politicians know the language and psyche of party workers. They are also familiar with names like zila parishad, gram panchayat, municipal committee, patwari, sarpanch, mahila mandal and vidhan sabha. Our film stars, I bet, have no idea what are the duties and responsibilities of a patwari.
The entry of film stars into politics is as bad as the entry of criminal dons. Both are chasing political power without any political commitment, knowledge or experience. It is not that the majority of politicians have any of these virtues, but it is painful to see film stars trying to convert peoples' blind faith in them into votes.
The inevitable fallout of stars replacing political workers, who have nursed their constituencies, will be that politicians would be more non-committal and more uncertain about their roles. For instance, take the example of Lakshmi Kanta Chawla, born and brought up in Amritsar. She has been nursing her area and the people for the past three decades. But now may be a Hema Malini or a Poonam Dhillon will replace her.
The signal to the politicians is why nurse any particular constituency and be accountable? The game is clearly between the party presidents and their caucus and obviously the plight of the masses is not anybody's concern. The vulnerable voter today does not know that tomorrow when their area suffers, they will not be able to fly over to Mumbai or even manage to enter the heavily guarded homes of the film star MPs.
By the way, Vinod Khanna, MP from Gurdaspur elected for two terms lasting about six years, visited his constituency less than a dozen times. Similarly, can the voters recount what role Rajesh Khanna played when they so lovingly elected him or any major decision that could be associated with the name of Shatrughan Sinha that might have made any difference to the masses?
I reserve all my heart-felt regards for Sunil Dutt, who has always been genuinely involved with the poorest of the poor. In fact, the politicians of the day should follow in his footsteps.